Tuesday, February 01, 2011
Why I got fat; And I what I am doing about it
I
have been posting on Facebook about my weight loss efforts, and after having posted a before and work-in-progress pictures, I am sure there are some folks that are a bit surprised, shocked even, to see what has become of that little, teeny, skinny chick you used to know ... you know, ladies, the one you used to mentally hiss at as I swung by in my itty bitty size 2 jeans. I will be upfront - in the last 7 or 8 years, I put on about 60 pounds. Yup ... you got that right - SIXTY pounds of flabby blubber hangin' off my once incredibly hawt bod. It's OK, you can gloat. Now get over it and pay attention ... this is important.
OK, this is the me that used to be ... weighing probably about 110 - 115 pounds. Those are Guess jeans, waist size 24. I normally wore a size 2 and my waist measured 22 inches.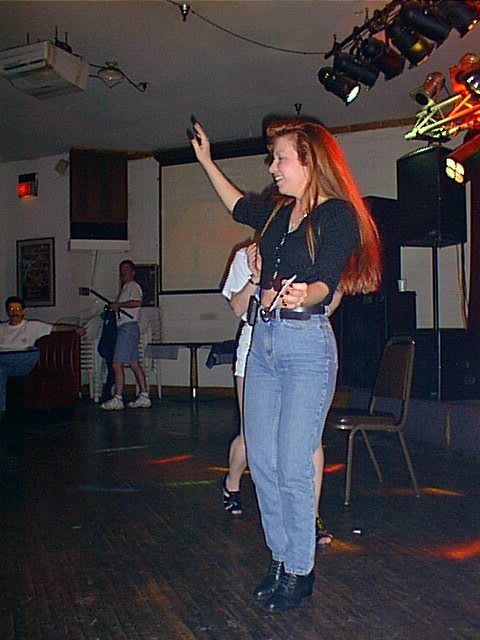 That was on my 35th birthday - 1999. I stayed about that same size until sometime around 2003. By 2009, when I got married again, this is what I looked like ... my dress is a size 14, and only by the grace of God and Spanx was I able to squeeze into it that day.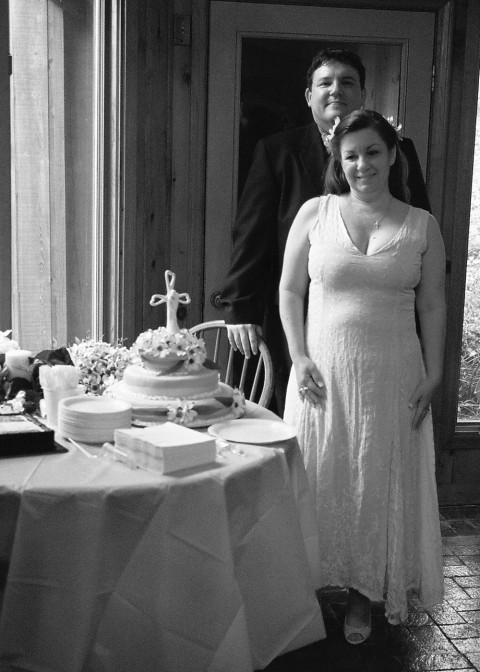 Ughhh ... I know, right?
So, what the heck happened? How in the world could a slender young woman who could eat anything she wanted without gaining an ounce get to look like a fat cow? Holy crap ... that's ME and I still can hardly believe it!
Well, in a nutshell, what happened to me is low fat diets. And what got me on that low fat diet was too much processed convenience foods, too much refined flours, too much sugar, and not enough fat. That's right ... NOT ENOUGH FAT. If you want the detailed explanation of that, check out this book,
Why We Get Fat: And What to Do About It
by Gary Taubes.
He could have written that book about me and my weight gain adventures. Seriously. And if you are avoiding natural fats in your diet to keep your weight down, or to lose weight, you really need to read that book too.
Long ago, when I would find that a few pounds creeping on, or my jeans getting a bit snug, my go-to eating plan would be chicken, rice and broccoli for dinner every night for a week or two, and I would skip the ice cream and other treats too. It worked. Then. But then a good bit of weight showed up, and I had to get serious about it. My parents had gone on the American Heart Association Heart Healthy diet and lost an amazing amount of weight. So, I sort of followed suit, but I had no idea what I was doing. I just went for low fat ... if it had no fat, it was all good. Rice, pasta, pretzels, even Tootsie Rolls were allowed. But no butter, oil, cheese, ice cream and the like. I would lose some weight, go back to my regular habits, then it would come back. Lather, rinse, repeat. Factor in also that my lifestyle changed - I was no longer working on the ambulance, burning hundreds of calories every call, every shift. I was sitting at a desk all day ... blithely munching away on Tootsie Rolls and Bit O' Honeys all day, then going home and cooking a meal fit for a teenage boy. Plus ice cream for dessert ... low fat ice cream, that is.
So, five ... ten ... fifteen pounds crept on. Then when it became 20, 25 I became mildly concerned. But not really ... at the same time, I completely lost interest in dating. No, that's not quite right ... I became downright hostile towards the idea of being involved with anyone romantically. So I was fat, that just kept the jerks away from me.
Well, times and attitudes change, and the good Lord led me to a good man and that's all been written about before. But at the same time, I found myself caring very much about my appearance again, now that I had someone to look good for. We were engaged, and I was 40 pounds overweight. I was having so much fun being in love, I scarcely noticed that another 20 pounds crept on! In the 3 months leading up to the wedding, I busted my ass in the gym three nights a week, and I counted each and every gram of fat that crossed my lips. It was a carb free for all though. And I weight exactly the same on my wedding night as I did 3 months before. When I got the wedding pictures back, I wanted to die. I could not believe how gross I had gotten to be.
Emotionally devastating ... oh yeah. But I plugged on, following the recommendations for a healthy diet that would lead to weight loss as promoted by the Department of Health, the USDA, WebMD, my personal physician and just about every Tom, Dick and Harry that I would ask. Eat less, eat low fat foods, exercise more. I did as instructed and the scale remained right where it was. Eventually, I nearly gave up.
Then something happened that completely rocked my world (which is very private and personal, so don't ask ... ), and I knew that I had to do something and quickly. Everything I hold dear on this earth depended on my losing this gawd-awful blubber that had accumulated on my skinny self. Being somewhat OCD, I needed a highly structured plan that I could count on - today I will eat this, this and this. So, I got on the Medifast plan. It's like Nutrisystem - food is ordered and delivered to the house, five meals a day plus one "lean and green" meal that we cooked. Rich got on the plan too - as you can see from the wedding picture, he had a pound or two to lose too.
It worked, somewhat. My loss was very slow. The plan boasts an average of 3 to 5 pounds a week. I was losing less than 2. (Rich, on the other hand, was losing 5 to 8 pounds a week!) Though stressful, depressing and disheartening, I carried on. In 4 months, I have managed to lose about 30 pounds. That's still 30 more than I was in the first picture, but I was no longer obese, as classified by my BMI. My waist has gone from 38 inches to 30. I can wear size 8 jeans again, after being in 14s for the last couple of years. Light at the end of the tunnel, but still so far away ... and I was feeling like crap most days, with no energy, fighting the depression and general malaise. My skin broke out, hair is thinning, and other changes were taking place in various bodily systems that were disturbing at best, at times agonizing.
And then I came across Gary Taubes' book, and then another one,
The Perfect 10 Diet: 10 Key Hormones That Hold the Secret to Losing Weight and Feeling Great-Fast!
. Reading these, it finally all fell together and I figured out what had happened to me ... the low-fat diet, along with the processed, refined grains and carbs that acted together to wreck my metabolism and pile the weight on me. Even the Medifast diet is horrible, nutritionally speaking. Eating 800 calories a day, with less than 30 grams of fat, most of it engineered food and the majority of the protein coming from soy isolate protein is not good for any body. Mine is in full rebellion. The only good part is the weight I have lost, and that I have "detoxed" off of sugar and refined carbs.
I am going to start eating according to the information in these two books starting next week. Why wait until then, I don't know, other than I need time to plan and shop and reorganize my kitchen and life. I know now that what I have been doing has been all wrong ... totally wrong. I have been lucky in that I only put on weight. I could have become diabetic, developed cancer or serious heart disease. I already have heart arrhythmia and some blood imbalances with Vitamin D and iron. I hope it's not too late.
The Perfect 10 diet is one that I am familiar with ... eat whole, natural, unprocessed foods, including fats and oils. Carbs are not restricted, but eaten in moderation from vegetable, fruit and whole grain sources. Organic, preferably. Why familiar? Well, back when I was earth-mama with little babies, wearing Birkenstocks, keeping an organic garden, making all our bread myself from whole grain flours, buying our food from a whole-foods co-op, I lived that lifestyle ... and despite having one babe after another, eating as I pleased - from good, whole, natural foods - I lost pregnancy weight quickly and without even trying. And I stayed slim even after moving away from that way of eating for years ... until I started following the doctors and nutritionists recommendation to limit fats in my diet.
So here I am, 4 months ago and now ...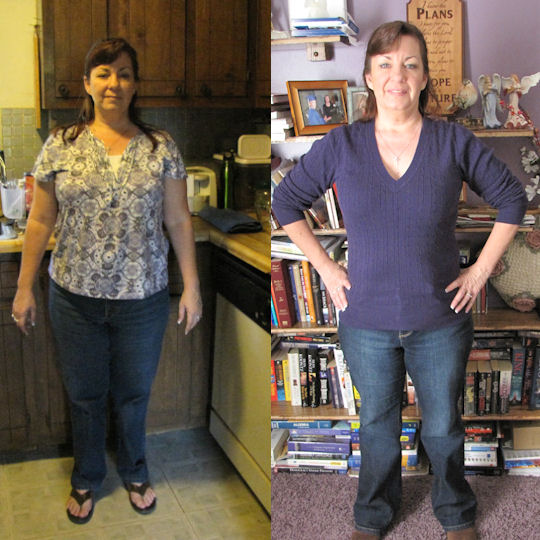 Check back later to see what happens next. Oh, and Rich's weight loss? He's blogging about it at
his site
... go check it out.
Please read those books ... most likely, what you think you know about good nutrition and weight loss diets is all wrong, especially if you got it from the government. Seriously, what you don't know could kill you.