The View at Work Today
Some things are just not expected when one works on the 4th floor ...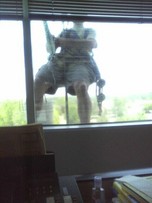 Actually, this is a little better than the other day when they were power-washing the building. That day, the dude was wearing really short shorts ... and had a "gap" issue ... and appeared in my window just like this. Today, his wardrobe choice is a wee bit more modest. Thank goodness. After the week I've had, I really didn't need any additional psychic trauma.