Phone call today
O
K, everybody! I need some good job karma! Focus now! Think good thoughts! Do a little job dance! (You know, kinda like a rain dance)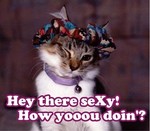 God I love these
lolcats
!
I got the crazy assignment done just barely on time! W00t! Seriously, we were having a crazy busy day at work, the bosses were freaking out because our call numbers are bad right now, I was trying to complete the assignment, which is basically a open book quiz with no time limit and can be repeated, while dealing with all that. It was due at 3:00pm ... I hit the submit button at 2:59pm. Then I returned the above mentioned phone call that triggered the bleg for good job karma.
And they called back again, after saying it would be a week or two, and I have an interview scheduled! Two weeks! Focus the karma this way please!
Commenting is not available in this channel entry.