Of Symphonies and Football
I
t's
Blogger night
at the Knoxville Symphony tonight! The KSO marketing folks decided to reach out to local bloggers and offer free tickets to tonight's season opening performance. We plan to be there with bells on! Or at least some of our nicer duds. I do clean up fairly nicely, even though pantyhose is not at the top of my list of comfy things to wear. It should be loads of fun, and I will write a review of the evening's events later.
((Make sure you are logged in!))
In contrast to the symphony, the last few weekends have been filled with football ... UT Vols, high school JV and varsity, and Little League - where Rich has been announcing the games on Saturday afternoons. This weekend is almost football free, UT has a bye week, my daughter's school's game and the Little League games are away leaving only the big cross-town rivalry of Seymour vs Sevierville on Friday night.
So to fend off any potential withdrawal symptoms, I give you this: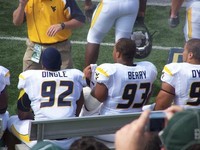 Hilarious! :lol:
What? You don't see it? Look closely. Click on the little pic to embiggen. It'll come to you!