It's almost like ... a social life!
I
f you're an Knoxville, TN area blogger and you missed this, you really missed out! Rich Hailey (
Shots Across The Bow
) organized this Blog Fest this evening at Barley's in the Old City. What a treat to put real faces to the online personas! And have real, adult, non-work related conversation! It only took three days to talk myself into going to this. I managed to keep the anxiety at bay long enough to get comfortable, these folks made it pretty easy ... and I think I didn't babble incoherently too much. Other than the horrible traffic back-up on the way home that made a 20 minute trip take almost an hour, and the skunk that greeted me in the drive-way when I did get home, and the houseful of teenagers making noise and mess where I was expecting one at the most, it was a pretty good evening!
The bloggers in attendance:
Shots Across The Bow
No Silence Here
Juliepatchouli
Frank Murphy
Swap Blog
Staghounds
Domestic Psychology
Knoxviews
TN Girl
jonathan hickman
katieallisongranju
Stephen Dupree aka Cafkia
, who can also be found
here
(A real live movie star, folks!)
Tennessee's Progressive Report
And yes, I KNOW I likely missed a couple. Send me your blog URL and I will put that up here too. And eventually I will match up those blogs with the people in the following pictures: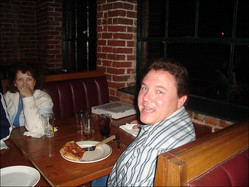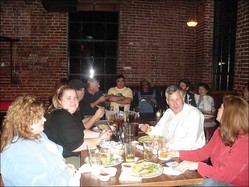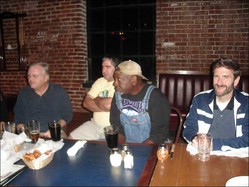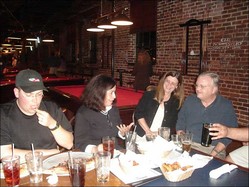 Rumor has it, these Blog Fests will become a monthly thing. Rock. On!