I want your text, baby ... or very serious undertakings
S
o, two of Rich's daughters are expecting baby girls within a few weeks of each other this coming winter. They decided to have their baby shower together, today, while the out of town sister was here for Thanksgiving. We've been crazy busy with the bathroom renovation and generally getting the house ready for the holidays, and I hadn't had time to shop. So, I went today on my lunch break ... and sent a text to Rich to let him know that I did so.
I'm thinking our communication skills are a bit .... lacking ..
Me: I went shopping on my lunch hour ...
Him: What did you get?
Me: Just a few little things
Him: Like ... ?
Me: VERY little things
Him: Like ... ?
Me: Like ... little pink things
Him: 😊
(Can you see where this is going yet?)
Me: Like ... little tiny, soft pink things with bows and flowers and frilly stuff that makes grown women go SQUEEEE!!!
Him: How about grown men???
Me: Well, the ones around here (My team is all men, 'cept me, of course) generally went "Hmmmphf!"
Me: A couple rolled their eyes
Him: ????
(At this point, I knew we definitely had a failure to communicate ... )
Me: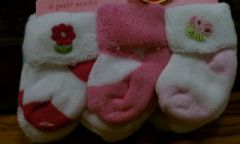 (A number of minutes go by ... )
Me: What the heck were you thinking???
Him: Lacy frilly undertakings!
Him: Underthings!
Him: I hate predictive text
Me: (After picking myself up off the floor, wiping the tears from my eyes and catching my breath ... ) Well, either one works ...