Category: Entertainment
Wednesday, February 27, 2008
Tootin' his own horn
B
arry, of
Inn of the Last Home
, has
extended an invite
to local folks to come on out and see
The Atomic Horns
play a gig at
Ray's ESG
this Friday night, starting at 10pm.
Barry
loves him some groupies
, and the show is great. We saw them last year at a club in Oak Ridge and we had a blast. I guess we can consider this to be a Blogfest of sorts. At the moment, Rich's site is down due to billing issues with his web host ... which he is going to resolve by moving his hosting over to
SurpassHosting
, and I will be getting his site up and running there next week while I am on spring break. (Isn't that what geeks just live to do on spring break?) So, with his site 404, so goes the mailing list as well, but if you want to be added to that list to get Blogfest announcements and other blogging-related events in the East Tennessee area, drop a comment here and I will make sure you get added.
Hope to see some folks out at Ray's Friday night! No excuses! It's a bonus day and you deserve to have fun, right?
Sunday, January 20, 2008
Weekend Roundup - Blogfest, Movies and More!
M
y previous post got disappeared when Firefox locked up. I was almost done too! So, now I will recap Friday night's Blogfest, post some pics and also mention part 2 of our weekend activities, which may or may not have included a certain highly anticipated monster movie.
Blogfest was great. Mostly. However, we were unaware that Bailey's had decided to keep their place smoke-enabled and thus had to make a rule that all customers had to be at least 21 years old. This caused a bit of grief for some that wanted to bring the family along, as had been the practice many times before. Making things even worse, Bailey's apparently has no air handlers in place to help clear the air of the smoke, so for us non-smokers, it was quite uncomfortable. So, the next Blogfest will be at another location, one that is family-friendly and with clearer air. We are open to suggestions, but are thinking next time at Calhoun's on Bearden Hill ... Yes? No? Other ideas?
Anyway ...
Everyone had a great time. We had both some familiar faces as well as a couple of new ones. In addition to
Rich
and myself were
Cathy
and
Doug
.
Tamara K
and her feller were there, and they talked up the guns with
Les Jones
. I think they were cooking up another shooting bloggers meet up. Making their Blogfest debuts were
Craig Thomas
,
Johnny-Oh
and
Eric
.
Barry
came in for a few minutes, but as he had the wife and kids waiting in the car outside, he couldn't stay long. However, in keeping with his reputation as the suave and debonair ladies man of the East Tennessee blogosphere, he planted himself as close to the ladies as he could, and then just waved across the table at the men-folk. He was too cute. But for his efforts, he walked away with
Doug's choice giveaway
of a wireless router.
Barry would also like to let everyone know that the mighty and infamous
Atomic Horns
will be playing at a Valentines Party at the Elks Club in Oak Ridge on February 8, and he wants even more groupies to come out and see his most-awesome Elvis impression.
I posted some pics I took with the crappy camera on my phone at
Flickr
. I also took a few pics with my trusty, but old and not-quite-as-crappy digital camera. Hover for details, and click to embiggen: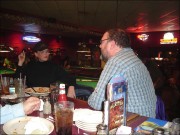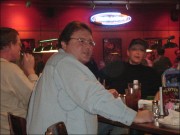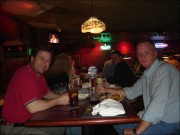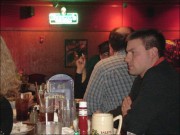 Saturday night found us at a mini-Blogfest of sorts. We met up with Cathy and Doug first for ice cream at Marble Slab in Turkey Creek ... Mmm! Ice cream in frigid cold weather! Then we took in a showing of
Cloverfield
. I liked it. Rich, not so much. He says he will post a short review on it later. I don't want to give away any spoilers ... not that there are many - big monster stomps around in New York, people run away, military shoots at it. All told from the vantage point of a hand-hand video camera. One with a kick-as battery pack that last over 12 hours.
Half the fun of going to the movies is seeing the trailers for upcoming movies. We saw a few that looked promising. Rich, ever the comic book geek, is looking forward to
Iron Man
. Doug nearly pee'd himself seeing the barebones, under construction, tell nothing trailer for the next
Star Trek
. Yes, folks, that is Number 11. Another preview was for
10,000 BC
. In just the trailer alone, I counted several anachronisms. I can't see this as being too terribly accurate, and if it was, not very interesting since the language of the days was pretty limited. There was another, very forgettable looking, insipid something with Will Ferrell in it (has Will Ferrell ever been in anything that was not insipid?) There will also soon be a sequel to
Hell Boy
...
Hell Boy II: The Golden Army
, which is surprising given that the first one was pretty much a dud.
And that has been, so far, our weekend. Still no baby yet, but stay tuned!
Tuesday, December 18, 2007
Won't you take me to ... Hobbit Town!
O
h, glad tidings and great joy!
The Hobbit
will soon be on the big screen!
While the IMDB page for The Hobbit still says that Peter Jackson and New Line are still in talks, Yahoo! Movies has this:
Peter Jackson and New Line Cinema have reached agreement to make J.R.R. Tolkien's "The Hobbit," a planned prequel to the blockbuster trilogy "The Lord of the Rings."

Jackson, who directed "Rings," will serve as executive producer for "The Hobbit." A director for the prequel films has yet to be named.
I so so hope that Jackson decides to also direct the film; his work on the Lord of the Rings trilogy was absolutely brilliant. I read the books many, many years ago, before they were widely popular. I even did my major author paper in high school senior English on J. R. R. Tolkien, once I was able to convince the teacher that Tolkien should qualify as a major author. (My theme was "Tolkien: A 20th Century Epic Writer" and I earned a very rare A from that teacher for it!) When the LOTR movies came out, I was reluctant to see them, thinking that they could not do justice to the majesty and beauty that the books held. I did encourage my kids to see them though, and my son was even inspired to read the books after seeing the first movie. It was not until the winter of 2006 that I finally watched the movies. To say that I was enchanted and obsessed is only scratching the surface. I watched the movies over and over, buying the regular versions on DVD for every day watching, and the 12-disc Extended Version box set for special. I'm now thinking that a LOTR marathon is now in order!
Now we shall have Hobbit-y goodness! Unfortunately, the wait to see The Hobbit will be measured in years. Wonderful things as this are worth the wait though! Come on, Mr. Jackson ... work your magic!
The Dominion Post
has more on the details of the deal and the conflict that was behind the delay.
Friday, December 14, 2007
What is this "Cloverfield" thing about?
T
his looks, so far, like it will be a most interesting movie ... it's on my "Must See" list ...
Check it out ...
Thursday, December 06, 2007
Is it May yet?
R
eturn to Narnia!
I did so love the Narnia books as a child, and I re-read them again a couple years ago. I was beginning to lose hope that there would be anymore movies made from the books, the children are growing up and soon would have to be re-cast!
Sweet! I can hardly wait!
Wednesday, November 07, 2007
It's Official
T
he holiday season starts tonight ... at least it does in my world.
Tonight is the night of the Knoxville appearance of the
Trans-siberian Orchestra
in concert. I saw them
last year
when they were here and was absolutely blown away by the show. It is truly nothing short of incredible, dazzling, awesome, inspiring ... there just are not words enough to describe the intensity of the experience.
I hear that there will be other bloggers in attendance ...
Michael Silence
and
Rob Huddleston
... wouldn't it be cool if TSO did like the Knoxville Symphony Orchestra and
invited bloggers as special guests
in return for blogging about their experience? Eh?
I'm just sayin' is all .... :cheese:
Must run to get in the shower, then cook dinner. I'm wiggling with excitement!
UPDATE: The show was, of course, awesomely spectacular. We saw
Cathy
and
Doug
's son,
Tommy
, who was there with his grandmother.
Rob Huddleston
and wife were across the aisle and two rows up ... we weren't able to catch up to them to say hello though. Never saw
Michael Silence
. While waiting in line to get in, I checked my feeds via Pocket PC (OMGz I loves me some PPC phone!) and found out that
Netmom
and hubby were there also, but I didn't see them either. We stayed afterwards standing in line to get autographs and chat with the musicians. They were, as before, warm and gracious. It was a wonderful evening of fantastic music by one of the most awesome groups around ... and it really wasn't all that bad that the chairs on the floor were a little close, it meant 2 hours of cuddling with my favorite person! 😊
Tuesday, June 12, 2007
Four truths and a lie
T
his is a game that is often played to help large groups of people get to know each other, most often in training classes and the like. I don't really know what inspired me to do this now, but I think it would be fun to pass it around.
The basic premise is simple ... make five statements about yourself, four of them true and one false, or a lie. Then, let others guess which one is the lie.
Like so:
1. I am a direct descendant of two US Presidents.
2. I see what other people hear.
3. I delivered my own child into my own hands.
4. I was once mistaken for a bank robber.
5. I can move my eyes independently of each other (think Marty Feldman).
Which one is the lie?
Now, it's YOUR turn. Yes, YOU!
Tuesday, May 29, 2007
August 21
I
t arrives ....
(Clicky on picky!)

See more forthcoming shiny goodness
here
You can pre-order now, at Amazon,
Serenity (Collector's Edition)
, for only $18.89, list price is due to be $26 or so.
And if even MORE features, like a Feature Commentary with Director Joss Whedon and Cast Members Nathan Fillion, Adam Baldwin, Summer Glau and Ron Glass, Extended Scenes, Outtakes, and Take a Walk on Serenity is not enough to tempt, how about DTS sound? Oh yeah ...
Monday, May 21, 2007
I Can Kill You with my Brain
C
ome with me if you want to live ...
Three guesses as to what happens next:
1.
The show
airs at odd-ball times, usually late on Friday nights, pre-empted for weeks of its run by the World Series, turning in Nielson ratings lower than most infomercials that run at 4:00am, and it gets canceled before the end of the first season.
2.
Three episodes
air to widely acclaimed reviews and a strengthening fan-base, despite a lack of network marketing and promotion, then it is cancelled
3. The show is heavily marketed and promoted with lead-in merchandising DVDs, t-shirts, video games and soundtracks. The stars of the original movie run appear with the TV show actors in joint interviews and appearances. The network throws everything they have to courting a huge fan-base before the series premiere with the assurances that they have a vested interest in the success of the series.
#3 ya think? Nahhh ... it's Fox, people! However, neither
Tim Minear
nor
Nathan Fillion
are involved, but it does star the most awesome
Summer Glau
. Will this show survive Fox executive decisions?
I wonder if it occurred to them that by axing good shows before they even have a chance that they have seriously eroded any confidence a viewer might have in getting involved in any of their new shows? I mean, why start to like something when it is highly likely that it will be canceled? All we are left with is dreck of the American Idol sort ... blech!
No wonder I don't watch TV any more ...