Category: Midlife College Adventures
Sunday, April 27, 2008
Finals are DONE!
A
lways a cause for celebration ... my finals are done for yet another semester in school. Yay!
This semester, I dabbled in a couple of classes that are in a major that I am thinking about switching over to ... Criminal Justice with a DHS concentration. I would really like to go into some kind of forensics, like computer or crime scene, but those concentrations are not being offered online at APSU at this time. I am still leaning towards the web developer concentration, but I would have to jury-rig up a program to meet a degree requirement. Anyway, the classes I just finished are American Government and International Relations Theory. I am expecting to get high marks in both classes. It was a fairly low stress semester, school-wise. However, my job situation still is a major source of anxiety. But for now, I can rest and relax from school stuff until September. Soon though, there will be graduations, and birthdays, and a beach trip and a wedding. I guess I better rest and relax fast!
Wednesday, December 12, 2007
So ... what now?
I
t's not even 10 hours since my last final was completed, and I am already bored ...
Sure ... I bitched and whined and complained about how I always had something I had to be doing for school. But it kept me busy and somewhat out of trouble. Now, with no looming deadlines or pressure to have some assignment done, or chapter read or a quiz to take, I feel empty. Maybe a little brain-dead too. I can't be burned out already? It's only my 3rd semester!
One thing I do know, I am not happy with my choice to major in Computer Science. Or maybe not happy with this particular program. It's heavy on programming, even requiring classes in COBOL and Fortran, in addition to database management, C++ and some web HTML. I was looking forward to more emphasis on networking, security, information systems, web dev and stuff like that. Aside from web coding, I am not a programmer. That stuff leaves me cold, and I am a total retard with it. Bleck! I just barely squeaked through this class in database management and SQL queries. Gag. Boring stuff.
Then, after my recent career escapades, I am somewhat disillusioned with the whole IT world. In my last job, I was not taken seriously at all. I begged for additional training in other areas - security, account provisioning, and so on. Instead, I was "allowed" to follow up on emails and voice mails, in addition to front line tech support. Then, when I was up for evaluation, I was told that I didn't make an effort to contribute to other areas - like security, account provisioning, etc. Yeah ... just like that.
Oof.
Burned out much? Go figure, eh?
And so, while I search for another job, my skill set is heaviest in IT and technical support, so that is where I look. I vainly hope that my next job is more satisfying and that my ambitions to learn more, beyond my initial job description, are taken seriously and I can move up from the help desk. I interviewed for a great job last week, but I know I stand only the faintest chance of getting it. No matter what, it will still be too little and too late to salvage Christmas this year, so I am trying to ignore that whole bit of business.
In the meantime though, I am bored.
I have an unholy crapload of yarn, which could keep me good and busy with knitting projects for a couple of decades. I still have stuff to unpack from when we moved here last summer. I could try to get back on the ball and lose this last ten or so pounds ... yoga alone is only helping me maintain my weight, I need to get the cardio and strength training going on again to get the pounds to drop. I have a stack of books to read that has been untouched for the last year or so, since I started school last January. I have a couple of web site projects I started way back when and still haven't finished.
What I would really like to do is run off to a warm, cuddly, cozy place with my favorite person and practice being lazy for a few days ... watch a bunch of TV and movies, read, sleep, shop, surf, eat, sleep some more, play with grandbaby, surf, eat, sleep, watch TV, or whatever strikes our fancy at the moment. (Yes, honey, that is a BIG BOLD HINT!)
But I guess for now, I will just go and get some sleep.
Thursday, September 06, 2007
Still kickin'
Y
es, I am still alive, and well ... and not in jail. Life has a way of forcing one to prioritize one's activities, and in my life, blogging drops quickly to the bottom of the list. It's enough of a challenge to allocate my time and energy between my children, my parents, work and school ... and then still have something left over for the things I want to do.
I have dropped two of my four classes in an effort to retain what is left of my sanity, and I am reassessing my choice of major. I still do not really know what I want to be when I grow up. What I am doing now is definitely not it ... not anymore, since things changed so much for the worse at work. The morale level there is subterranean, and getting worse by the day. No one gives a damn anymore.
We are slowly getting settled into our new home. The kids are happier here, but have other sources of angst ... such is the life of adolescents. But we do have a rather menacing concern ... a hostile neighbor that has now attacked us twice. It is getting serious and I may have to take drastic steps to remedy the situation, especially since the sheriff's department does not seem at all interested in even taking a report. I wish I still had friends in low places ... they would come in quite handy right about now. I am also seriously giving consideration to exercising my 2nd amendment rights ...
But not all is doom and gloom. I have found a source of happiness that I had thought I would never experience, and I thank God many times every day for bringing him into my life. Suddenly, my future does not seem so frightening and empty ... and that's a pretty awesome feeling. Me likes.
Friday, August 03, 2007
Surfacing for a breath of air
I
am taking a moment to surface and let ya'll know I am still alive, and well, and not in jail. But finals are next week, and I am trying to get prepared ... and I am still dealing with a rather messy situation at work ... too weird! Every day it gets more bizarre. It does not need to be said that I am definitely in the market for a new job. Any leads would be greatly appreciated. And then there is the Big Event on the 11th ... if you've volunteered your services for that, you can expect an email perhaps by Tuesday of next week with some more details of what I am planning so you can decide where you want to pitch in.
And that's it for now ... wrapping this up so that I can try to achieve something that I haven't been able to in ages ... get to bed before 2am!
Friday, May 04, 2007
Thud!
T
hat loud thumping noise was me ... collapsing in exhaustion and relief that this semester is over and I am DONE with finals!
I will end up with As in Int'l Politics and Data Communications and Networking. Most likely also in World Lit. Not sure what I will end up with in Programming though. At best, a B. *sigh* And there is a second half of the class, which I will take in the fall, along with Calculus, Technical Writing and Info Systems Security. This summer I will finish up the core academics - music, philosophy and statistics. It's looking like it will take a couple years to finish this up ...
Time for some sleep now though.
Wednesday, May 02, 2007
Almost DONE!
I
have one more final to go, due by 10pm Thursday, online and open book, for International Politics. I survived the Programming final, barely. I think I will squeak by on that one, but I had a major brain freeze on one of the big questions. The Networking final wasn't too bad. I have a solid A there, so I would have to seriously screw up to drop any lower. My World Lit essay ... I dunno. It sounds good, but it seemed too easy. I cranked out 4 pages in as many hours, from starting outline through three drafts to final version including playing around with various style templates in Office 2007. (Which is mighty sweet, if I do say so myself!)
If you have registered here, please make sure you are logged in, so you can put your two cents in on this:
(and if you aren't registered, please do so ... )
Timez for teh cute kitteh breakz:
Via ICanHasCheezburger.com, a submission from none other than Mark Steel of
Blogitude
:
Gee, that cat reminds me of someone ... Mark, is that your cat? 😉
I have decided that Murphy must have been a college student at least at some point ... in attempting to get through these finals and then get registered for summer and fall classes, I have run into nothing but one screw up after another. I just hope this college is not using their computer science department for their web site maintenance and design. I would lose a lot of faith ... it is a mess! They switched over to a new registration system, but they don't have the transcripts uploaded yet, so we can't register for any classes that have prerequisites that we satisfied before transferring here. Also, any waivers have gone poof ... off-campus students do not have to submit proof of immunizations normally, but it is telling me that I must before I can register. At least I finally got an advisor ... but he is telling me I need more classes than is listed on the department advising site. I may run out of financial aid eligibility before I get done. Won't that suck??
Ugghhh ... what a mess.
Sunday, April 29, 2007
FINALS!
F
inals have started, and I tripped just getting out of the starting gate. To say I am highly ticked off is the understatement of the year. It will take a minor miracle to recover from this ...
So, my first final, in Programming, was supposed to be this morning. It was the one I dreaded the most and wanted to get it out of the way first. I really had a hard time with this class, it is a damn good thing I do not wish to be a software programmer, I would fail at it in a most spectacular way. Anyway, I had to arrange for a proctored exam at a testing center, which I did. The instructions I got said that a password to the exam would be sent to the proctor so I could take it online.
So, I arrive at the testing center, and no password. They have the same instructions, that it was to be an online exam. There is a hard copy of the test, so it could be taken on paper if the computers were down or something. But the proctor said she had to follow the instructions as written: the test was to be taken online.
I went home and emailed the instructor. After about half an hour, she wrote back and said "So sorry for the inconvenience, I decided that off-campus testing would be on paper. Just use the hard copy sent to the testing center."
How friggin lovely.
By this time, it's too late to go back and take this two-hour exam. Ever tried writing computer code with pencil and paper? Lemme tell you ... copy/paste just does not happen with a pencil. We tried that for the midterm. We all sucked at it so bad they had to curve the grades so at least some of us would pass.
So, now I have to reschedule. Therein lies the need for a miracle. Let us pray.
Oh, and need I mention that this has me totally freaking out? If I fail this class, it will delay my progress towards my degree by at least a year, since it is a prerequisite for all the rest of the classes I need for my major. Frea-king OUT, people!
It's awful hard to concentrate and study and write world lit essays when you are freaking out.
Monday, April 16, 2007
Prufrockian Paralysis
M
aybe it's just coincidence ... or maybe not. It just seems that each week's reading in World Lit is very relevant to
some aspect
of
my life
. It's almost spooky.
This week ... we are reading T.S. Eliot's poem, "
The Love Song of J. Alfred Prufrock
"
What we have here, is a failure to communicate? It would be nice if it's just that simple ... yet complicated. I have a bad tendency to assume the worst. I just hope I am wrong. I've been
planting my own garden
for quite some time now, I think I am ready to step outside the garden gate. I just hope I can get it right. This time. Finally.
Wednesday, April 11, 2007
Phone call today
O
K, everybody! I need some good job karma! Focus now! Think good thoughts! Do a little job dance! (You know, kinda like a rain dance)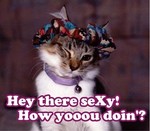 God I love these
lolcats
!
I got the crazy assignment done just barely on time! W00t! Seriously, we were having a crazy busy day at work, the bosses were freaking out because our call numbers are bad right now, I was trying to complete the assignment, which is basically a open book quiz with no time limit and can be repeated, while dealing with all that. It was due at 3:00pm ... I hit the submit button at 2:59pm. Then I returned the above mentioned phone call that triggered the bleg for good job karma.
And they called back again, after saying it would be a week or two, and I have an interview scheduled! Two weeks! Focus the karma this way please!
Redlining the Anxiety Meter
O
K ... this officially sucks. I have an assignment due by 9am tomorrow. It has to be completed online. And the
university web servers
are down. Hard. Dead. Kaput. Keeled over. The tech support help desk hours are 8:00 to 4:30, please try your call again later. I also need to download an assignment for another class so I can get started on it. And I need to register for Fall classes and check my email.
:gulp:
I don't need this. Anxiety is such a vicious cycle.