Category: Happy Crap
Wednesday, July 29, 2009
Help me decorate my room!
Y
es I have been sadly negligent in the upkeep of my site. So sue me. I've been busy taking care of aging parents, young adult children, a demanding but satisfying career, and a new husband ... not necessarily in that order. When not busy with all that, I have been gardening, redecorating, knitting and soon will be sewing on my new sewing machine.
One of my projects that is taking up a good bit of my time and energy is a room that I am redecorating. This is to be my own little space - for reading, meditating and prayer, Bible study, hobbies and whatever else I wish to do in solitude, peace and quiet. The lone window looks out across a lush, green yard with the Smoky Mountains in the distance. Three walls will be white, the fourth will be a dark lavender. Shelves and trim will be a leaf green. These colors are in the border wallpaper I will put up, which also has some pink and silver gray. The style of decor will be eclectic, a reflection of my personality and interests - some modern tech/geek, a little shabby chic, with a hint of garden and a lot of artsy craftsy. It will have my books and knick-knacks on
Hungarian Shelves
. These will be painted green and installed on the wall painted dark lavender. I will have my computer desk and a sewing/hobby table in there, and a futon or day-bed. I plan to have lots of quilts, knitted throws, and pillows. Very cozy and comforting.
I am trying to decide what to do with the door I will be installing. It is a
6-panel molded door
that must be painted. The side facing the hall will be white, but I am wanting to do something creative and quirky with the inside ... using the lavender and green paint. I was thinking of painting the main part lavender, and the molded panel frames green. But I am still undecided. I am open to suggestions!
Wednesday, April 15, 2009
Wedding Pictures!
J
ust a few for now ... maybe more later. .
From the honeymoon at Disney
here
I hope to write more about our adventures at Disney soon! We had a blast!
Tuesday, April 07, 2009
The Wedding
T
he deed has been done. We wed, we honeymooned, and now we are back to Real Life™
Now the real adventure begins!
The wedding itself, after all the stressing, fussing, hair=pulling and worrying I did, went beautifully. This is not to say that it went as planned, or expected ... at all, but in the end, we had a wonderful ceremony, surrounded by our family and friends.
Though we have been married since last summer, having made our Covenant with God, with our closest friends as witnesses, we also wanted to have an official ceremony, for our family and friends, and at the same time, create our civil union with the state ... making it a legal marriage. When we first announced that we were going to have a wedding, I was asked by everyone what kind of wedding did I want. At first, I did not know. I had no clue. I just let God guide me in planning the details, because what I ultimately wanted was a ceremony that would also be our testimony. Rich and I were put together by God Himself, as part of His plan. So our wedding could be nothing less than a celebration of that, for His Glorification.
For my flowers, I chose the dogwood. Not only is it strongly associated with East Tennessee in the spring, there is also the
Legend of the Dogwood
. This idea came to me as a flash of inspiration. That's just how God works. In the same way, I was led to choose the music for the ceremony, the prayers, blessing and litany, and, of course, my vows.
I was on my own, it seemed though, for my dress. What a riot that became! When I first started looking at dresses online, the very first one I found was it ... the one. But by the time I was able to order it, it was sold out. It came back in stock a couple times, but in the wrong size. It finally came back in, in my size and I ordered it. However, the order got glitched up in transmitting my credit card information to my bank, and the payment was refused. By the time I got that figured out, it was no longer in stock. I literally cried. It was a beautiful dress of ivory silk with embroidery over mesh. And I could not have it. Finally, I ended up choosing four dresses that I ordered to try on, and one that I ultimately chose. This one was almost as beautiful, in blush pink with lace and embroidery over a flared skirt.
Along the way, we encountered several other frustrations and set backs. The worst of which was that my father was unable to be at the wedding. He has been in and out of the hospital since Christmas with complications of
myasthenia gravis
, and had just been admitted to a rehab center the day before the wedding. While everyone was heartbroken by this development, we faced it with Grace. We also made plans to stop by and visit with him after the wedding, still in our wedding clothes, before hitting the road for our honeymoon. I just trusted that, for whatever reason, this was what God wanted to happen.
The second major crisis was the loss of our minister for the ceremony, mere days before the wedding. We had asked a friend of Rich's boss and best friend, who happens to be a preacher, to officiate several months ago. However, he forgot about it or had the dates mixed up, and made plans to be out of town at a conference that same weekend. To say that I lost it would be a vast understatement. I was quite ready to call the whole thing off at that point. Instead, I got a revelation.
Through all the stress and chaos, I kept thinking that God was convicting me ... us, of something. What, I did not understand. But I knew that we needed to be doing something different, needed to change something. As Rich and I talked it over ... or rather, he talked and I blubbered and sobbed, he said to me that maybe my idea of just eloping that I'd had a few weeks before might not have been such a bad idea. As I was formulating my response to this, that no, we had to have a ceremony ... for our mothers, and for our families, to have a public declaration of our vows, it finally dawned on me; we had lost our focus on the real reason we were having this wedding - for the Glorification of God.
We found another minister, one that was absolutely perfect for us, and for the ceremony we had envisioned. We wanted it to be deeply spiritual, but also fun, and he made us all laugh. We wanted our children to be part of it, and he was all about that. He also needed us as much as we needed him. Seeing God at work in all this has been awesome. We have truly been blessed.
The ceremony was great. My son escorted me, and my daughter was my maid of honor. Two of my sisters in God sang Amazing Grace (the "
My Chains are Gone
" version, by Chris Tomlin from the movie, Amazing Grace) and they had me in tears. Most of the rest of the music was J.S. Bach, starting with the
Brandenburg Concertos
as the prelude. I walked to
Pachelbel's Canon in D
, and we had two prayers to Bach's
Air for Suite in D Major
and
Arioso
. There was a bit of a mix up in the recessional, but by that point, it didn't matter. We had been joined as husband and wife before man as well as before God.
Rich's mother and sister arranged the entire reception, food, drinks, decorations, and it was fabulous. One of his daughters made our cakes, and they were beautiful. His nephew's wife took the pictures (which I hope to have soon!), and we were blessed by the presence of not only our family but some very special friends too. The weather, which had been threatening severe thunderstorms all day and ultimately led us to move the ceremony under the carport instead of out on the deck, cooperated at the last minute, the rain held off and finally gave way to the sun for a gorgeous afternoon.
We did make it to my dad's bedside, bringing him food from the reception and a piece of wedding cake too. Then we stopped at my mom's, changed into travel clothes and then hit the road for our honeymoon. We stopped part way there, in Valdosta, Georgia, before continuing to Orlando the next day. We were too exhausted to even think at that point, but very happy and completely content.
I will write about our adventures with Mickey and friends in later posts. Pictures coming soon too!
Saturday, March 28, 2009
Goin' to the Chapel
W
ell, not exactly the chapel, but we are gonna get married!
It's late Wedding Eve, and we are still getting things ready. This has been truly a Do-It-Yourself Wedding. We made the invitations (though a few got lost in the mail, dang it!), I made the bouquets and other flower arrangements, we wrote the ceremony and our own vows. Even the cakes, we made ourselves. I did buy my dress, but I considered sewing one for a while ...
All that needs to be done now is packing for the honeymoon. Then tomorrow morning we will have a quick rehearsal and walk-through of the ceremony. We also will make final decorating touches and set up the chairs. At this moment, the weather looks to be very much not good, with thunderstorms in the forecast. We have an alternate plan though, and this will go through.
My dad is not going to make it to the wedding ... he has been having an awful time with myasthenia gravis, and has been hospitalized several times in the last few months. Right now, he is just out of a stay at Patricia Neal Rehab, and went into a nursing home for a couple of weeks for continued rehab work. It also gives my mother some respite. But we are planning to stop by there on our way out of town to bring him cake and we will repeat our vows for him. Of course, the whole thing will be video taped, so he can watch that later.
After that, we will be off for a week in sunny Florida where we are gonna hang with Mickey and crew for a few days, see some shows, and just enjoy not having anyone else we know around us. We may or may not be incommunicado ... we haven't decided.
But now, it's time to finish packing and get some sleep.
Saturday, March 21, 2009
One Week and Counting
E
xactly one week from right now, we will be legally wed and on our way to Disney World!
If I can survive the stress before then ...
Actually, we pretty much have it pulled together now. I did finally find a dress ... I like 2 of the 4 I ordered, and the one I like best is a bit snug, so I have a rush order in for a larger replacement. The other one I will keep for future dressy engagements. The two I did not like will soon be on their way back. The one I will wear is pink, lacy, soft, feminine, romantic ... it reminds me of pink cake frosting. But it's not too frilly or fussy.
I have assembled silk flowers into bouquets, corsages and boutonnieres. We will start making the cake this week. And we have the clothes out and ready to get packed for the honeymoon. As I cast a wary eye on the weather ... again, I see it has changed, again ... from chance of rain and cool, to partly cloudy and cool, to cloudy and warmer, and today it forecast to be rainy and warm. There is still enough time for it to change ... I continue to pray. I want sunny and 70s!
But for now, we're chilling out, spending time with family - including the oldest son who is at home after returning from Iraq last month - so we're having his homecoming party tonight. Time for some food, family and fun.
Friday, January 02, 2009
What? It's 2009 already?
M
y how time flies when you're having fun! It seems like just yesterday we were ringing in 2008. How did we get here so darn fast?
One year ago
, life was much different, that's for sure! I was not working, focused on school. Rich and I were entering the "comfortable" phase of our dating life. My kids were making plans for their respective flights from the nest. Rich was
expecting his second grandson
at any moment, and enjoying the heck out of his 1 year old first grandson. In February, we celebrated the first anniversary of our first date and Valentines Day, which occurred within days of each other. We cuddled our way through the cold winter months, into spring. We went to Wasabi for my birthday in March, and welcomed the warmer days in April. That is also when my darling daughter ventured out on her own, moving to Chattanooga. In May,
we experienced some turbulence
, but that turned out to be
God working on both of us
, getting us ready to enter into our new covenant of marriage.
June
saw the rebirth of our relationship, Rich's birthday and the family trip to the beach. We returned to make final preparations for the
wedding of Adam and Sasha
in July, which was followed shortly by Rich's
formal proposal
and again, we vowed our commitment to each other before God, and in front of our friends and family. We repeated this at our official engagement party in August. September, I got the
formal offer for my job
and enjoyed my last days of being a lazy lay-about, getting up each day at noon ... or later. I started back to work in October - talk about a shock to the system! In November,
I finally got my ring
and we started
our holiday celebrations
- our first as a combined family. December just passed in a blur, with kids coming home from all over, tons of activities and events, a house to decorate, meals to plan and presents to buy (mostly online - I loves me some Amazon.com!) And a wonderful holiday it was, even though my dad spent his in the hospital with a severe exacerbation of myasthenia gravis, and me running back and forth to take my non-driving mother to the hospital and back home, while preparing dinner for 20 people. We are planning to wrap up Christmas with them tomorrow, now that dad is home and feeling tons better.
Whew! What a year! But wait! It gets better!
Now that the New Year has rolled by, we are turning to the planning of our wedding, which started out being planned for May, but has now been moved up to March. Yikes! That's less than three months from now! We have to put together a guest list, design and print invitations, choose a back-up location for the wedding - since late March weather is so unpredictable, a wedding on the deck of the lake house almost seems too risky. Rich is all about the honeymoon. When I told him we need to get cracking on this, he sat down and started looking at Disney World and Universal Studio deals and packages. I've got the feeling he thinks that is his only duty in all of this ... heh, he's got another think coming!
I have no idea what kind of dress I want ... color, length, style. Nothing ... I got nothing. I do want to lose some weight though, so I will be getting on a diet plan, probably Nutrisystem, and hitting the gym hard. The wedding itself will be fairly casual ... all I want is some prayers, some vows and a little music with me and him and a preacher man with our family and friends there with us. We might have a cake, and some food, and some music to dance to after. But it won't be a formal procession ... just friends and family hanging out, then a little ceremony, then back to hanging out for a while before we take off. No muss, no fuss.
But once that is all over ... then what? I'm thinking drop from exhaustion!
Thursday, September 04, 2008
Boom Chicka Boom!
T
onight, we went to the shooting range with several folks from our Bible study group. Yep, we cling to our Bibles and guns, but you can bet your last dollar that we are not bitter! (Especially not after that fabulous speech by Sarah Palin at the RNC! She was simply fabulous. She looked fabulous. She has a fabulous family - and her hubby! Hubba hubba! And fabulous kids. She gave a fabulous speech and has a fabulous message, one that all the lies and smears and inuendo and retarded cartoons cannot diminish. Did I mention that she's fabulous? I think I have a bit of a girl-crush on the fabulous Ms Palin ... Sarah 2012! But I digress ... )
So we clingy folk all went down to the shooting range at
Coal Creek Armory
. We studied the rules very carefully, made the appropriate marks, donned our hearing and eye protection and proceeded to kill the crap out of some paper. I managed to wing some cardboard and maybe the ceiling once or twice. This was my first time shooting a gun, and it showed. I did a little better with the .40 than the .22, but it almost put me on my ass. I know my shoulder is going to be sore in the morning. It was quite the experience. There were three other ladies there with us, and two were also first-timers. I bet a certain
Uncle
is just mad-envious that he was not able to be there ... chicks and guns, 4 for 1!
Maybe some pics will help make up for it ...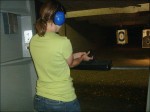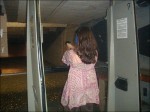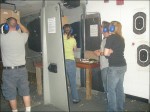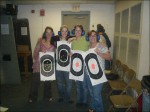 Or how about some video?
We're going to be going for some Ladies' Night shooting soon ... free range time, pay only for rental guns and ammo, or bring your own.
Friday, July 18, 2008
The move is on ...
T
he work of moving ... the packing, sorting, trashing of all my stuff ... is well underway. When I moved into this place a year ago, I knew I would not be staying more than a year. At the time, I didn't have a precise plan in place, but I knew I would be leaving soon. I kind of had a small one bedroom or studio in mind, closer to the center of the city, where I would live alone with my two cats. That's not quite how it has turned out ... instead I am moving out to the country, into a huge 6 bedroom house, with 3 teenagers, a toddler, 3 dogs, 3 puppies and a noisy bird ... and my best friend, soul mate and life partner.
A major impetus to moving away from here was my unfortunate miscalculation of the quality of this neighborhood. Just off Cedar Bluff, in the heart of West Knoxville, this used to be a really nice apartment community with a mix of young families, single professionals and retirees - folks that seek out lower cost rentals. But it has also become attractive to some unsavory elements ... drug sellers and illegal immigrants. There is one apartment here that was housing what seemed to be about a dozen young Hispanic men. They spent most of the day sitting out on the front lawn, and every now and then a van or pickup truck would stop, several of them would get in and it would drive away. This routine repeated itself several times every day. Sometimes there would be women and small children about, hanging out with them. They clearly were not outside having a neighborly barbecue, they would quietly sit, speaking softly, watching other people come and go ... it was a bit creepy. No head nods or waves of greeting, just stares. Distrustful stares.
There were some other problems here as well ... several incidents of domestic disturbances, a carjacking and my own conflict with a neighbor. When I first moved in, I had arranged for garbage pickup at the curb. They told me the to place my bags by the curb and they would pick them up and leave a big trash can for me to use. However, they did not pick up the trash as promised, and it sat out there all day long while I was at work. Upon returning home, I called the waste collection company but they were closed for the day. I called first thing the next morning and was assured they would come get it that day. When I got home, there it was still ... but now it was in my parking space. I moved it so I could pull in, went inside and started searching for a number I could call to get this taken care of. While I was inside, someone had come out and threw all the trash bags back into the parking space, right next to my car!
I went out and at this time the next door neighbor came over and started yelling at me. He would not hear any of what I was saying ... that I DID have trash collection arranged and paid for, THEY just didn't pick it up like they should. He was aggressive, threatening and verbally abusive. Someone called the police, who came, heard my story and told the dude to simmer down. He did, for the time being. However, later on he exacted some revenge by having my son attacked by two thugs ... which resulted in his spleen being contused and a small tear in a kidney.
The trash collection company, after 4 days of my yelling and threatening to complain to the county commission, FINALLY picked up my trash. Without so much as an apology for my inconvenience, of course. I so look forward to canceling this service ...
Anyway, my new home is in a rural area of northern Sevier County, and I look forward to the peace and quiet and sense of safety out in the country. Or at least I did until I saw this:
KODAK — Dozens of officers launched a pre-dawn raid in Sevier County today, beginning arrests of 39 people indicted on drug charges.
*sigh*
Hopefully, this is just a one-off incident, they will get this cleaned up and the druggies will all be run off or incarcerated.
Heh ... who am I kidding?
Oh well, back to packing, sorting and trashing. We are taking this weekend off to rest, and spend time with family. Rich's son Adam is back from his honeymoon, and will be returning to Iraq next week. We are having a cookout up at the lake house with the whole family getting together for food, swimming and lying around the pool, watching movies on a big inflatable screen out on the deck and just chillaxin - as the kids put it.
Time to rest, relax, and reconnect ...
Wednesday, July 09, 2008
Wedding Pictures!
P
resenting - Mr. and Mrs. Adam and Sasha Privett! They were joined in marriage before a host of friends and family on the 6th of July, 2008 at the lakefront home of the groom's grandmother, on beautiful Lake Douglas in Dandridge, TN.
More pictures in a Picasa Web Slideshow:
This was the wedding that almost didn't happen .. the groom is an active duty Army soldier, currently deployed to Iraq. He shipped out in December 2006. His bride, Sasha, turned 18 and was able to marry in April. We learned in January that he would come back on leave the first two weeks of July. Maybe. Or thereabouts. So we went into action. Given that there was a good possibility that Adam's leave schedule could change or be cancelled at any minute, right up to the very last minute, the providers of services for the wedding would have to be flexible and understanding if the plans had to change. So it became a family affair. The planner and director was the groom's sister, Erinne. Bridesmaids were sisters of the groom, the groom's attendants were his brother and cousin. The flower girls were the bride's sister and the daughter of close family friends. The ring-bearer, wearing a kilt matching that of the groom, was Erinne's 16 month old son, Mason. Another brother, Isaac, catered the food with his employer, and good friend of the family, Stephen. The photographer was the best man's wife. The cakes were baked and decorated by the sisters and mother of the groom. The ceremony was held at the home of the groom's grandmother. The bride was given away by the groom's father. Yes ...
the groom's father
. Weird, yes I know. But the bride, Sasha, is practically already a member of the family, having been the best friend of Cassandra since the two were in grade school, and Sasha's actual family is a bit ... disconnected.
Almost at the last minute we learned that Adam, whom we expected to be in town by July 2, would not leave Iraq until then, and having to fly halfway around the world, arrive on the 4th. But a sandstorm in Baghdad delayed his departure for a day, he left Kuwait on the 4th, and arrived in Atlanta early on the 5th. But the next flight to Knoxville would not arrive here until after 7:00 that night ... and they still needed to get their marriage license. (Luckily, Sevier County being the county where Gatlinburg is located, has county clerk offices open on Saturdays). So, Sasha, Isaac and Adam's and Isaac's mother, Betty, left for Atlanta at 3am to pick Adam up at the Atlanta airport and drive him back up here. They finally arrived around 3:00 that afternoon.
In the end, all the blood, sweat and tears paid off and the wedding was a grand success. Adam and Sasha left for their honeymoon to Atlanta and then Savannah, GA. They should be back next Sunday, and then Adam has another 10 days before he has to ship back over to Iraq to complete his 15 month deployment. Sasha will go on to his base location in Colorado where she will attend college classes and await his return.
Me? I'm exhausted ... but it was so much fun, it would be cool to do it again real soon! 😉
Saturday, June 21, 2008
Busy days of Summer
I
fondly recall the summers of childhood as being filled with lazy, carefree, unhurried days ... sleeping late, watching daytime TV in jammies, wandering about the neighborhood with friends, swimming in our pool, picking fresh peaches and making ice cream with them ... days in which my biggest complaint was "I'm bored" and wishing I was grown up so I could go and have great adventures. Now that I am grown up and having those grand adventures, I now wish for just a little boredom ... or just enough time to get everything done!
This summer is particularly busy ... it's one thing after another. At least I don't have college classes to worry about!
The second week of June found us at the beach in Amelia Island. Not the cozy, romantic trip for two we might have wished for ... we shared a beach house with two young adults, six teenagers, a baby and a toddler! Just keeping up with the mess in the kitchen was a full-time pursuit. But we had a marvelous time anyway ... the beach was great, the water was warm, the weather was completely perfect ... and the rest of the ginormous family was at another house a quarter mile down the road. At the end of the week, we ran away for an extra night all by ourselves - no kids, no teens, no messy kitchens - for a romantical birthday celebration for two. *grins*
Upon our return to the homestead, we started making the final preparations for the wedding of
Rich's oldest son, Adam
. It will be on July 6 at his mother's lakeside house. Everything is going well and to plan ... well, almost. Adam is currently deployed to Iraq and is coming home on leave. Originally, he was set to be stateside on July 1 or maybe earlier. We just got notice that he will leave Baghdad around June 30 for Kuwait and then it will be July 3 or 4 before he is actually in Knoxville! They will still need to get their marriage license, and with Friday, July 4 being a holiday, that is going to cut it very, very close! There are alternative plans if the marriage license can't be obtained on the 3rd though, but we could do without this little annoyance anyway.
UPDATE
: We have found out that the Sevier County Court Clerk will be open on July 4 AND 5, and that the information we had that indicated one must get the marriage license in the same county in which the ceremony is held is not correct. We are good to go on that note! Yay!
After the wedding is over, our attention will turn to combining two households. We will have about three weeks before my lease is up to sort through my 15 year accumulation of crap, decide what will be kept, what will be thrown out or sold or given away, find room to put everything and get me settled in here. (Yes, I know ... things have changed rather rapidly lately, but it's all good). I also have to get my son settled somewhere ... he has a job, but won't clean his life up enough to be even marginally self-sufficient. I am really, really trying to leave it in the hands of The Lord ... I am sure there is some solution that I just cannot see, but will soon be revealed. Ms Thang is happily settled in with her boyfriend, working at her job and letting her life unfold. (No, I am not completely happy about the boyfriend ... being that he is so much older than she, but it is her life and if that makes her happy, then it's OK with me.) Then, it will be just a couple of weeks until fall semester begins for me. Somewhere in there, I hope that I will be starting a new job ... heck, at this point, just about ANY job will do!
And so, life marches on, the pages of this chapter begin to turn. I am still a little disoriented, my life has been turned upside down, back up again and then sideways. But I am getting steady on my feet again, my spirit has the Lord to lean on ... here on Earth, I have my best friend and soul-mate.
My friends ... "This part of my life ... this part right here? This is called '
happyness
.' "