Category: Family
Monday, November 01, 2010
Turn Around ...
Where are you going my little one, my little one
Where are you going, my baby, my own?
Turn around and you're two,
Turn around and you're four,
Turn around and you're a young girl going out of my door.
Turn around, turn around,
Turn around and you're a young girl going out of my door.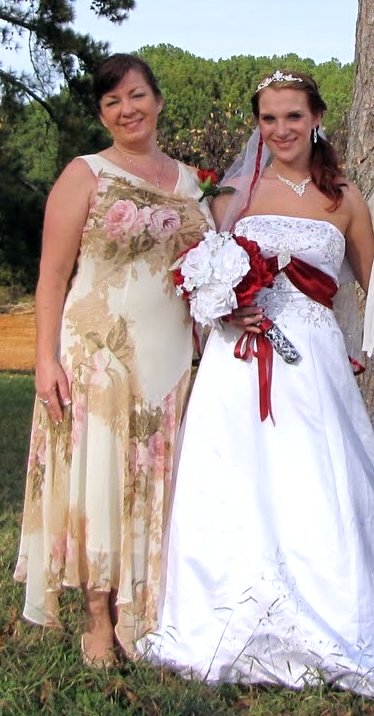 Where are you going, my little one, little one,
Little dirndls and petticoats, where have you gone?
Turn around and you're tiny,
Turn around and you're grown,
Turn around and you're a young wife with babes of your own.
Turn around, turn around,
Turn around and you're a young wife with babes of your own.
Thursday, June 17, 2010
God said Yes
T
he Bible tells us that God loves our prayers. We are to pray to Him our praise and worship, tell Him the desires of our hearts, request guidance and strength in our daily lives, and ask that He speak to us. The Bible also tells us that God can and will perform miracles for us, even today - He confirms and attests to us His love and our salvation "by signs and wonders and various miracles and by gifts of the Holy Spirit distributed according to his will." (Heb 2:4)
For the first time in my life, I have found myself in need of a true miracle.
On Memorial Day, Rich's youngest son was in a car wreck. His Jeep slid on a rain-slick curve and ran off the road. He sustained a head injury, in addition to broken ribs, lacerated lung with hemo-pneumothorax, and a minor fracture of his ankle. After a 90 minute extrication, he was rushed to the nearest trauma center. In the ER, he was responding appropriately, smiling at his dad and laughing with his best friend. Due to the knock on the head and the fractured ribs, he was taken to the ICU for observation. Shortly after arriving there, his level of consciousness started to decline. An astute nurse saw this and soon, Luke was being put under heavy sedation, intubated and put on a ventilator. A CT scan showed bleeding in his head and he had signs of increased cranial pressure.
While more than a little concerned, I felt assured that God had this under control. Of course I was praying for healing and recovery for Luke. The possibilities they were speaking of were very dire - the name for the injury he had is Diffuse Axonal Injury. A bit of research on the term revealed a very grim prognosis. Of those who sustain this kind of brain injury, 90% will never wake up. Of those who do, 90% will have major cognitive and/or motor deficits. Of the rest of that 1% the injury results in minor to moderate disability. When I read this, I felt like I had been punched in the gut. I prayed harder.
Wednesday morning, after I spent much of the previous night in deep prayer, the CT scan was repeated. Praise God in Heaven - the damage turned out to be very minor, limited to a small part of the brain and best of all, was not progressing. While he still had sustained the damage from the bleed, it was small.
Our celebration that Luke would be OK was short-lived however. As they started to back down the paralytic that was keeping him still, they soon found that his lungs were not functioning very effectively. After only three days on the ventilator, he developed ARDS - acute respiratory syndrome. His lungs were stiff, filled with fluid and could not transfer oxygen effectively to his bloodstream. They had to keep him on the ventilator and let his lungs heal - but the Catch 22 is that being on the ventilator is what made his lungs sick in the first place.
Over the next week, his progress went from 3 steps forward and 2 steps back to 2 steps forward and 3 steps back. We continued praying - seeking God's face and His divine guidance and reassurance. Rich got some answers, but I still felt adrift and useless. My faith sustained, I continued having faith that Luke would still recover, and I focused on being there to support my husband while he was there for his children and family.
As the days turned into a week, and Luke made little to no progress, in my prayers, I asked God to show me what I needed to do. Two things kept coming to my mind ... the word "supplication" and the verse Jeremiah 29:11 - which happens to be my life verse: "For I know the plans I have for you, declares the Lord, plans for welfare and not for evil, to give you a future and a hope." To this I answered, "Guide me, Holy Spirit, to do the works commanded of me. Use me as you will."
Sunday evening, I was preparing to leave the hospital when we were called back to speak with the doctor. He gave us the news that we had hoped to never have to hear, that Luke was deteriorating and was headed to what was eventually going to be his final respiratory crisis. It could be days, it could be hours. But there was little else that could be done. But there was one hope - a special bed that would allow them to easily change his position to prone, and rotate from side to side and tilt up and down. The chances of this bed working were small, and the risks in moving him were great. It would take several hours for the bed to arrive, as there were only three in the region. I believe Rich knew that he had to go for the only chance we had - having already placed Luke in God's hands. With my support, he told the doctor to go for it. Get the bed. It was already on the way.
The doctor also told us that it would be reasonable to gather the entire family at that time - even the children who were far away. One daughter in Birmingham, one in California, and even the son deployed with the Army in Iraq. The calls went out and local family began gathering at the hospital within minutes.
And then I began praying. I was begging God to not take him, that we needed him here with us. I said, "Your will, Lord, not ours, but please hear our prayer that he stay here with us - healed, whole and healthy. Lord, Lord, Lord ... please don't take him! Have mercy on his father, his mother, his family, and most of all on his beloved Lindsey. Please don't take him, Lord ... DON'T!"
Even as I spoke with Rich and the rest of the family, that prayer repeated unceasing in my mind. Then we were called back to Luke's bedside. He was deteriorating faster than previously thought. Though his oxygen levels were good, he was not perfusing well, CO2 was building up and he was becoming acidotic. They needed to move him to the prone position right away. But this would be an additional move, and another big risk of causing an irreversible crisis.
We had a while to be with Luke while they prepared for the move. God came down and weighed on me heavily. Hardly thinking about it, I just did it ... I went to Luke's side and layed my hands on his chest, and then I prayed.
I prayed with every ounce of energy, every fiber of my soul, and with every bit of love in my heart. Now it seems as if in a dream, all I remember is repeating the prayer over and over, "Your will, Lord, not ours, but please hear our prayer that he stay here with us - healed, whole and healthy. Lord, Lord, Lord ... please don't take him! Have mercy on his father, his mother, his family, and most of all on his beloved Lindsey. Please don't take him, Lord ... DON'T! In the sweet name of our Glorious Lord Jesus Christ, I pray!" alternating with that supplication that was demanded of me, "Lord, I know I am unworthy, my prayers are but a whisper, but I come to You humbly begging for Your grace and favor. We need a miracle for this child of Yours, please hear me, Lord, and grant us this miracle. In His Name, Lord ... I beg of you!"
Tears washed from my eyes in great torrents, I was shaking and my legs quickly grew weak, but I knew I had to keep on. I had God's ear and I meant to shout our pleas into it. The nursing team was moving around me, I was barely aware of their presence, yet I was taking it all in, every detail. One nurse's aid, despite the gravity of the situation, made jokes and laughed. I prayed for grace and compassion for her. I prayed for divine guidance of the medical team - "Lord, be here with us, work through the nurses, guide their hands so that no harm comes to Luke!"
Rich and I stood across the hall as they moved him, holding each other, still praying. And then it was done. His numbers were bad, and we all held our breath waiting for him to recover. The prayers were unceasing - "A miracle, Lord ... oh please grant us this miracle!" And slowly, but surely, Luke's numbers crept back up ... but we would still have to face the move, and risks, again when the bed arrived later that morning.
Although I was able to speak to others, I remained in this prayerful state. We finally retired to the family lounge to try to sleep, but I could not relax, and so I prayed.
They started calling other families back for doctors rounds at 7:30. They called us last, around 8:30. The bed was there and they were going to start moving him soon. It was a new shift of nurses by then, and Luke had held on in his face down position quite well. We had a glimmer of hope that the bed would be beneficial.
Again, as they prepared, I prayed with my hands on Luke. The same prayers, with some thanksgiving for the hope we had received ... the same physical and total emotional and mental involvement, with same dreamlike state as before. This time though, when the team was ready to start the move, they stopped ... and then they circled around Luke with us, we joined hands and were lead in a beautiful prayer by Jeanie, the clinical specialist.
It would take about an hour to move Luke, and due to the size of the bed, and close quarters in the room, they had us leave the ICU and return to the family lounge. As we did, a strange and wonderful sense of peace settled over me, and I knew in my heart that Luke was going to be OK.
A little while later, we went back in to see Luke in this huge bed ... hanging upside down, gently cradled in this crazy looking contraption, Luke began healing ... REALLY healing. Within a couple more hours, his oxygen was up at near normal levels, and his CO2 was dropping. His fever, though encased in the bed without the cooling blanket, came down to 101. By every measurement and number, he was doing so much better.
Three days later, as I write this, he has improved magnificently. The medical team is astounded. We again speak of WHEN Luke wakes up, not IF. The family that was called in from out of town, and out of country, is not here for the worst a family can face, but a celebration.
We are seeing a miracle unfold here ... the doctors tell us that Luke could wake up with cognitive deficits and possible long term or permanent damage to his lungs, which could limit his activities. But I firmly believe, and have faith that when God starts a miracle, he finishes it. Luke is going to be OK, really OK.
There have been hundreds of people called to pray for Luke, to ask God for this miracle. Hundreds of people obeyed that call. Their lives have been blessed. We are seeing this miracle. We asked, He answered ...
God said "Yes"
Tuesday, August 04, 2009
Sitting in my father's chair
I
t is late at night as I write this, the house is silent after a long day of running here and there, getting things done, sharing the latest of our family's news with friends and dear ones far and wide. But this is not my house, it is my parent's. I sit here in my father's chair, reflecting, praying and contemplating. He will never sit here again. July 31, 2009 marked the day of his passing, when God called him home. I am here to try to hold together the shattered pieces of my mother's life, so she will not have to be alone.
Everyone agrees that his death came as a blessing. He had been so sick, so weak and in so much pain - both physical and emotional, that knowing that he has been released from that brings us great comfort. That he is with his Lord, Jesus Christ is a joy to celebrate. The greatest tragedy is that he leaves behind my mother, who now faces her golden years alone.
So I sit here, in his recliner chair, trying to reconcile my emotions. All day long we have been busy, visiting the funeral home and cemetery, meeting with the pastor, making phone call after sad phone call. Mother and I didn't really have much time to dwell overly much on anything besides the practical matters. She is holding it together fairly well, her faith giving her a lot of grace to face this incredibly life-changing event. It never ceases to amaze me what a profound difference it makes when a person hands over their life to Christ. Though still maybe chaotic, out of control and filled with crisis, that grace sustains and carries us through.
Mother and I have even had moments of humor and laughter. Leave it to me to make inappropriate jokes, but if she is laughing, she is still living. Today, first at the mortuary, then at the cemetery, after going over the list of products and services necessary to hold a funeral, the sum total was presented to Mom. Let me tell you right now, folks, you would be very wise to purchase a separate term life insurance policy of at least $15,000 and mark it for end of life needs. Anyway, right after Mom paid the bill at the cemetery for the marker, burial service and related expenses (the plot was already paid for), the funeral counselor took her hand in both of his and very earnestly told he was so very sorry for her loss. When we got back to the car, I told Mom that would be a great slogan for a funeral home - "Your loss is our gain!" We giggled over that for a while.
Over the years, we giggled about a lot of silly things - and it drove Daddy nuts! Many times he would stomp out of the room, annoyed at the silly women in his house as we laughed until our sides hurt. The fact that he was annoyed because he didn't get our sense of humor just made us laugh even harder.
We almost broke out into one of those giggle fits while selecting Daddy's casket. I threatened to bury Mom in the one that was pink with lacy, frilly lining and an embroidered flower on the inside of the lid. She said, "You do and I will come back and haunt you!" I stuck my tongue out at her.
Mom is going to be OK. And Daddy is OK. Me, if I can survive this week, will recover.
I had some other thoughts, but they seem to have floated away. I should sleep, we have another long day tomorrow.
The service and burial is Wednesday, and the world resumes its regular spin on Thursday.
Saturday, June 21, 2008
Busy days of Summer
I
fondly recall the summers of childhood as being filled with lazy, carefree, unhurried days ... sleeping late, watching daytime TV in jammies, wandering about the neighborhood with friends, swimming in our pool, picking fresh peaches and making ice cream with them ... days in which my biggest complaint was "I'm bored" and wishing I was grown up so I could go and have great adventures. Now that I am grown up and having those grand adventures, I now wish for just a little boredom ... or just enough time to get everything done!
This summer is particularly busy ... it's one thing after another. At least I don't have college classes to worry about!
The second week of June found us at the beach in Amelia Island. Not the cozy, romantic trip for two we might have wished for ... we shared a beach house with two young adults, six teenagers, a baby and a toddler! Just keeping up with the mess in the kitchen was a full-time pursuit. But we had a marvelous time anyway ... the beach was great, the water was warm, the weather was completely perfect ... and the rest of the ginormous family was at another house a quarter mile down the road. At the end of the week, we ran away for an extra night all by ourselves - no kids, no teens, no messy kitchens - for a romantical birthday celebration for two. *grins*
Upon our return to the homestead, we started making the final preparations for the wedding of
Rich's oldest son, Adam
. It will be on July 6 at his mother's lakeside house. Everything is going well and to plan ... well, almost. Adam is currently deployed to Iraq and is coming home on leave. Originally, he was set to be stateside on July 1 or maybe earlier. We just got notice that he will leave Baghdad around June 30 for Kuwait and then it will be July 3 or 4 before he is actually in Knoxville! They will still need to get their marriage license, and with Friday, July 4 being a holiday, that is going to cut it very, very close! There are alternative plans if the marriage license can't be obtained on the 3rd though, but we could do without this little annoyance anyway.
UPDATE
: We have found out that the Sevier County Court Clerk will be open on July 4 AND 5, and that the information we had that indicated one must get the marriage license in the same county in which the ceremony is held is not correct. We are good to go on that note! Yay!
After the wedding is over, our attention will turn to combining two households. We will have about three weeks before my lease is up to sort through my 15 year accumulation of crap, decide what will be kept, what will be thrown out or sold or given away, find room to put everything and get me settled in here. (Yes, I know ... things have changed rather rapidly lately, but it's all good). I also have to get my son settled somewhere ... he has a job, but won't clean his life up enough to be even marginally self-sufficient. I am really, really trying to leave it in the hands of The Lord ... I am sure there is some solution that I just cannot see, but will soon be revealed. Ms Thang is happily settled in with her boyfriend, working at her job and letting her life unfold. (No, I am not completely happy about the boyfriend ... being that he is so much older than she, but it is her life and if that makes her happy, then it's OK with me.) Then, it will be just a couple of weeks until fall semester begins for me. Somewhere in there, I hope that I will be starting a new job ... heck, at this point, just about ANY job will do!
And so, life marches on, the pages of this chapter begin to turn. I am still a little disoriented, my life has been turned upside down, back up again and then sideways. But I am getting steady on my feet again, my spirit has the Lord to lean on ... here on Earth, I have my best friend and soul-mate.
My friends ... "This part of my life ... this part right here? This is called '
happyness
.' "
Sunday, December 23, 2007
Kids ask the darnedest questions
S
o ... my 17 year old daughter came home the other day and asked me, "Mom, are you pregnant?" It took me a few moments to recover from this and reply, "Why do you ask?"
She pleaded with me, "Please say no, Mom .... please!" At first, I wondered if she had read
this post
or had some other reason to think so. But she then explained, "Well, first it was Britney Spears' little sister getting pregnant, and then I found out that Amy* is 4 months pregnant ... and last week Denise had a miscarriage ... and Lori thinks she might be pregnant again! Is there something in the water or what? Please tell me you're not pregnant, Mom!"
(*Names of daughter's friends have been changed)
Pregnancy is an overwhelming concern of many teenagers these days, and with good cause ... the current teen pregnancy rate is about 43 per 1000. Kids go to school and see it every day, their friends have their lives turned upside down and futures forever changed by the presence of a baby. However, the rate is decreasing. In the last 15 years, it has been reduced by about 35%. I would say that this reduction is as much the result of teens seeing others dealing with the consequences of having babies as any sex ed programs the schools have come up with. Certainly, in my daughter's case, being friends with a girl that has a baby has convinced her that she wants no part of being a mother at the tender age of 17. Her reaction to the news that another of her friends is now 4 months along is causing her a great deal of dismay and concern. As a mother, I do not object in the least to her exposure to this bit of reality. I can see that it is serving a powerful lesson, one that she cannot forget or ignore.
However, the hoopla, hype and hysteria over Jamie Lynn Spears girl being pregnant at age 16 is totally uncalled for. Seriously, teen pregnancy happens far too often for this to be headline news or even more than a brief note of its occurrence . In this situation, her celebrity and following will serve to glamorize teen motherhood far more than serve as a warning. It's not a big deal and making it so does no one any good.
As a parent, I can only talk to my kids and hope that they make wise decisions about their lives, including their sexuality. My kids know they can come to me for assistance in getting birth control if they need to, and they are also well aware of my concerns about becoming sexually active too early in their lives. That's all I can do. The rest is up to them.
When I hear about parents like my daughter's friend's mother, who beat her when she became pregnant, I want to go beat the mother myself. That is no way to deal with that kind of situation under any circumstances. Not only is it abuse of the teen parent, it is abuse to the innocent child, who had no say in whether they came into the world or not.
Teen pregnancy happens. Deal with it. The baby is not a tragedy, or a mistake and it certainly did not try to ruin anyone's life. It is not something to be ashamed of or scorned. It was simply born, and deserves to be loved and cared for just like any other baby. The parents of the child, too, deserve love and care and support. Sure, they may have made a mistake, but it really is not the end of the world. It just a change in circumstance that is to be dealt with in the best way possible. Making teen parenthood into a tragedy of epic proportion serves no good purpose and will ultimately only harm the innocent baby.
So, on this whole Spears teen pregnancy thing, let's just STFU and let the Spears family deal with it ... they really don't need our input on the matter.
Sunday, June 17, 2007
Anyone Can Be a Father
B
ut it takes someone special to be a Daddy.
Today, on Father's Day, I want to honor all of the wonderful men that I know, who are also wonderful Daddies. Happy Father's Day to you all.
I count myself extremely fortunate that I have been blessed with a wonderful Daddy. My whole life, we have butted heads over just about everything. My Dad has a very unique talent for getting right on my very last nerve like no one else ever could. But it's OK. We work through it. On the other hand, he has taught me much about life and the world and how to deal with it. He was the first man in my life, the man who taught me all what men are all about. I learned from him how men should treat women, by the way he treats my mom ... with love, tenderness, devotion, respect and honor. My Ex never came anywhere close to measuring up to that. Indeed, my Daddy was mighty unhappy when he learned how utterly disrespectful my Ex was to me while we were married. After all these years of post-divorce nastiness from the Ex, my very Christian Daddy will just growl and snarl when the subject of my Ex comes up ... I don't think he could think of one single kind thing to say about him.
My Daddy has exemplified integrity, honor and morality and he is the yardstick by which I measure all other men, on all levels of interaction and relationship. From the work-place, to friends, to more personal interactions ... WWDD - What would Daddy do? Yes, indeed ... I have very high standards by which I judge other men.
My children have not been so fortunate. They have truly been ripped off in the daddy department. It breaks my heart, and causes them no end of hurt. I consider all the men that I know, who are Daddies, who are good Daddies ... and I want to cry for what my children are missing out on. Their father is just so wretchedly awful, purposely hurting his own children in his childish desire for revenge for his hurt feelings and guilt, I honestly think they would have been better off with no father around at all.
But I don't want to talk about my kids' crappy father ... I want to talk about some of the men I know, who are good Daddies, and to honor them on their special day. I am not going to specify by name, but if you see yourself in this, then I am probably talking about you!
I know Daddies that are great with their kids, taking special time with them to help them grow up to be wonderful people themselves. They provide for their family, not just with their paycheck, but also with their strength, leadership, courage and morals. They love, honor and respect their wives - the mothers of their children. They create a home filled with love, laughter, fun and learning. They know what's important for their family and they do their best to attain that.
I know Daddies that have taken on children of other men as their own. They come into families already brimming with offspring and step right in and love the children just as if they were their own. Sometimes the kids' father is in the picture, sometimes not. But these special daddies make a place for themselves and become an important part of the children's lives.
I know Daddies who do not have their children with them every day, they are with their mothers ... but they are still awesome Daddies anyway, making every effort not just to provide, but also to be there - to spend time with their kids, as much as possible, to love them, teach them and be a part of their lives. What's more, they still treat the mother of their children with respect and honor, even if they don't like her very much. That is so important for the kids ... their mother is a part of them, and when Daddy is hateful to her, he is being hateful to the children. (Yes, I know it works the other way too! But I am talking about Daddies in particular right now).
I know Daddies who are being daddies all by themselves, with no partner. As a single mom, I know well how hard it is ... and how you will never, ever feel more alone than when you are trying to be both mommy and daddy, with no one around to help, support or encourage. Single parenting is absolutely the toughest job in the world.
I know of Daddies who fight tooth and nail to remain a part of their children's lives, even when the mom does everything she can to shut him out, or worse. Yet, even though left destitute after paying child support and having to take what scraps of time they can get with their kids, they still make the best of it and do what they can to stay as involved with their kids as they can.
You guys are awesome. Thank you for helping to ensure the next generation will be filled with responsible, well-adjusted adults. Have a great Father's Day, and go ahead ... pat yourself on the back, you're doing great!
Saturday, December 23, 2006
Not so very merry tonight
S
o, I was galloping merrily along with my Christmas preparations ... brunch tomorrow at Italian Market and Grill, quiet Christmas Eve at home, Christmas breakfast here, presents with my parents and kids, then ham dinner here. I had house to clean, presents to wrap, grocery shopping and had it all laid out to where I could get it all done. The kids would help too. My son has been reasonably non-surly recently, and my daughter feeling somewhat better with her anxiety and depression issues, even getting started with some counseling.
But, ya know ... the best laid plans and all that ...
We got news that the kids' grandfather, their dad's dad, had passed away Friday morning. The service was tonight. We went. Of course, this involves seeing family ... have I mentioned how much more awkward this is in this family than in most? Most of my daughter's emotional troubles are due to her father and oldest brother rejecting her ... dad because his feelings got all hurt, brother out of loyalty to his dad. The witch stirring this pot of discontent is the step-mother, who has tried to turn the family against first me, then against my younger son and now my daughter. I hope that she got the message loud and clear that we are still welcomed and loved by that family ... her best efforts notwithstanding. I hope their dad got the message loud and clear too ... choosing her over his children will lead to nothing but immense pain and misery all around.
Whatever gains my daughter made in the last week or so were lost tonight. On the way home, she was stressing out, obsessing over every little thing. Earlier she was hungry and we had planned to go out to eat. Now she's nauseous. She's now off with a friend where she hopes she can chill out. A bit of hope, she knows when she is "losing it" and knows what she needs to do to keep it together ... sometimes sleeping, sometimes going for a walk, sometimes going to a friend's house. She's very self-aware. But I still worry like hell about her.
It's now after 11:00 and I am headed out to the grocery store ... but that's not so bad, it won't be crazy crowded like it was earlier today.