Category: Friends
Sunday, January 20, 2008
Weekend Roundup - Blogfest, Movies and More!
M
y previous post got disappeared when Firefox locked up. I was almost done too! So, now I will recap Friday night's Blogfest, post some pics and also mention part 2 of our weekend activities, which may or may not have included a certain highly anticipated monster movie.
Blogfest was great. Mostly. However, we were unaware that Bailey's had decided to keep their place smoke-enabled and thus had to make a rule that all customers had to be at least 21 years old. This caused a bit of grief for some that wanted to bring the family along, as had been the practice many times before. Making things even worse, Bailey's apparently has no air handlers in place to help clear the air of the smoke, so for us non-smokers, it was quite uncomfortable. So, the next Blogfest will be at another location, one that is family-friendly and with clearer air. We are open to suggestions, but are thinking next time at Calhoun's on Bearden Hill ... Yes? No? Other ideas?
Anyway ...
Everyone had a great time. We had both some familiar faces as well as a couple of new ones. In addition to
Rich
and myself were
Cathy
and
Doug
.
Tamara K
and her feller were there, and they talked up the guns with
Les Jones
. I think they were cooking up another shooting bloggers meet up. Making their Blogfest debuts were
Craig Thomas
,
Johnny-Oh
and
Eric
.
Barry
came in for a few minutes, but as he had the wife and kids waiting in the car outside, he couldn't stay long. However, in keeping with his reputation as the suave and debonair ladies man of the East Tennessee blogosphere, he planted himself as close to the ladies as he could, and then just waved across the table at the men-folk. He was too cute. But for his efforts, he walked away with
Doug's choice giveaway
of a wireless router.
Barry would also like to let everyone know that the mighty and infamous
Atomic Horns
will be playing at a Valentines Party at the Elks Club in Oak Ridge on February 8, and he wants even more groupies to come out and see his most-awesome Elvis impression.
I posted some pics I took with the crappy camera on my phone at
Flickr
. I also took a few pics with my trusty, but old and not-quite-as-crappy digital camera. Hover for details, and click to embiggen: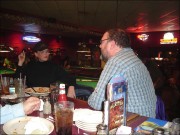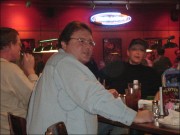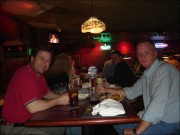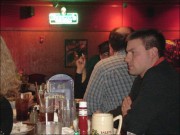 Saturday night found us at a mini-Blogfest of sorts. We met up with Cathy and Doug first for ice cream at Marble Slab in Turkey Creek ... Mmm! Ice cream in frigid cold weather! Then we took in a showing of
Cloverfield
. I liked it. Rich, not so much. He says he will post a short review on it later. I don't want to give away any spoilers ... not that there are many - big monster stomps around in New York, people run away, military shoots at it. All told from the vantage point of a hand-hand video camera. One with a kick-as battery pack that last over 12 hours.
Half the fun of going to the movies is seeing the trailers for upcoming movies. We saw a few that looked promising. Rich, ever the comic book geek, is looking forward to
Iron Man
. Doug nearly pee'd himself seeing the barebones, under construction, tell nothing trailer for the next
Star Trek
. Yes, folks, that is Number 11. Another preview was for
10,000 BC
. In just the trailer alone, I counted several anachronisms. I can't see this as being too terribly accurate, and if it was, not very interesting since the language of the days was pretty limited. There was another, very forgettable looking, insipid something with Will Ferrell in it (has Will Ferrell ever been in anything that was not insipid?) There will also soon be a sequel to
Hell Boy
...
Hell Boy II: The Golden Army
, which is surprising given that the first one was pretty much a dud.
And that has been, so far, our weekend. Still no baby yet, but stay tuned!
Monday, April 23, 2007
Call for hugs and prayers
O
ne of the scarier things about getting older is that your parents are getting older too. And often they have health problems, sometimes serious health problems. I worry about my parents all the time. Right now,
Rich Hailey
has extra
cause for concern
about
his mom
. Go give him some lovin' and say a little prayer.
Sunday, February 11, 2007
BlogFest!
O
nce again, an awesome time was had by all! East Tennessee bloggers met up at Calhoun's in Knoxville and had a righteous good time. We supped and talked and laughed ... and no one blogged! Not a laptop in sight (although mine was in the car!)
I hope I got all the right names with the right faces. Please correct me if I am wrong! I wish I got more pictures, but the batteries in my camera died.
It was a marvelous time! Thank you to Rich for putting these together and giving me a great excuse to not be such a hermit! Thanks to all those that came for being such awesome people!
I ran into an old friend,
Perry Nelson
... we worked together many years ago. I got to see some familiar faces, like
Cathy
and
Doug
and their awesome clan of kids with only one not present,
Rich
,
Michael
and his adorable little angel,
Randy and Michelle
... and meet some new people, like
Da Blogfaddah
, and
Dr Helen
, who are just about the nicest people you'd want to meet ... and
Barry
,
SayUncle
,
CE Petro
,
Les Jones
,
Mark Steel
and
Mike Faulk
.
Barry has an ...
interesting review
of the evening's events, one that has me laughing out loud.
Cathy
has lots more
pictures
.
OK ... so when's the next one?!? 😊
Wednesday, January 24, 2007
BlogFest - Be There!
S
o
sez Rich
. These are always loads of fun, and everyone who's anyone is there ... or should be! Yes, that means YOU!

Where: Calhoun's on Kingston Pike at I-140
When: Saturday, February 10 starting at 5:00PM
Who: Everybody
Why: Because.

Kingston Pike and I-140 being Pellissippi Parkway. Bring the family, bring some friend, bring an appetite and get ready to meet some way cool people!
See you there!
Wednesday, January 03, 2007
A Pain in the Butt
T
his is absolutely vile! Some chick that goes by "Julie Pain" has posted her judgement of some dear friends of mine. Their crime, in her eyes? Blogging about their family. This woman calls herself a Christian ... that will surely make Baby Jesus cry.
This family appears to have what could be called 'The Truman Show Syndrome'...if there is not yet such a thing, there should be (you read it here first...). Little appears to have happened in Doug's life so far; perhaps he doesn't move that far away from the computer, perhaps only a little further than the Aspie Caregiver, Cathy, who also has a blog named, Domestic Psychology from which her thirteen year old's blog, with entries beginning …'mom told me to blog about…' is linked. Perhaps her ten, four and one year olds will be blogging under mom's direction very soon. Perhaps some relative or friend will get Dr Phil intervention for them soon, as they do seem to have become a tad obsessed with documenting their lives
First of all, this clueless twit, despite having a blog of her own (even though it is a Blogger blog .. heh), seems to be missing the point of having a blog in the first place. I can only guess that she has no life to really blog about, and cannot comprehend that others do. Secondly, posting about one's experiences in raising a child with special needs (yes, she even attacked their son, who has Aspergers) is invaluable to others in the same situation. I still get regular emails thanking me for sharing my adventures in
Bipolarville
with my son.
Now that she's been called on the carpet for her vile, hateful screed on these lovely people, she's all defensive and whiny. She just can't understand why all these people are posting comments are all angry at her! Gee ... go figure.
I refuse to send this evil posting any traffic directly from here, but Doug has linked to it in his post ... I'll give him
the linky love
.
Saturday, November 18, 2006
Memorial Fund for BJ Kilpatrick
M
ay her light burn bright ... forever.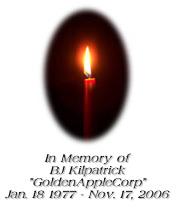 Do not stand at my grave and weep,
I am not there. I do not sleep,
I am a thousand winds that blow.
I am the diamond glint upon the snow.
I am the sunlight on ripened grain.
I am the gentle autumn rain.
When you wake in the morning hush,
I am the swift, uplifting rush,
Of quiet birds in circling flight.
I am the soft starlight at night.
Do not stand at my grave and weep,
I am not there. I do not sleep.
— Indian Memorial
Barbara J. Kilpatrick Memorial Fund
C/O ORNL Federal Credit Union
P.O.Box 365
Oak Ridge TN 37831
Checks can be made payable to the Barbara J. Kilpatrick Memorial Fund. Deposits can be made to the account at any ORNL Federal Credit Union branch by using the account name.
Prayers for her husband, children, family and friends are also still desperately needed. See
AtomicTumor.com
for the story. Bring lots of tissues.
(If you are posting this memorial fund information on your web site, and would like to also use the candle image, feel free to download and use it. I made it, it is freely available to whoever wants to use it in conjunction with any type of memorial to BJ.)
Below the fold is a link to a video and some pictures of BJ.
Friday, November 03, 2006
Prayers and Good Thoughts Needed
H
op over to
AtomicTumor
and drop off a good thought or two ... his wife has taken ill and is in the ICU. She's got a rough road to recovery ahead of her, AT is trying to handle this the best he can, with two little ones, a job, school, etc. and that's tough enough without being mad with worry about the love of his life. Leave some good vibes at his site, in the comments or the shout box. I'm sure he'd appreciate it.
(Stickied until GAC is out of the woods)
The rest of this post is below the fold. It's best if I keep quiet for now ...
Wednesday, October 25, 2006
Going through Hell
This video is dedicated ... first, to me. Wow. I really needed that. And also to all my good friends that are also going through your own versions of hell ... especially a special couple that made me believe that love is real, if you're really lucky.
Stay shiny!
(H/T:
FrankJ
)
Friday, September 08, 2006
Online Hugs Needed
O
ne of my bestest online friends lost her mother today. Drop over to
Lynne's place
and give her a cyber hug. She's experiencing one of my worst fears ... I can't even contemplate losing my parents. Lynne is in England, having traveled there to help her mom battle a resurgence of cancer. Instead, she will be burying her. At least she is there for her dad. God Bless all of them. Keep Lynne and her family in prayers.