Category: Oak Ridge
Wednesday, November 14, 2007
Unimaginable Heartache, Unimaginable Joy
S
ince Friday, much of East Tennessee has been reeling with the news of the
tragic accident
that took the life of 12 year old Ashley Paine in Oak Ridge.
It is one of those cases that makes you want to seek out your own children, hold them close and thank God for every day you have with them. Many also wonder why awful things like this have to happen. We comfort ourselves with the faith and knowledge that God has a plan for us all, and He has His reasons that will be revealed to us someday. It is not often that the bereaved get their answer so soon ...
"Momma, they got me a heart."

Those are the words Jessica Hensley heard Monday when her phone rang at 1 a.m. in her Kingston home.

Jessica's 12-year-old daughter, Jordon Hensley, called from Vanderbilt University Medical Center with the news that her cardiologist needed her to get ready for a heart transplant.

"Jordon called me before the doctor did," Jessica said Tuesday in a phone call to The Oak Ridger.

"She told me, 'The doctor's about to call you. I am so excited.'"

Jessica said, "We are so thankful to the Paine family. I have not got an official word (about the donor), but I know it was Ashley.
As one family suffers the unimaginable grief of the loss of a child, another revels in the joy that theirs has been given a second chance at life ... both resulting from the very same incident. The mind, and heart, boggles.
It was exactly a year ago that I was watching a friend
lose his beloved wife
, the mother of his two boys, his soul mate ... helpless to comfort or help. A mutual friend and I lamented that such a horrible thing was happening to two wonderful, good people and it wasn't fair. WHY? We wondered ... why them?
While nothing ever can replace a loved one, ripped tragically from our lives, there can be some comfort from knowing there was another purpose, some good that came from it. One child is lost, another lives, and a dangerous intersection gets
school zone speed limits
and warning lights. A beloved wife is lost, and another jaded, cynical, and lonely woman is inspired by their story to give love another chance, and hundreds of others who also followed the story* reassess their own lives, relationships and faith. Who knows what else came of the story of Jake and BJ? Other than Jake has moved on and has been able to find yet another worthy recipient of all that
wonderful love
he has
to give
...
As I stumble through my own life, coping with challenges, trials and tribulations, it is very difficult to remember that there is a reason for everything, reasons that oftentimes, only God truly knows. We can only let go and let God ... the very measure of faith.
Ecclesiastes 3:1 (KJV) To every thing there is a season, and a time to every purpose under the heaven
*Start
here
and read forward for the whole story of Jake and BJ. Bring tissues. Lots of them.
Tuesday, January 09, 2007
Snow!
I
sn't it pretty?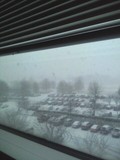 We don't get snow all that often here in East Tennessee, so it creates a bit of a stir when we do. I bet folks in Denver would snort and say, "Yeah whatever!"
It was whirling and swirling with big, fat fluffy snowflakes a bit ago. It's stopped now and is already melting off the road and parking lot. Rather anti-climatic ... but it's still pretty. All I can get right now is a crappy cell phone camera pic. I took a couple with my digicam but I have no way to upload from work ... unless one of these geeks around here happens to have a USB cable handy ...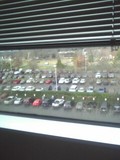 UPDATE: It's already over, melted, the roads are nearly dry and the sun is out. A common saying in East Tennessee is "If ya don't like the weather, stick around a few minutes ... it'll change!" So very true ..
Here comes the sun ... doot'n do do!
Monday, October 30, 2006
Autumn in Tennessee
O
K, you can hate me all you want ... but damn, what a nice view I have at work!
These were taken through the fairly dirty plate glass windows in my office at work today ... so not exactly the best pictures possible. I wonder if there is a way up to the roof ... those would be some awesome shots!
(Click for a bigger pic)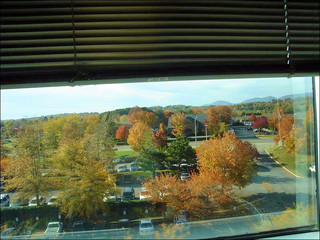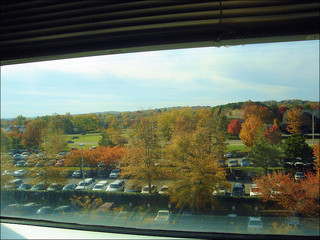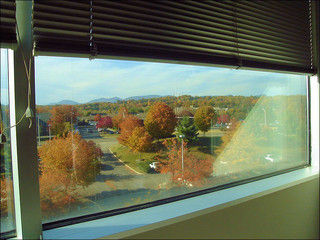 Yep ... life is good sometimes.
Friday, October 06, 2006
Where the Hell is Matt in Oak Ridge?
One of the cuter phenomenons to hit the InterTubes was
Matt Harding
, who danced his way around the world. His happy little jig was video recorded with backdrops from all over. It's a goofy, pleasant way to spend 3 minutes. Now there is a homegrown Matt ... Matt McMahon, and he has made his own video, "Where is Matt in Oak Ridge?" and he dances his way around the little city of Oak Ridge, TN.
Enjoy!
Wednesday, September 20, 2006
When Schools Ignore Bad Teachers
A
rather intriguing scandal has rolled through the little city of Oak Ridge, TN. Montgomery (Monty) Koons is just the latest teacher to be accused of innappropriate behavior with a student in what seems to be an epidemic of teachers gone bad.
The latest from WBIR
also has a video of the news report, be sure to watch that. Now keep in mind, that school has had two opportunities in the recent past to take action with this teacher. What did they do in response to the second incident? They gave him a month long paid vacation, "to help him overcome the stress" from his job. That incident involved him shoving an 11 year old girl against a desk, and swatting her on the behind. He played it off as horseplay, and it was her word against his. The school took no further action. She was left to feel betrayed, and that she was being called a liar. In addition, she was rather well developed for an 11 year old, and says that this teacher seemed to pay a lot of visual attention to her chest. After she reported the butt swatting incident, she was made to feel so uncomfortable in his classroom that she had to transfer to another in the middle of the school year. Now, with this incident, she is reliving the trauma of that episode. The damage from this kind of thing is forever.
I wonder if the school had taken stronger measures back then, would another girl and her family be going through this now?
I am seriously pissed off right now, for a number of reasons, which I may or may not discuss here.
Monday, August 28, 2006
Schools, then and now
M
aybe I am misremembering, but I don't believe that a free public education ever cost so much as it does these days. In the first two weeks of school for my daughter, they have nickel and dimed me to the tune of nearly $100 .... and that's before the $150 calculator she also needs. Yep ... that's one HUNDRED fifty dollars. Holy crap! We used our fingers and toes, and a good measure of pencil lead and erasers. Now granted, she is taking classes that require extra supplies ... art and photography, but still. Oy vey!
At work today, someone left a catalog and order form so people could order cookies. Obscenely over-priced cookies at that. But for a "good cause" ... it was for their child's school fund-raising efforts. Over the years, I have paid princely sums for cookies, wrapping paper, decorations, hot drink mix ... to fund something for the school. Soon, Knox County schools will start their kids hawking coupon books. I have never felt comfortable sending my kids out selling this crap, and we do have the option to let them sit it out, but the schools are very clever in hawking the sales programs to them ... bribing them to sell Sell SELL! with prizes and promises of pizza parties for the top-sellers. Any kid that forgoes this is an instant pariah. Of course, the rich kids who's parents can afford to buy a boat load of these items are the ones that typically take top prize.
I feel like I am about to tell a tale about walking to school through the snow all year long, uphill both ways, barefoot and carrying a little sister on my back ... but seriously, back when I was in school, we didn't need to go door-to-door selling all kinds of crap to help fund the schools. Sure, the PTA sold cookbooks of recipes donated by students' parents, but that was to fund our yearly carnival and Christmas parties (Yes! We had real Christmas parties and the Jewish kids enjoyed them too! No one got all offended or anything!) The drama club had car washes to buy costumes and set scenery. The choir would sell candy to fund the trip to the competition. Stuff like that. We didn't need to go earn our keep ... or our pencils and books.
For those of you that have been along for the ride here recently, you know that I just moved to a new home in Oak Ridge, after having lived in and been happy in one place for the last nearly 7 years. The primary motivation for the move was that my 16 year old daughter came to live with me full time, and she and I both want for her to continue at Oak Ridge High School. Not just to avoid the trauma of changing schools midway through, or missing her friends and activities, but because Oak Ridge High School has consistently ranked in the top tier of the nation's high schools year after year after year. What parent doesn't want the best for their kid? And besides, it's my alma mater ... Roll, Wildcats!
Eh hem ..
Anyway. There is growing concern about the status of the school system here. This is a town where education is highly regarded. Or was. With a national laboratory and a nuclear weapons research facility being the life-blood of the city, we have probably one of the most highly educated cities in the country. So, why has education and the city schools become a falling priority over the years?
Once again, back in my day, the schools enjoyed nearly half of the city budget. Now, they barely get one-third. We didn't sell crap to buy text books, and our parents weren't nickel and dimed to death. Granted, we did have a stupid bus ticket program, but at least that forced most of the costs on those who actually needed and used the school bus system. This year, the school has had to impose a limit on who can ride the bus and who cannot. Those within a 1 mile radius either walk or go by car. Worse yet, the once laudable ranking of Oak Ridge High School, which at one time was in the top 100 in the nation, has sunk lower and lower year after year ... #465 for last year.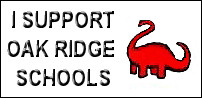 There is now a grass-roots, community based movement to bring attention to the declining priority of the schools in Oak Ridge, TN ... the
Atomic City Education Society
. Already garnering attention from the
local
newspapers
, ACES aims to put a spotlight on this concern and bring attention to this important matter. I will soon be sporting
bumper stickers
on my cars and encouraging others to do the same, plus donating to the cause and letting my voice be heard along with other concerned parents that we care about our children and want the very best for them, and their future.