Category: Food
Tuesday, April 09, 2013
Monsanto's Dirty Secrets and Lies
Monsanto has been working its way into the upper tiers of American federal government for decades. Now Obama has given them an
order of protection
to be able to continue messing with our food supply - without telling us what they are doing, and being held unaccountable for the damage done to our bodies by these altered, corrupted, hybridized, genetically modified, poisoned foods.
In other words, if you become sick from eating these genetically modified foods, you cannot sue for damages. But, you may not have a choice whether you eat these foods.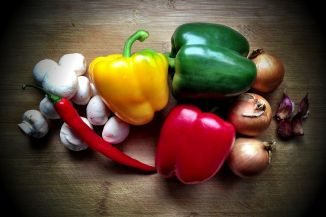 Cancer, obesity, diabetes, heart disease, vascular disease, birth defects and pregnancy complications, brain disorders, mental illness, metabolic and autoimmune disorders ... ALL of these have their roots in the foods we eat. Do you, like I do, suffer from chronic illness caused by an autoimmune disorder? If so, you can thank Monsanto for that ... they put the poison in your food that has made you sick.
And even growing your own food does not help much ... Monsanto has a monopoly on the seeds we buy, which won't germinate unless you use their fertilizers, and which produce sterile fruit and seed which cannot be used to plant the next year crops - so we have to buy more seed from them next year. Only if you have a source of independent, heirloom seed and grow from them without commercial fertilizers and pest control, will your food be not produced by Monsanto ... and even then, they are moving to outlaw the sale and transfer of heirloom seed, so the only source we will have is theirs.
The Monsanto poison can no longer be completely avoided ... it is in the feed given to livestock, in the plants we eat, even in the water supply either from ground water run off or by direct addition of the poisonous fluoride - provided, of course, by Monsanto.
Between 75% to 80% of the processed food you consume every day has GMOs inside, and residues of Monsanto's RoundUp pesticide outside. But it's not just processed food—fresh fruit and vegetables are next: genetically engineered sweet corn is already being sold at your local grocer, with apples and a host of other "natural" produce currently in field trials.
We can only hope to minimize our exposure to these toxic foods, but we need to know what's in our foods and have viable alternative sources in order to do so. Monsanto is going to fight our right to choose not to eat their foods every step of the way ... until we are too sick to fight or dead.
Tuesday, May 22, 2007
More Good Eats in Oak Ridge
I
've been tagged!
By Mrs Eaves at
AtomicTumor
1. Add a direct link to your post below the name of the person who tagged you. Include the city/state and country you're in.
Nicole
(Sydney, Australia)
velverse
(Kuala Lumpur, Malaysia)
LB
(San Giovanni in Marignano, Italy)
Selba
(Jakarta, Indonesia)
Olivia
(London, England)
ML
(Utah, USA)
Lotus
(Toronto, Canada)
tanabata
(Saitama, Japan)
Andi
(Dallas [ish], Texas, United States)
Todd
(Louisville, Kentucky, United States)
miss kendra
(los angeles, california, u.s.a)
Jiggs Casey
(Berkeley, CA, USA! USA! USA!)
Tits McGee
(New England, USA)
Joe
(NE Tennessee, USA)
10K Monkeys
(Chattanooga, Tennessee, USA)
Big Stupid Tommy
(Athens, Tennessee, USA)
Newscoma
(Weakley County, Tennessee, USA)
Russ McBee
(Knoxville, Tennessee, USA)
Atomictumor
Mrs Eaves (Oak Ridge, Tennessee, USA)
Oh Really?
LissaKay (Oak Ridge, TN, USA)
2. List out your top 5 favorite places to eat at your location.
Since Eaves asked for Oak Ridge locations ...
My house - I love to cook. I love to experiment and invent new taste combinations. Lately, I have been enjoying the challenge of creating tasty things to eat that are also low-fat and good for me. Somehow, though, I have managed to raise heathens for children and they rarely appreciate my creations, preferring frozen pizzas and Hamburger Helper. I also do not enjoy my tiny kitchen, lack of dishwasher and limited time to pursue this hobby.
Panera Bread
- a step above the usual fast food/deli shop. I do wish they added new things to the menu more often. But I do love their new Grilled Salmon Salad.
Firehouse Subs
- totally bad for a diet, but oh-so very yummy!
Hot Bagel Co
- often overlooked, very yummy and the low-fat selections ease the guilt
Wok n Roll
- yeah, so it's cheap, imitation Chinese, but it still tastes good! Especially their Lo Mein and Orange Chicken.
There are a bunch of places I really like in Knoxville ... Calypso Cafe and Tossed in Turkey Creek, PF Chang's, Mandarin House, any place that has Japanese Hibachi - Shono's, Fuji, Hashi, etc., Rafferty's, Conner's, The Melting Pot ... and dammit, now I'm all hungry!
3. Tag 5 Others
Cathy
and
Doug
Barry
Mark
Rich
Monday, January 01, 2007
Conquering Leftovers
N
ow serving: Musgoe Hambone Stew
All you care to eat! Please!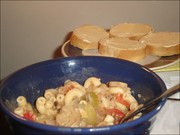 It's been many, many years since I hostessed any part of the Christmas family gathering. My townhouse was just too small for any kind of entertaining, other than a simple dinner date. Family, with kids, and massive amounts of cooking? No way!
So, I mostly missed out on the piles of leftovers that naturally follow the holiday dinners. If mom cooked, she would sometimes send us home with a little, but that would be taken care in a day or two. This year was quite different.
For one, neither Mom nor I are very good judges of how much is enough. I think we both go by the premise that it's better to have too much than not enough. So, we usually have enough to feed an army. This year, Mom brought a 12 pound spiral sliced ham. And her famous overnight fruit salad. I made a metric ton of Mashed Potato Bake, and a like amount of Wild Rice and Broccoli Dressing.
Leftovers? Oh yeah. I got yer leftovers.
The ham left filled two gallon size storage bags. Plus the bone. Despite the consumption of ham sandwiches every day last week, I was still faced with massive amounts come Friday. So, I made a potato cheese and ham casserole. But I still had a huge chunk and the hambone left in the freezer. And potatoes. And dressing. And also apple and pumpkin pie.
So tonight I made Musgoe Stew with the hambone. What is Musgoe? Easy ... if it's in the fridge and still edible, it "musgoe" into the stew. Except the pies.
I boiled the hambone in broth and water for ... awhile. I sauted some onions and celery, then dumped that into the broth, along with minced garlic and dried red pepper. Then I emptied the fridge out. Mushrooms, mashed potatoes, dressing ... it all went in. Plus stewed tomatoes and some macaroni. I cut some ham off the bone and tossed that in too. It looks a bit odd ... the tomatoes and potatoes have combined to give it a pinkish color. But it tastes wonderful ... perfect for this chilly evening!
I now have a bloody ton of Musgoe stew. And some nice French bread.
Anyone hungry? Come on over!
Saturday, February 11, 2006
Here comes the snow doot n doo doo
Here comes the snow
And I say, it's all right ...
Little darling, it's been a long cold lonely winter
Little darling, it feels like years since it's been here
Here comes the SNOW, here comes the SNOW
and I say it's all right
Woo hoo! Snow!
Oh wait ... must do the panic thing first ... OMG! I need to get milk! No ... nevermind, I don't drink milk. Toilet paper! Must get at least 20 rolls! Run run run to Kroger!!! Ahhh the sky is falling! The world is coming to an end!
OK, got that over with. Snow ... way cool. I hope it's a good one. We haven't had a good snow here in a couple of years, and certainly nothing like the blizzard of '93. Or even the ice and snow storm of '96. How 'bout the freezing rain storm of '82? Where were you then? I believe that was the first time the University of Tennessee ever closed due to weather. The only other closing I can recall (and I am sure someone will correct me) is the Blizzard of '93.
I did go to Kroger today ... not to stock up on necessities, but to get the fixins for a feast. I had a hankering for Thai Cashew Chicken, but didn't want to spend the bucks at a restaurant for it. I also recently discovered jasmine rice ... oh. my. goodness. Awesomeness! It defies description ... just get some and try it. If you like rice, you will love jasmine rice. Anyway, I got the stuff to make the most awesomest Thai chicken with cashews (recipe below the fold), plus a few other things, including Girl Scout Cookie ice cream ... no kiddin, it's for real. Thin Mint ice cream. Yummmm! Surprisingly, the store was not all that busy. I expected to fight a crowd, but it seemed to be the usual number of Friday evening shoppers. I have often thought that weather forecasters and grocery store managers were in collusion to drum up business for the stores.
Right now it is just raining a bit, and it is a little too warm for snow. Maybe when I get up in the morning I will have a nice winter wonderland outside. Since I have no pressing business to attend to this weekend, that would be kind of nice. Snow blogging!