Category: Local News
Monday, February 06, 2006
Nothin' Personal
Just doin' business
...
Details of the transaction weren't revealed, but Answer Financial will keep about 80 percent of the 200-employee Capital One staff now in Oak Ridge, officials said.
But it still sucks. Hard.
As noted, we do get a severance package. The "career transition services" leave something to be desired though ... we got a list of employers that said they would be interested in us. And, as also noted, they will be expanding in coming months, and we are eligible for re-hire. In fact, they will call us first, before posting any job openings. Right now, I am completely undecided about what I want to do. When Capital One took over, the way we did business changed ... it was more selling, less focus on service. I am not much of a sales person. Ironically enough, from what we were told about AFI, they do business much the same way as we did before Capital One, which I am good at. Oh well ... But as I said previously, I think I would do better to get focused back on computer/techie/geeky stuff again.
Today was my last day. Had the "exit interview" and packed up the last of my stuff. I held my head up high and took it like the whiny-assed, crybaby that I am. It was the best job I have ever had, wonderful people, great pay and bennies. After a couple dozen tearful hugs, I left for the last time. But life, as they say, goes on. I went to the grocery store, came home and cooked dinner, sat down to read email and news ... all just like any other normal evening. But tomorrow morning, it will all change, and that is probably when it will really hit me ...
But it's nothing personal ... just part of doing business.
*sigh*
Tuesday, November 29, 2005
I keep checking
.... and checking. And then I check again. I am getting just a tad confused by all this.
Every time I look at the calendar, it confirms what I know I know. It is November. The end of November.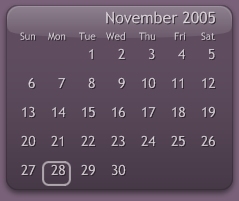 And then I check the weather ... I even step outside to be sure ...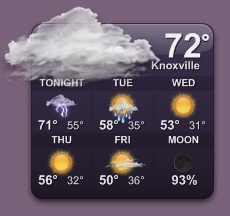 I am not imagining this. It is friggin HOT in November! We should be bundling up in our heavy sweaters, wearing our coats, scarves and mittens. Frost on the windshield should be our first annoyance of the day. We should be griping about how damn cold it is and where the hell is spring already.
I have my air conditioning on. We've had severe thunderstorm warnings, tornado watches and wind gust warnings today too. This is nuts.
Friday, November 25, 2005
This IS America, isn't it?
I am ... astounded. Simply astounded. This is America, right? We haven't abrogated our rights as protected under our Constitution and our political system is still a democratic republic, isn't it? I mean, this isn't like Iran or anything ... is it?
So .. what da heck is up with this?
School paper pulled by officials
(Log in with knoxnews@yahoo.com/knoxnews ... courtesy Bugmenot.com)
OK ... I grew up in that town and graduated from this high school. In fact, I was on staff of this newspaper during my senior year. I know for a fact that had the administration tried something like this on us, it would have erupted into World War III. The administration knew this too, and never would have even considered pulling an entire issue. We might have had a lecture on appropriate topics for a high school newspaper and blah blah blah. Like we would have listened ... but anyway, the thought of trampling our civil rights in this manner would have never have even been entertained.
Birth control and body art ... like these are highly controversial things anyway. Holy crap. The birth control article emphasizes the fact that nothing guarantees protection from pregnancy or disease, and states very plainly that only abstinence will fully protect one from these negative consequences. Are we getting so head-in-the-sand that we must not even bring up the topic lest our little darlings take that as condoning of teenage premarital sex? Talk about delusional.
I know very little about the body art article, but what the hell? You know, I can think of a lot worse things that kids could do than poke a couple extra holes in themselves. So a couple of these kids wanted to share their experience with body art. What the hell is so controversial in that?
What is so controversial in either of these subjects that it would prompt school officials to take such a fascist stance as this? Yes, I did say fascist because there is no other description for it. I am outraged. I may just have to give Principle Becky Ervin and Superintendent Thomas Bailey a little call on Monday morning.
Or email:
Becky Ervin
.(JavaScript must be enabled to view this email address)
Thomas Bailey
.(JavaScript must be enabled to view this email address)
UPDATE
- A follow up article in today's Knoxville News-Sentinel:
Paper's seizure raises questions
MORE UPDATE: National News, baybee! Picked up by the AP -
Tennessee H.S. Pulls Copies of Student Paper
Interesting .... I sent this over to John Ray at
TongueTied
, a site that "Carp(s) about the excesses of clueless crybabies since the turn of the century." They specialize in skewering outrageous instance of overly PC behavior. The site has a decidedly politically right/conservative lean ... obviously, since all things PC is a leftie/liberal concern, primarily. The reaction has been mixed, and fascinating in the
comments to the article there
. While all are dismayed at the idea of censorship of a student newspaper because a few people might be offended, they are tripping over the birth control angle ... it is a conservative stance to teach only abstinence in schools and keep birth control out of the discussion. It would seem that it is OK to be offended if the subject is birth control .... how very interesting.
Michelle Malkin has a post
about the editing of a photo of a kids book illustrator to remove the cigarette from his hand. Oh the outrage! "How about shut up and publish, and leave the anti-tobacco zealotry to the ashtray cops?" says Michelle. I wonder what, if anything, she will say about the censorship of a birth control article? Will we see the same outrage?
The potential for hypocrisy is enormous ... we shall see.
(Well crap ... I can't win for losing. Another blogger posted the article too, and THEY get the
Instalaunch
... at least I got a tiny nod in a
Rocky Top Stroll
. It looks like that was good for 12 hits at least! /sarcasm)
Through sources, I have been able to obtain a late draft of the birth control article ... it is in the extended section ...
Thursday, April 14, 2005
The Sanctity of Marriage, Indeed
Oh, sweet hypocrisy! This is just too cute by half ...
February 28, 2005
SJR 31 - Sen. Jeff Miller (R-Cleveland) Proposes an amendment to Article XI of the Constitution of the State of Tennessee to define marriage as a contract between one man and one woman.
When the final vote was taken on SJR 31, it passed 29-3-0-1
Do note, Sen. Jeff Miller is the SPONSER of the legislation that will ensure that gays will not be able to marry in the state of Tennessee or even enjoy the legal and financial benefits of being in a mutually economically interdependent relationship. (I am STILL waiting for someone to explain to me exactly what effect gay marriage would have on existing or future heterosexual marriages ... someone? Anyone? Bueller?)
Anyway ... behold!
NASHVILLE (AP) -- A state senator who sponsors a marriage protection amendment is being sued for divorce.

Sen. Jeff Miller's wife claims "inappropriate marital conduct" in a divorce proceeding filed in Bradley County.
My my my ....
More on this later. Damn work interferes with blogging once again ... dammit.
Monday, February 28, 2005
Murder and Memories
UPDATE
: Comments are now closed on this entry. Several members of Mr Seals' family have taken it upon themselves to attack not only the deceased victims, but me as well ... mostly over the one negative thing I had to say about my prior aquaintence with Mr Seals, which is nothing more than a personality conflict, ignoring that I stated that, as I knew him, he was a good person and a fine medic.
I will not tolerate the attacks on the victims or their families. I DO NOT CARE what, if anything, they were doing that enraged Mr Seals. NOTHING they could have done, short of pointing a gun at Mr Seals themselves, is worthy of being shot dead.
NOTHING
.
I understand that having a family member accused of a horrendous crime is extremely painful. Having a family member murdered is a life altering event. I should know... My own brother was murdered nearly ten years ago. I also faced accusations from all sides that my brother somehow deserved his fate. In addition to the excrutiating pain of losing him, those accusations made it so much the worse.
To the friends and family of Mr Seals - I am very sorry that you all are having to deal with this. I recognize that it must be a nightmare of unthinkable proportions, and you all are not deserving of this at all. However, attacking me and Misty and Mark does nothing other than to vent your anger and frustration ... and it is directed towards the wrong person. Doug brought this all on himself, and onto you ... he is a big, grown up boy and he made his choices.
The discussion here has ended. You all remain in my prayers.
===============
I noted with mild interest the news that two people had been killed in a neighboring city. I lived there and worked in that county for several years. The names were not yet released, but I was somewhat familiar with the location ... an apartment complex that has seen more than its fair share of trouble. When I was a paramedic there, we responded to dozens of calls there ... most of them domestic abuse or assaults.
Later in the day, the main suspect was described by a neighbor as "someone who did emergency stuff" ... at first I thought they were referring to someone who did site maintenence for the apartments. When the name and picture appeared in the newspaper's web site, I just about fell out of my chair.
CLINTON - Clinton police have charged a Heiskell man with two counts of murder in connection with the Thursday morning death of his estranged wife and a male friend.

Phillip Douglas Seals surrendered Thursday afternoon, a few hours after the shootings at the Willow Run apartment complex, said Clinton Police Chief Rick Scarbrough.

Seals became a suspect shortly after the bodies of his estranged wife, Misty Seals, 29, and Mark Newton, 42, of Knoxville, were found in Misty Seals' apartment at Willow Run. Scarbrough said the Seals were separated and Misty Seals had been in the Willow Run apartment about 30 days.

Scarbrough said police received an anonymous call at about 10:45 a.m. He said the male caller told a dispatcher that an ambulance would be required.

"It could have come from our suspect (Doug Seals)," Scarbrough said.
(BugMeNot login: oakridger9/oakridger)
Doug Seals worked at several of the same ambulance services I did. We were even partners on several shifts, together for 24 hours at a time, dependent on each other, with the total trust that is needed on an ambulance crew. He even precepted me a couple of times when I was in paramedic school, grading and reporting on my performance in the field. He was a damn good medic, one that I learned a lot from.
While I respected Doug as a medic, personally I thought he was a creep. Nothing bad, really ... just not my cup of tea. We could get along for a shift, but he wasn't tops on my list to hang out with off duty. He also had a mildly flirtatious manner with all females that made me a bit uncomfortable. He was always friendly with everyone, always smiling and quick with a joke or funny comment. About the worst I ever heard anyone say of him was he was a little too full of himself ... a cocky, over-confident, swaggering he-man type. But those types are a dime a dozen in EMS. It is not a job for the weak ego. He has one of the worst corn-pone southern accents I have ever heard, at the same time he wears gold chains and a gold stud earring.
Jeff Foxworthy
meets
Tony Manero
Like many of the medics I know, he did have a hard edge to him. We are a unique breed ... it's said that EMS is something that is in your blood, hard-wired in your brain. It's a different sort of personality altogether. Just dealing with all the horrific crap makes us all somewhat cynical. But we still melt into puddles of goo at times ... we aren't afraid to cry. We know that life can be short, very short, so we don't waste time fucking around with mundane crap.
That is why this is so shocking. Medics often stand between life and death, playing a tug of war with the grim reaper. Sometimes we lose, sometimes we win. But whatever the outcome, we have a deep respect for life. Preserving life is our job. Taking a life ... you would think that would be unheard of.
(Heh .. note how I use the present tense, as if I was still a practicing medic. I am retired. Not former ...
retired
. I will always be a medic even though it is no longer my occupation)
I've been thinking a lot about Doug these past couple of days. What is he thinking, how is he feeling? What could have brought him to the point that he would kill? No one I know has ever been accused of such a horrendous crime. It is something that my mind is having a hard time reconciling. Part of that is the brother/sisterhood of EMS being what it is ... coast to coast, all around the world, EMTs and medics are one big family. We all mourn when one is lost, we celebrate the successes of each other. We are proud of the noble reputation of EMS ... and when one of us falls in disgrace, we share in the shame.
Please, pray for Misty and Mark's families, for the two children Misty and Doug recently adopted, for Doug's family, and for Doug too. The coming months and years will be a living hell for all of them.