Category: Neat Stuff
Tuesday, March 08, 2005
Cool deal on hot tea!
I just got an email from
Adagio Teas
... they are sending me some free tea! Get your self some too!
Adagio Teas
is offering freebies to anyone that links to their site. Yep ... just that easy. I put the first link over in my Snippets blog. They are doing this to help their Google ranking so they can get a better web presence.
Having just cleaned out my server logs of yet another mass spam attack, I am more than happy to give
Adagio Teas
all the links they want. This is cool. No attacks, no spam, just sharing the good stuff with folks that help to get their name out there. Spammers die!
Adagio Teas
is doing it the right way! Link up and drink up!
Go to the
Adagio Teas
home page and get a link or two to put on your site. Then sign up for your free tea! They have a HUGE variety of teas ... they have
Black teas
,
flavored teas
,
Oolong
,
White tea
,
Green tea
,
Herbal teas
,
Rooibos
,
Decaf
and
Tea and gift ware
! Then hang around awhile for TeaChat, and sign up for their newsletter, TeaMuse. You can even download a computer tea timer so you can time the perfect cup of tea.
H/T:
Cathy at Domestic Psychology
Tuesday, October 26, 2004
Tis the season to be spooky
My previous post featured a ghost kitty. This time we have a jack 'o lantern ...
This is for you,
Lair
!
A nice close-up ...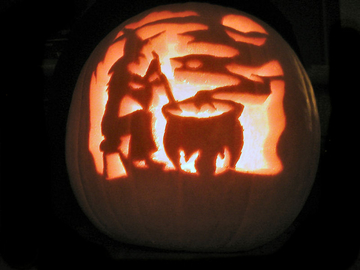 And from a bit of a distance ...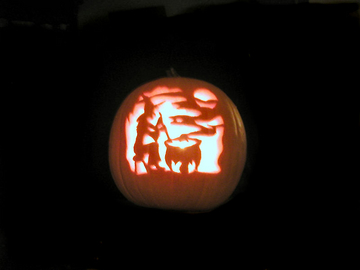 Saturday, October 02, 2004
Boobie-licious!
The Third Annual Blogger Boobie-thon has kicked off. Don't miss it!
My rack is on the photos page. Can you pick it out? I will have two shots on there. Not that I have much to brag about, but boobies are boobies. Hey guy? How about you? They are taking man-racks too! Share and share alike!

From the site:
Welcome to the home of the third-annual Blogger Boobie-Thon for charity. The event officially kicks off on Friday, October 1, 2004 and will run through 11:59 p.m. EDT on Sunday, October 10, 2004.

For more information on the 2003 event which raised well over $6600 for the Susan G. Komen Foundation, go here. And for information on the very first event in 2002 which raised over $1250 for breast cancer research, please go here.

We're requesting that in the spirit of the original Boobie-Thon, the first $359 donated this year go toward AIDS Walk 2004 / Rock the Walk as the "bloggers helping bloggers" portion of the Boobie-Thon. (More info on this charity and why it was selected, and the history of the $359 donation, here.) The remainder of the proceeds raised will go directly to the Susan G. Komen Breast Cancer Foundation. Your donations to both charities are tax deductible, and this year the Boobie-Thon is operating as in a pledge capacity rather than taking your donations personally.

We took photo submissions early again this year, and already have several entries on our photos page (link not work safe). And this year, we've also split the entries up into girls and guys pics (links also not work safe) as well for faster viewing. The top of each photo page has instructions for submitting photos of your own.

Don't forget that once again we also have a private, passworded pay-per-boobie site with bare-boobie photos (already set up with photos) for donors of $50.00 or more. So what you see isn't all of what you (might) get -- we have a high-rollers club, too!

PLEASE NOTE: This main page of the site will always remain work-safe with text updates only, as will the RSS feed linked in the sidebar. Only the photos pages aren't work-safe. Links in the sidebar marked with an asterisk (*) are not considered work-safe either.

Last but certainly not least... Don't forget to fund a free mammogram today!
Thursday, September 23, 2004
Rack 'em up
As I
bitched about last year
,
I turned 40
. With that milestone comes some health concerns. Being a woman, that means a yearly squishing of the boobs. I made the appointment and did it. Not fun. But it was quick, only mildly uncomfortable and I had a mammo-technician with a sense of humor. We were laughing so hard at our wise-cracks about ice cold slabs, the haute couture fashion of the gowns and why don't men get to have the fun of Pap smears and mammograms, we nearly couldn't get it done. But the verdict came in a few days later ... my boobies are healthy. And they haven't, as I sometimes have nightmares about, given in too much to gravity. That's about the only advantage to having small boobies I can think of ... that and you can get cute bras that consist of little more than a couple wisps of fabric.
October is Breast Cancer Awareness Month. To help raise funds for the
Susan G Komen Foundation
, the
Third Annual Blogger Boobie-thon
will kick off on October 1.
Bloggers around the world are invited to send their Rated PG-13 rack shots (pics of their chesticles) to the
.(JavaScript must be enabled to view this email address)
and the site will direct donors to the
Komen Foundation
web site where donations can be made via secure form, and 100% of the funds collected will be used by the foundation. No PayPal skim off the top this year!
More information at
Tranquility is Good
and
Shutterblog
. Blogroll,
Blogline
or bookmark those sites for updated information.
Oh ... and yes, I am planning to submit a rack shot this year ... 😊
Thursday, June 24, 2004
A blast from the past
So there I was Googling along, I can't even remember what I was searching for ... something local, I think. I came across a link to my old high school, and there, a link to
True Margrit
Margrit and I went to high school together. She was a couple years ahead of me. Man, we had fun! She is one hell of a talented musician! She could sit down at a piano and just make music out of thin air ... I could sit and listen to her play for hours on end!
There are some tracks from her first solo CD on her site ... RealOne, ugghhh, I know. Go to her
CDBaby
site though, and you can download a M3U with clips from all the songs (not full length). I do believe I will order her CD ... I gotta! Check it out ... that's some good stuff!
This is such a trip ... I emailed her a bit ago. Lots of reminiscing!
Update: 6/27/04 10:41PM
Margrit's CD arrived today (that was FAST!) ... this is incredible! A little Indigo Girls, a little Jewel, even a little Alanis ... and of course, Margrit's own unique touch. Get this CD!
Friday, January 23, 2004
BlogMadness
BlogMadness 2003
I've entered my post
So I'm a bitch, eh?
and I am
seeded #19
. Keep an eye on the
Tournament Site
... voting will start soon!
UPDATE:
Voting has started!
GO VOTE
!
UPDATE 2
(1/29/04 @ 7:30am): Round One is over ... somehow I survived! Voting in Round Two will begin at midnight Jan 29/30 (what day IS it when it is exactly midnight, huh??) There is some really good reading there ... grab your fav bev, kick back and enjoy! And
VOTE
!
Friday, December 26, 2003
Christmas 2003
Another Christmas, come and gone. And I survived it!
I got lots of gift cards ... Books a Million from my son, and from my parents - Panera Bread where I love to eat lunch, and the salon where I get my hair done (Jeffery does my hair ... he's so gay, he could put a lisp in the word "Cracker"). I also got two gorgeous sweaters, and two pairs of slacks for work. And an electric can opener! My poor aching hands can't deal with the old manual one anymore.
Darling daughter got an Olympus D390 digital camera and lots of funky jewelry and hair thingies. Plus some clothes and CDs. My son is thrilled with his Rio MP3 player, Tony Hawk Underground for Gamecube and The Hulk on DVD. He also got a new jacket that he loves so much he slept with it last night.
I gave Mom some of her favorite stuff from Bath and Body Works and some thick boot socks to wear around the house. Daddy got a new tie with a tie chain and a personal CD player, so he doesn't drive Mom batty with his music.
Before opening presents, the kids read the Christmas story from the Bible, Luke 2:1-20.
We had our big Christmas thing on Christmas Eve because my daughter had to go to her dad's for Christmas day. We had ham, scalloped potatos, green bean casserole, overnight fruit salad and crescent rolls. Then we had apple pie and peanut butter silk pie for dessert. Today, my son and I went over to Mom and Dad's for leftovers plus a roasted turkey breast.
A very nice, quiet family Christmas for us. I posted a couple of pictures in
PhotoLife
, my photoblog.
Tuesday, December 23, 2003
Mushy Stuff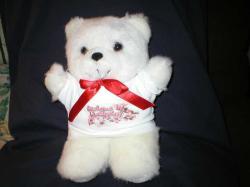 Once again ... timing is everything. This sweet little teddy ... personalized with my
Design site
logo no less! ... brightened a really crappy day for me!
Thanks,
Sharon
!
Friday, November 28, 2003
*BURP!*
Oops! 'Scuse me! Not bad manners, just good food! And lots of it ...
I hope everyone had a great Turkey Day!
Ours was low-key and quiet. Me, my two kids, mom and dad. We had a pork loin ... dad doesn't like turkey ... stuffed with a dressing made of bread, apples, walnuts and onions. Yum! Also red potatoes and waldorf salad. Of course, there was the apple and pumpkin pies for dessert. By the time we were done, I was seriously wishing for my comfy, stretchy sweat pants.
Tomorrow I have quite a to-do list waiting for my attention ... get the oil changed in the car, pay the rent, grocery shopping, get my nails done, clean the house. Notice that Christmas shopping is NOT on this list? Heh ... wild horses couldn't drag me into the mall or Walmart this time of year. God bless the Internet ... have check card, will shop while wearing fuzzy slippers!
Tuesday, October 14, 2003
Shoe me the way
Nice Shoes!
I swear ... what IS it with women and shoes? We are obsessed ... either we love them madly, or despite them greatly. Must be comfy, must be pretty, must be versatile ... with the occasional exception of the shoes meant for one particular outfit. Must have matching handbag and belt.
I go shoe shopping when I want to torture myself. The ONE part of my body that is not affected by weight gain or loss ... and I have friggin' duck feet! Right across the ball of my foot, I am extra wide. Wide-width combined with pretty shoes just does not happen every day. But there have been those rare miracles.
So I set out to find the perfect pair of shoes ... ones that will go with my everyday black casual twill pants, as well as with the yummy faux-moleskin skirt I just got. If they go well with jeans too ... HOME RUN! Triple play! A day to celebrate indeed!
This was not my time though ... the perfect shoe eluded me once again. However, in one of the stores I shopped at, I got a special 25% off coupon. This store is a little different ... Shoe Carnival, where shoe shopping is FUN! Uh huh ... Anyway, about every hour they hold a little event or contest and they give away discounts determined by the winner spinning the Wheel of Savings. While I was there, they had a contest for who had the heaviest purse. The ladies lined up for the weigh in. I was stuck a few rows back trying to cram my fat-assed feet into yet another pair of sexy, but way-too-narrow slides. I queued up at the end of the line to watch the action. The first contestant weighed in at 3 and a half pounds. Then there was 4 ... 4 and half, everyone was hitting these poundages, more or less. Then it was my turn. I handed my purse over ... a whopping 5, yes FIVE and one-quarter pounds! (Thanks to two wallets, a cell phone, a Palm Pilot with a modem, a tire gauge, tons of make-up and various and sundry pens, pins, quarters and God-knows-what-else)
And I had just cleaned that sucker out that morning .... go figure.