Category: Neat Stuff
Thursday, April 16, 2009
So, we went to this little party
A
ll across this great nation, patriots of all ages, colors, backgrounds, and yes, even political party affiliation ... we all came together to raise our voices as one, to send a message to the President and to Congress.
We love our country and the principles it was founded upon. Our founding fathers came to these shores to escape tyranny and a controlling government. They risked and many lost their lives to secure these freedoms for themselves and for future generations. Today, we face a new threat to our continued freedom and liberty. Yesterday, we sent a message that said we cannot allow such a threat to stand against ourselves and our children.
I was not able to be at the Tea Party in Knoxville for very long. I got there almost at the end of it, but I was still able to see for myself that I am not alone in hoping for a better future, not alone in being willing to do whatever is necessary for that better future. The grumbling that began during the Bush I administration over government spending is now becoming a roar of righteous indignation. We look at the numbers and we are horrified. How will we pay back these trillions of dollars being thrown away? Or more to the point, how will our children and grandchildren pay this huge bill being racked up? What this irresponsible and reckless government spending means for the future of this country is not pretty. It is very possible that our great-grandchildren will speak Mandarin Chinese as their native language ... if they are allowed to even be born, that is. When we are broke and bankrupt, and we surely will be in just a few years if things do not drastically turn around, it will be nations like China and India that will be paying off these "loans" the government is taking out.
And then there is the matter of what that money is being spent on. I do not work so I can pay other people's mortgage. I do not work so I can pay for their health care. I do not work so that I can rescue banks, auto companies and investment firms that acted irresponsibly. I work to support myself and my family. Of my own free will, I give to charities that help the less fortunate. I chafe at being forced to give to the less responsible.
There is a difference, you know.
So, I joined 2500 others with my husband and we sent a message to Washington (yes, even though the dufus president is too dumb to even know what was happening all across the country). We don't like this one little bit, and we aim to take our country back. These are people that understand finance and economics, and what it means to be fiscally responsible. These bail-outs and ginormous spending bills are not fiscally responsible at all.
Yet, there remains a contingent of Obama fans that cling to his every move and actually believe whatever he does is golden. Wrong. I laugh at the ignorant people that look at the extra $12 - 15 in their paycheck and think, Wow! A tax cut! Wrong again ... it is a reduction in withholding. It is still tax money that must be paid at tax time. To make it simple ... think of your last tax refund. Now subtract $400. That is about what you will get next year. Is it a negative number? Oh, then you will owe the IRS that much! It is not a tax cut, rebate or credit. You have been duped if you think it is. The ignorance I see regarding these spending bills and the country's economy is simply astounding.
The hate and violent imagery being flung by the leftists is, sadly, not so surprising. One commenter on a blog actually wished that I would be essentially raped. The blog owner, someone I used to consider a friend, thought it was funny. I wonder if he would think it so funny if someone were to say the same thing about his wife, only making the attacking party to be Rush Limbaugh. The person that left the vulgar comment then went on to attack me personally because I am a Christian ... not the points I made or anything I said at all, which was a reasoned and polite refutation of the blog post, but a personal attack against me because of my faith and beliefs. Then she(?) had the audacity to try to say she is a fine, upstanding, moral person who is tolerant of all, and not a bit hateful.
Oh ... REALLY?
This is what I have come to expect from leftists, and sadly, it appears that it is just going to get worse in the coming years. That's fine. Bring it. I really do not care what they think of me, or say about me. I pity their poor, empty souls.
But anyway, at the Tea Party, we had fun. Unlike the anti-war or pro-abortion or anti-Bush/GOP protests we have seen over the years, there was very little negativity at the Tea Parties. Reports from all cities all said that people were out, with their friends and families, enjoying the company of many others that share their love of country and pride of nation. All I saw was smiles. I heard laughing, watched children playing. Yes, people were passionate about their views at times, but it was not the anger, the rage, that is seen at Code Pink rallies and the like.
I watch with amusement at some leftists and the media as they try to portray these Tea Parties as something they were not. They attack us viciously and violently. Melissa Clouthier made a great comparison:
Tea bag Envy and the Left's Lack of Imagination
. And somewhere I saw it suggested that the next round of Tea Parties include the Main Stream Media as targets of protest. After the egregious behavior of one CNN reporter, I cannot agree more - it's time to
push back
. When reporters stop reporting the news and do nothing more than make it their own biased perspective, they have lost their claim to the right of freedom of the press.
It is time ... way past time ... to take back our country. This is only the beginning.
God Bless America!
Friday, September 28, 2007
Bloggers at the Symphony
And a good time was had by all ...
Some of the enduring memories of my childhood are those evenings when Mother would make hot dogs and macaroni and cheese for my brother and me to have for dinner. Then she would make herself all pretty in a dress with hose and heels, and perfume and lipstick, while Daddy went to pick up the babysitter. He would put on his suit and tie, and looking splendidly handsome, he would then escort Mom out of the house and away for a few hours. We would spend a few hours tormenting each other and the babysitter while Mother and Daddy were "out" ... doing what, we really didn't know, and didn't much care. "Going out" was just something mommies and daddies did.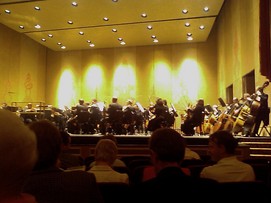 Tonight, I got to go out, just like Mother and Daddy used to do. I put on a pretty skirt and blouse, did up my hair and make-up, and was escorted by a most
dashing fellow
in a
suit and tie
. Only this time, "going out" meant going to the symphony orchestra concert.
The
Knoxville Symphony Orchestra
invited local bloggers to come to the concert tonight, in the hopes that we would write about our experience on our web sites. Nice quid pro quo, everyone wins! It was a most lovely evening ... I was thoroughly enchanted. The KSO plays most of their concerts in the grand
Tennessee Theater
. Ornate opulence just barely begins to describe the beauty of this theater. The program for tonight's season opener was "American Masters" with the composers all being American. Starting off the show was
Short Ride in a Fast Machine
from John Adams. Just as the title indicates, the piece is a rushing musical journey at break-neck speeds. It certainly gets the blood flowing and can leave one a little out of breath at the end. The next piece was a concerto from Lowell Lieberman,
Concerto No. 3 for Piano and Orchestra, Op. 95
, featuring
Jeffrey Biegel
at the piano. Lieberman was commissioned by 18 symphony orchestras to compose this piece. It is written very much in the contemporary styling of modern orchestral concertos, with sudden mood transitions, the use of syncopated rhythms and discordant tones. To those who prefer a more classical symphony, this piece is perhaps too daring, too disharmonious. I found it to be quite interesting, but perhaps not my first choice for listening.
After the intermission, the concert resumed with
Appalachian Spring
Suite from Aaron Copland. This is a very lovely piece that evokes all the imagery of spring, and the sweetness and joy of new life as it blossoms after the long winter. But while it was a treat to listen to, I found myself being lulled into that fuzzy state that precedes dozing off to sleep.
The evening rounded out with George Gershwin's
An American in Paris
, a fun and exciting romp through the streets of the world's most sophisticated city. One can actually picture a fellow meandering about Paris, meeting with all sorts of adventure and interesting people. Gershwin is always good fun.
After the concert, the bloggers in attendance were invited to a special reception where we had the opportunity to chat with the musicians, including conductor
Lucas Richman
and special guest soloist,
Jeffrey Biegel
. I was delighted at how warm and friendly they all were, especially Mr. Biegel, who spent quite a while regaling us with tales of his musical adventures. I taught myself to play the piano at the age of 4 and took lessons all through my grade school years, so it was something really special to meet and talk to such a renowned and talented pianist. Mr. Richman was just as much fun, and one could see right off that he is a man that thoroughly enjoys his work and has a deep and abiding love for music.
The other bloggers that were there: (please forgive if I miss you, and do let me know if I did ... just post a comment and I will get you linked!)
Doug of Reality Me
who brought along aspiring percussionist and the youngest blogger in attendance,
Noah
,
Frank Murphy
,
Byron Chesney
,
Craig Thomas
, Tish from
The Kat House
,
Krisha
, and
Doug McDaniel
. Give these folks a visit to see what they have to say about the concert too!
My pictures didn't turn out very well. I will try to clean them up some and maybe post later. But there are pics at the KSO web site now!
Bloggers Reception
Friday, October 06, 2006
Where the Hell is Matt in Oak Ridge?
One of the cuter phenomenons to hit the InterTubes was
Matt Harding
, who danced his way around the world. His happy little jig was video recorded with backdrops from all over. It's a goofy, pleasant way to spend 3 minutes. Now there is a homegrown Matt ... Matt McMahon, and he has made his own video, "Where is Matt in Oak Ridge?" and he dances his way around the little city of Oak Ridge, TN.
Enjoy!
Sunday, July 03, 2005
Stylin' and Profilin'!
Mama's got her a new set of wheels! Wheeeee!

I finally took the plunge. My old Saturn, which you can see in the background, is in its final death throes. It's still running, and can probably be fixed back to being a decent car. But I can't take the chance that it will crap out completely on me ... I gotta be able to get to work. One thing after another just quit working. First, the horn and the back-up lights, then the CD player, the gas gauge, and finally the odometer. I have no clue how much gas is in it right now. The engine has been making a peculiar whine and someone told me that was a sign that there was an impending major belt problem. It was using oil like mad, I had to put two quarts in every 1200 miles or so, in addition to regular changes every 3000. Last year, I had to replace the alternator, then the starter. The year before was the water pump. I think it needs brakes now too. For a car with a blue book value less than $1000, it ain't worth fixing to keep as a primary vehicle. So, off we go car shopping.
One major obstacle has been that I cannot afford much of a car payment, thus, not much of a loan. And despite the fact that I have excellent credit, no one wants to lend less than $10,000 without some ridiculous terms. There are plenty of good used vehicles out there for less than $8000 and I found several that I liked. But I couldn't get decent financing. Oh well ... I have to bite the bullet here, and maybe try for a re-finance in a few months to get a better APR and shorter term.
But, I did find me a honey of a deal. For just over $7500, including a 2yr/24K stem to stern warranty, I got a 2000 Oldsmobile Intrigue GX with 46,000 gentle, little old lady driving to church once a week miles on it. It is in pristine condition with almost every option available. (OnStar would have been cool as hell, but the subscription is killer!) Power everything, clean as a whistle ... and baby, what a ride! Smooth! It is a lady's car, for sure!
I've had my heart set on a Toyota Camry for years now, but this will do quite nicely. I'm over the sports car fascination, I had my Celica. I'm way beyond basic transportation. I wanted something nice. I was hoping to wait a couple more years when I could get some cash saved up and get something better, but hell, this thing will last longer than that. I set out to get whatever would do me for a while, I think I did quite nicely.
It's time for a cruise ... be back later!
Saturday, June 04, 2005
More crochet stuff

I just added six entries to
In Stitches
. There are pics of some gorgeous yarns I just got, a work-in-progress shrug, and I finished the Serefina Shawl. Check it out ...
Friday, May 27, 2005
It's Time
Today might be the day.
Cathy
is in labor. Doug has ants in his pants and the kids ... are being kids. I'm sending lots of good labor vibes ...
UPDATE: It's a boy! Evan entered the world on May 27 at 21:35 weighing 7 pounds 3.8 ounces. All are well. Lots of pictures at Cathy's blog
Wednesday, May 04, 2005
A New Toy!
Totally awesome! At least to me! I've made a few extra bucks doing web design and site management, and those bucks were just burning a hole in my pocket ... then along comes this awesome deal at
Buy.com
on a Canon Pixma iP3000 Color Photo Printer and PowerShot A400 3.2 Megapixel Digital Camera Bundle! After rebate, it's only $89! For both! Sweet!
It comes with only a 16MB SD card, so I also ordered a
Kingston Technology 512MB Secure Digital Card
which is $31 after rebate. Too cool!

It arrived just before I had to go in to work, so I didn't have a lot of time to play with my new toy. I did get a couple pictures of the cat (what else?! LOL) and uploaded one to
my photoblog
. I do hope this will inspire regular photoblogging ... I have been a bit remiss in taking pictures when I could.
Now I need a MiniDV camcorder ... :coolsmile:
Sunday, April 17, 2005
I need one of these
I joined a
Freecycle
group several weeks ago. Freecycle is made up of local community groups who trade off their unwanted items to each other, instead of sending them to the dump. Each local group has a Yahoo Group and we post what we have to give away or what we are looking for. I got rid of a few usable items last week that were just taking up space in my tiny house and a few people got things they really needed or wanted, including a couple ladies involved with domestic abuse programs and one for an afterschool program for at-risk boys. Super! A couple ticks up on the old Karma meter, eh?
Anyway ... this morning, a post was made to the group. A lady had several items to give away. One was, I suppose, a dehumidifier. But there was a typo ... it was listed as a dehumilifier. Man, I could really use one of those!
For all those awkward moments of social gaffes and faux pas :red: Flip a switch and instant dehumilification! Awesome!
Seriously ... if you have a bunch of old things just sitting around taking up space that someone else might be able to use, check out
Freecycle
... it's too cool.
Thursday, April 14, 2005
Gimme an iPod!
OK, so intrigue went to curiosity became ahh-what-the-hell ...
I signed up for the
free iPod thing
. Do What?!? You might be saying ... it's a rip off! It's just a ploy to collect email addresses to spam!
Yeah, whatever.
A number of reputable and credible sources, including the esteemed
Bill Hobbs
, and also Wired News and The New York Times, have attested to the legitimacy of this program. Over $4 million in free items have been awarded to participants.
So, I made up a new email address (I ain't THAT dumb!) and signed up. The deal is, once signed up, you complete an offer ... get a trial of something, apply for a credit card, even sign up for Blockbuster Online. A couple of the dealies offer a gift card to Lowe's or Circuit City, so no matter what, you're ahead in the game ... then get 5 others to do the same, and an iPod will be sent to you. Just that simple ...
So ... what are you waiting for? Go on!
Sign up
! At least check it out ... if you need a spammable email address, hit my contact button or comments and let me know, and I will fix you right up. Or just make a new one at Hotmail or Yahoo.
What have you got to lose? You know you want one ... don't you? Why don't ya get one ...
free
?
Saturday, March 12, 2005
My new tea obsession
A lil more linky love for
Adagio Teas
. They sent me this sweet little tea pot and some samples FREE, just for the links! This set is available for purchase for only $19. Head on over and getcha one ...
And have a tea-licious day!