Category: Kitty Tales
Wednesday, May 21, 2008
Thank Heaven for My Kitties
T
hey're a couple of the
best people I know
via
Sunday, January 21, 2007
Games Kitties Play
M
iss Faith, Her Royal Kittyness, never misses a chance to have a good time ...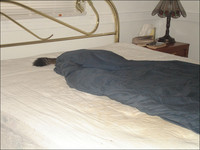 Helping mama make the bed up seems like a good time for some kitty hide-n-seek ... but she left her tail sticking out a little.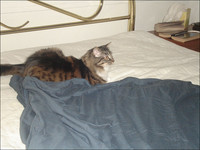 And mama's no dummy ... peek-a-boo kitty! I see you!
(Click thumbs to embiggen)
More catblogging than you can shake a kitty whisker at, over at
Enrevanche
with this week's Carnival of the Cats -

Send your catblogging posts to
.(JavaScript must be enabled to view this email address)
and then be sure to tune in every Sunday evening for all kinds of furry fun of the feline kind!
Sunday, June 11, 2006
Video Cat Blogging
I
suppose to atone for the toxic assault on the visual senses in the last post, I present three hi-larious cat videos ...
First, we have a
professional cat masseuse
:
And then, another
collection of cats
being, well ... cats. In all their furry, silly, goofy wonderful-ness ... every one of them is an All-Star. And if it doesn't put a smile on your face, you are one sad sack indeed:
Finally, some pretty amazing cats ...
that talk
!

Check out more furry kitty goodness at the
Carnival of the Cats
, hosted this week at
GigoloKitty
Want to join in the fun? Send the link to your cat blogging post to
.(JavaScript must be enabled to view this email address)
Saturday, September 17, 2005
Kitty Update
Many, many thanks to all of you who wrote, IM'd and commented here about my kitty,
Dakota
. He will probably come home this afternoon, and I will spend the rest of my mini-vacation playing nurse-maid to him.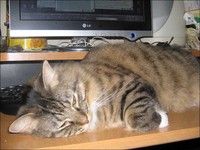 Faith is missing him, too. She has been very clingy and talkative. Right now she is sitting on the arm of the couch just staring at me. When I look over at her, she chirps. Earlier, she insisted on sitting on my desk while I tried to reply to some of the emails and IMs. It is quite startling to have 12 pounds of fur land right in front of you like that.
I went to see Dakota several times yesterday. He was still groggy, but he did crank up his gigantic purr when I scratched his ears. I also gave him a bath with wet wipes (made for bathing kitties). He doesn't stink so much now, and is much more pleasant to be around. I also took one of his toys, he laid his head down on it like a pillow. I just hope this hasn't traumatized him too much, he has always been skittish and fearful.
Not many people can say they have seen their cat's insides. I have. They have an observation window for the surgery and I was able to watch most of it. I even
got a pic
with my phone camera. They also let me in just as the Doc finished up the last of the sutures, so I was there when he woke up and for the initial stages of recovery. The vet clinic doesn't have 24 hour staffing, so we took him to a pet ER for monitoring. I picked him up the next morning (at 6:30! Ugghh!) and took him back to the vet.
I visited with him several times during the day, in between trying to meet up with maintenance for my townhouse, getting some errands done and cleaning the house. Some would think I am a little off my rocker, being like this with a cat. But there are plenty of people who do understand ... my kitties are not just pets, they are part of my family, and I would do no less for them than I would my children. However, the vet bill is staggering ... luckily, I do have a credit card that I can put this on, but having just bought the car and various other expenses that have come up recently, this is a killer, budget wise. There are Paypal and Amazon donation links to the left. You could also do your shopping through my Amazon affiliate links, and click on the other advertising links to help. I know we are all pretty much tapped out after Katrina, but anything would help, so I am begging. Please help me. Dakota and Faith will love you for it. For a better idea of what these kitties mean to me, and my son, see
The Prodigal Kitty
and
Just a Little Faith
.
UPDATE to the update: Dakota is home and is resting comfortably. Here are some pics to show his poor little shaved belly. He also has a bandage over the IV site, which he is obsessively chewing on. He came home with a bag full of medications which I am to give him twice a day ... Prednisone, Clavamox, eye ointment for conjunctivitis, and Advantage for both kitties (yes, we are fighting fleas again this year).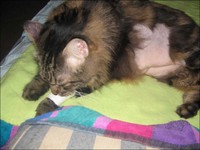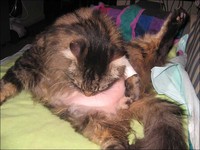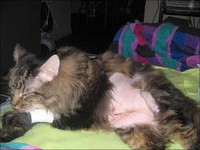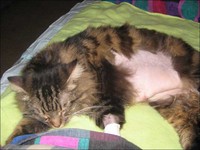 ---

Carnival of the Cats is up
! Send your catblogging posts to
.(JavaScript must be enabled to view this email address)
and then be sure to tune in every Sunday evening for all kinds of furry fun of the feline kind!
Friday, September 16, 2005
I need prayers for my kitty
My kitty, Dakota, is in a bad way. I came home last night and his backside was drenched with pee. It had that sickly smell to it. First thing this morning, I called the animal hospital. Long story short ... he is one sick kitty. On x-ray, one of his kidneys cannot be seen. There is a shadow of something very large, something that is out of place. It could be the missing kidney. They have gone in to find out what is going on. If it is the kidney all enlarged like that, they will take it out. There is also the possibility that the large shadow is his bladder, blocked by a tumor. Pray for it to be the kidney.
I will update later. I have to go back over there in a few minutes.
UPDATE: He came through the surgery just fine. Turns out it was a raging bladder infection, and the inflammation had blocked the flow of urine to the point where the bladder expanded to an enormous size. Both his kidneys are fine. He is spending the night at a pet emergency clinic where they can monitor him, then he will go back to the vet for IV antibiotics for a day or two.
The vet we used is at a Banfield clinic inside Petsmart. Please, do all your shopping at Petsmart. The store manager stayed two hours over so they could do the surgery, and was extremely gracious about it. She and two other clerks hung out with me and kept me from losing it. These people really love the animals. The manager said, "The cat is more important than getting off work on time." Awesome. Go. Shop now. If you don't own pets, get a gift certificate for a friend who does. Support Petsmart in any way you can!
BTW ... this was supposed to be my 5 day, do nothing, rest and relaxation, sanity preserving mini-vacation. Oy vey ...
Sunday, August 07, 2005
CotC: Blogathon Edition
This is a very special Carnival of the Cats ... it wraps up
Lair Simon's
Blogathon
dedicated in memory of the late, great
Edloe
, and he has chosen to support
The Cat Society of Israel
with the pledges he receives. Here's to ya, Lair ... I raise a cuppa joe to your effort, and Faith and Dakota send purrs and head butts.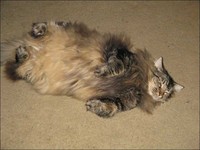 To start, Dakota capsizes. Here's to ya, Edloe!
My kitties are Maine Coons, and have very thick, shaggy coats. When it gets hot like it has been, they spend a lot of time on their backs trying to keep their tummies cool. They sleep on the kitchen linoleum, in the bathroom sink and tub, and even on an air grate set in the floor. But that doesn't stop Kota from getting his nightly snuggle with mama. No siree! Can't miss out on those ear skritches.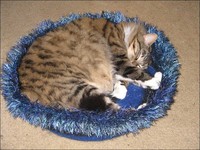 So, what does any good cat mommy do when her babies are suffering from the summer heat? Yep, that's right, she knits them a nice, felted wool bed! Faith seems to approve though.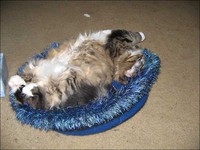 She even does her twisty sleep in it. I think they will appreciate it a lot more in a few months.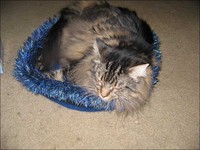 I think I will need to make a second one, much bigger, for Dakota. He likes it, but it is a bit snug. He is a big ole boy ... last time I weighed him, he was about 22 pounds.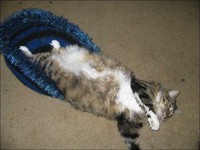 Here we have Faith's tribute to Edloe, half in and half out of her kitty bed.

Send your catblogging posts to
.(JavaScript must be enabled to view this email address)
and then be sure to tune in every Sunday evening for all kinds of furry fun of the feline kind!
Thursday, August 04, 2005
Joy covered in fur

Today I am happy
... because I share my life and home with two wonderful, sweet, precious kitties. Just watching them do kitty things brings me incredible peace and happiness.
Saturday, April 09, 2005
Good Morning, Kitty!
This is how I usually start my day ...

My head would be just to the right on the pillow next to Dakota, if I wasn't standing at the foot of the bed taking the picture, that is. Dakota is so spoiled, he wants to be petted constantly. When I sleep late on weekends, he gets in my face and turns on his big purr, which usually wakes me up. That purr is unbelievably loud! After skritches, he wants his breakfast, but that's secondary.

Faith, on the other hand, wants food and wants it NOW. She hops up on the bed, chirps and trills at me, "Get UP, Mommy!" ... then runs up and down the stairs a few times, then back up on the bed or up in the window sill, where she chirps some more. Lather, rinse, repeat ... until I get up and get their food for them.
After breakfast, it's time for a nap.
---

Send your catblogging posts to
.(JavaScript must be enabled to view this email address)
and then be sure to tune in every Sunday evening around 7pm eastern/6pm central. This week, it will be hosted by
Enrevanche
... mark your calendar!
Sunday, March 20, 2005
Happy Birthday to CotC!
Yes I KNOW I am late! I hope Lair takes pity on me and lets me in this week to the
Carnival of the Cats
, which he is
hosting himself this week
! Too many things to do today and PhotoShop is giving me fits! Anyway ... on to the kitty cuteness ...
Dakota and Faith got a catnip treat. They don't get this often because they get a little psycho under the influence ... and Dakota gets outright obsessive. He licked on the catnip filled kitty pad for hours! Faith just acted silly, running around the house like it was her personal NASCAR speedway and finally flopped down and went to sleep.






And what IS it with cats and boxes? I put one down and Faith just has herself a fine time exploring and trying to crawl inside.



Yes, that is an
Adagio Teas
box ... I got several more sample size tins this week. If you love tea, you will love Adagio! Quick delivery too!
Sunday, March 13, 2005
Cat Bloggage
It's been a while since I have contributed to the
Carnival of the Cats
, which is hosted this week by
Maggie Katzen
.
Lair has got his shorts all in a twist
because the CotC is apparently being ignored by
Instapundit
, among other gripes. I'm in the same city as the Instadude, so perhaps this will help. Or maybe if Lair paid me enough, I'll go over and let Glenn know personally how put out we are at the snub.
Indeed ...
Meanwhile, here are my two beautiful fur babies ... Dakota looks regal and dignified sitting in the window, and Faith shows her belly in hopes of a nice rub.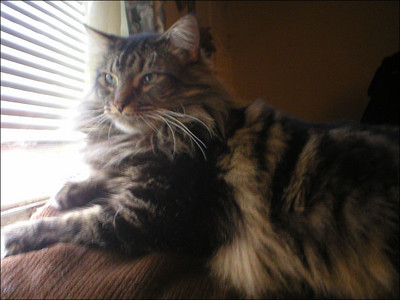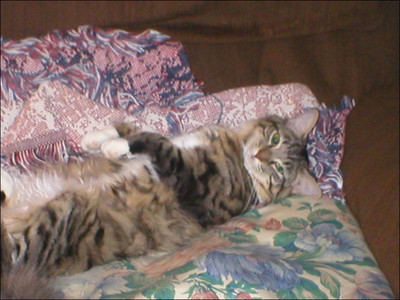 UPDATE: Awww! Thanks Lair! You made me crack up at the same time you touched my kitty-lovin' heart in your uniquely crazy way!