Category: Geeky Chick
Tuesday, December 18, 2007
Won't you take me to ... Hobbit Town!
O
h, glad tidings and great joy!
The Hobbit
will soon be on the big screen!
While the IMDB page for The Hobbit still says that Peter Jackson and New Line are still in talks, Yahoo! Movies has this:
Peter Jackson and New Line Cinema have reached agreement to make J.R.R. Tolkien's "The Hobbit," a planned prequel to the blockbuster trilogy "The Lord of the Rings."

Jackson, who directed "Rings," will serve as executive producer for "The Hobbit." A director for the prequel films has yet to be named.
I so so hope that Jackson decides to also direct the film; his work on the Lord of the Rings trilogy was absolutely brilliant. I read the books many, many years ago, before they were widely popular. I even did my major author paper in high school senior English on J. R. R. Tolkien, once I was able to convince the teacher that Tolkien should qualify as a major author. (My theme was "Tolkien: A 20th Century Epic Writer" and I earned a very rare A from that teacher for it!) When the LOTR movies came out, I was reluctant to see them, thinking that they could not do justice to the majesty and beauty that the books held. I did encourage my kids to see them though, and my son was even inspired to read the books after seeing the first movie. It was not until the winter of 2006 that I finally watched the movies. To say that I was enchanted and obsessed is only scratching the surface. I watched the movies over and over, buying the regular versions on DVD for every day watching, and the 12-disc Extended Version box set for special. I'm now thinking that a LOTR marathon is now in order!
Now we shall have Hobbit-y goodness! Unfortunately, the wait to see The Hobbit will be measured in years. Wonderful things as this are worth the wait though! Come on, Mr. Jackson ... work your magic!
The Dominion Post
has more on the details of the deal and the conflict that was behind the delay.
Thursday, October 04, 2007
My Own Magazine Stand!
I
have so many issues, I could open my own magazine stand!
So this must be what going insane feels like ...
MovableType is a pain in the ass. It needs ImageMagick to manipulate images, but it says it is not installed. But it is installed ... I use it here in ExpressionEngine every time I post a picture in an entry. It works wonderfully. The people at MT say it's a problem with my hosting server, my hosting people say it's a problem with MT and they would be happy to install it for me ... for the low, low hourly fee of ... I don't even want to know. I told them it is already installed, that is not the issue. I would not be bothering with MT, but I need it for a group assignment project that is due next week.
SmartFTP
, my FTP client of choice, is giving me fits, and I can't find the solution in their help files or user forums. I have wasted way too much time trying to fix that too. I am wasting time posting on my blog also. Oh well.
I also have another assignment due TOMORROW in my database class. I am supposed to use MS SQL Server software to do it. The CD was supposed to have been sent to me two weeks ago. It was just put in the mail today. Oh, and the midterm exam is next Thursday. In Clarksville, which is about 200 miles away.
We are trying to find a car for Ms Thang. She has negotiated a loan from her grandparents, and is looking for something suitable. That's tough enough. But trying to get a time when both of us can look at the car, between my schedule and hers - school and work, along with the seller, and getting it checked out by our mechanic, is enough to try the patience of a saint. Doing this with a 17 year old drama queen extraordinaire? I should get a medal ... and combat pay.
I have exactly 10 days to produce a company web site ... on a barebones Windows server box. No PHP, no PERL, no SQL ... nothing. It is essentially a file server hooked up to the internet. And they want it to include a catalog of the training courses they offer ... which they have in an Excel spreadsheet, which needs to be imported into a database, which then could be made into a user clickable menu that would show the categories, the courses and the course synopses. Easy peasy, thought I and envisioned any number of content management systems that could easily handle this task, while I concentrated on the styling of the site. But noooo! Such things as CMS applications require nifty things like SQL databases and PHP! The only solution I can think of at the moment is to install something on my hosted server (which has all those neat bells and whistles) and use that to generate static HTML pages. Then I could copy those over to the company server.
One good thing though ... I got my copy of "
Drunk, Divorced and Covered in Cat Hair
" in the mail today! Yay! I am really tempted to drop everything and just go read! Laurie, whose site is
Crazy Aunt Purl
, is an absolute hoot! I just love her craziness and can relate SO well to so many things she says ... she just says them a lot funnier than I ever could! Check her out ... you'll be glad you did.
I think a nice yoga class is definitely in order for this evening. Followed by a large quantity of chocolate, preferably in the form of ice cream ...
Sunday, June 03, 2007
Lazy Sunday
T
here's nothing quite like hanging out in your jammies until way into the afternoon to make for a lazy, do-nothing day.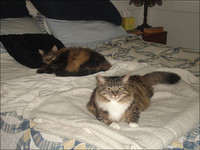 Even the cats got in on the laziness today. There's little of their manic racing up and down the hall. Now a thunderstorm has sent them scurrying under the bed. This is a noisy one!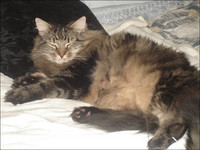 Yes, Dakota has his own pillow, and both cats have their own blanket they sleep on. On my bed. They are spoiled rotten.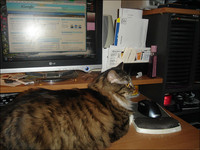 One thing these cats do not lack for is attention. If they aren't getting enough, they make sure that I take notice of this. Faith will sometimes jump right up on my desk. Most of the time, she will just tap me on the arm.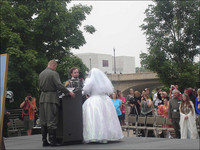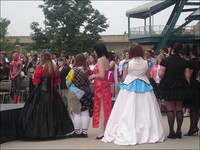 After spending several hours at
AdventureCon
, I am fully reassured that I have a definite place within the realm of normal. Talk about freaks on parade! But as crowds go, I'll take a gathering of geeks and freaks over just about anything else. Nice, polite, well-mannered ... for the most part, just plain old good folk. And this wedding in costume, including the sobbing bride's mother and wedding party was too cute.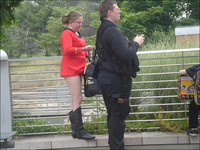 But then again ... some things just defy the words needed to describe just how utterly wrong they are.
We got to hear a wonderful talk by
Ron Glass
, who played Shepherd Book in
Firefly
and
Serenity
. What an amazing person he is! Warm, funny and friendly and has a laugh that is just infectious! I didn't get any pics of him, or autographs ... $25 is a bit too much for my blood, for a signature on a piece of paper, proceeds to charity notwithstanding. But I did get a t-shirt and a hoodie from the Southeastern Browncoats fan table, and met some folks involved with that. Now I have a big ole hankerin' to get to
Dragon*Con
!
Saturday, May 12, 2007
It's like a whole new computer!
J
ust upgraded to Vista. Pretty slick, I must say. But that's just the eye candy. It does seem to be running a bit faster, but then I installed on a freshly formatted partition and I don't have everything installed yet. BTW,
Paragon Hard Disk Manager
is a pretty darn good disk manager. I quickly and easily combined three partitions into one on D, alloted disk space back to C, and installed and mounted an external drive.
My keyboard software is too old to be supported in Vista. I love this keyboard. It's a Logitech Media Elite that I've had for years. I would get a new one, but it seems that one cannot buy just a keyboard anymore! It's all these desktop sets. I have a mouse I love too ... Logitech MX1000 Laser ... and I don't want to replace that or pay for a mouse that I won't use. The sound card I have is also not supported, it's a Turtle Beach Santa Cruz and has been most awesomely amazing. But it's now legacy and no new updates are in the works. Its replacement does not yet have Vista drivers. So, for the time being I will be using the onboard sound on my Asus A7N8X. I did upgrade the graphics card to an ATI Radeon 256MB, and replaced the CD/DVD ROM with a new burner. I probably could stand to get another Gig of RAM, but I am going to wait and see how it does with just one.
'Nuff with the geeky stuff. Now I'm gonna go get my nails done!
And a side-note to a
maybe
un-interested party: (Nevermind that other stuff. I messed up something. What, I don't know, but I'm sorry.)
Saturday, June 03, 2006
We all have our priorities
Y
ou know you're a geek chick when ...
Your criteria for a purse is whether it will hold your cell phone, iPod and digital camera, plus all the other essentials ... and match your laptop bag.
Thursday, April 28, 2005
Me so bad! Or… fun with hotlinkers
A stroll through my web server stats showed me that someone is, again, hotlinking to one of my images. I have the main image directory set up with htaccess, but apparently, I forgot to do one for the Coppermine gallery (which is nearing its demise, now that EE has its own photo gallery). So... I just had to fix this right up.
The hotlinker this time, is a forum participant. I have no idea what it's about because it's in French. No matter... with the help of
Babelfish
, Google images and a few minutes with Paint Shop Pro, I had a suitable replacement image. Suitable, that is, if you have a vicious evil streak, like yours truly.
The stolen image is that of my kitty Faith, caught mid-yawn... I titled it "
Laughing Kitty
" and it's one of the more popular pictures in the gallery. What I replaced it with is a different sort of pussy altogether... along with a stern admonishment both in English and French. See it
here
... or check out a screen shot of the page
here
.
:coolsmirk:
I am SO bad! Heh ...
Saturday, May 22, 2004
Changing Services
Heh ... just about every year around this time, both my ISP and cell phone contracts expire. So I go shopping.
I had already decided to get rid of Earthlink DSL ... they have upgraded their network to 3MB download, but only for new customers and only those on Covad lines. Even though Bellsouth has 3MB capability (my ILEC), Earthlink is not upgrading their Bellsouth customers. Add to that, they are now outsourcing tech support to India. Pfft! I'm gone.
I signed up for Comcast cable internet last night. I would be already up and surfing, but apparently an internet filter was placed on my line. They are sending someone out tomorrow to remove it.
I was a Comcast customer way back in the @Home days. Man ... that was some sweet surfing ... my area was uncapped and 3MB download speeds were average. I remember downloading a Linux distro (650MB) for a friend in less than 30 minutes ... from an FTP server in France! Then came the demise of @Home and the transition to Comcast's own network. Oh the pain ... the agony! I bailed and went to DSL. But I hear good things about Comcast now ... aside from the invisible bandwidth caps, but that appears to be a thing of the past too.
I am also looking around for new cell phone service. I have nothing against Cingular, except they don't give existing customers any phone upgrade offers. I am looking at Sprint ... I want to Moblog with a camera phone and they have the best picture uploading service I have found. I am looking at the Sanyo PM-8200 picture phone ... I can walk out of Best Buy with it for $99. Sprint also has an upgrade program ... every 18 months, customers can get a new phone for $150 off.
It's kinda like Christmas ... I get new toys to play with! :coolsmile:
Friday, September 05, 2003
In Business
Sharondippity.com
We are off and running! Sharon already has several blog layouts up. We just posted the first premium MT Layout. We are also going to offer installation services for MT, tagboards and possibly other scripts and hacks. Bookmark that link above and check back often!
Tuesday, August 26, 2003
Import Nucleus into MT
I posted this info on the
MT Support Forums
. Just thought it would be a good idea to get it archived.
Thursday, August 21, 2003
Browser Check
Browser screen captures in any browser, any version, any operating system.
Whoa! This is a nifty thing! It does just what it says. I have discovered that Konqueror is CSS stupid, as is Netscape 4. IE 5.5 and Opera have trouble interpreting "margin-top" and IE 4 just crashes. Safari on the Mac does quite nicely, as does Netscape 7, Mozilla and of course IE6.
Is anyone seeing anything crazy with other-than-IE-or-Mozilla? (what I have here)