Category: Our World
Sunday, February 15, 2004
Good news from Iraq
I posted this over at
Global Affairs
, but it got shit-canned and buried in another thread that was about BAD things happening there ... killing, violence, all the same stuff we get drowned in on a regular basis by CNN, Fox, Reuters, etc.
Anyway, Zeyad of
Healing Iraq
has posted a translation from Al Arab of a new fatwa issued by Iraqi Muslim clerics. It's
worth a read
, and deserves far more attention than it would otherwise get buried in a forum thread about death. And once again, not one word about this has appeared on any major news site. Go figure ...
Tuesday, January 06, 2004
A Soldier's Funeral
Texas Style
Speakers on, tissue at hand.
God bless America.
Friday, December 19, 2003
NYT and Eastern Europe
Spotted at
GlobalAffairs.org
...
Forum-meister Leon returned from a trip to his Eastern Europe homeland and related the following conversation in a thread titled
News Agency Says Saddam Detained in Iraq
....
Interesting in the contrast of the news here and Eastern Europe.
Me sitting a table, drinking coffee and have NY Times on the table. Present are few teens and some grownups and everyone is excited that I will be translating something as "big" as NY Times from English to Russian.
After reading about three articles on the capture of Saddam, everyone felt disappointed:
Sergei: Hmph, I would feel that the Americans would be happy about this? Why is the paper so bland? I thought NY Times had good interesting writing.
Me: Well, they have to project some form of objectivity, what did you expect, nationalism being espoused?
Kostya: Well, yah, you spend billions of dollars over the course of operation, will probably spend many billions more, you went against the entire world, and lost so many soldiers. Why not be happy even in 'objective' paper?
Thursday, September 25, 2003
Toys for Iraqi Children
Media bias grrrrr, Little girl & Toys!, Friend in danger, Finding purpose 09/18/03
This project is taking on a life of its own, thanks to the blogging community.
Chief Wiggles
posted about an encounter he had with an Iraqi child in the above linked blog. The entry is quite lengthy, so I have copied the relevant part of it in the Extended Entry (click the link below to expand). Please read it, then visit
Chief Wiggles
blog for suggestions and ground rules. Our efforts will be helping to shape the young minds of the future generation of Iraq.
The address to send toys to is:
Chief Wiggles
CPA-C2, Debriefer
APO AE 09335
Update:
Medic Mom
has made some blog buttons to link to Chief Wiggles' site. Go steal a button!
Friday, September 12, 2003
Never Forget ...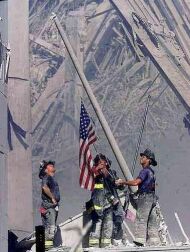 Saturday, August 09, 2003
Through the eyes of a child
Sharon and I must be on the same brain-wave length today:
Andrew
- a special child and his reaction to September 11.
I had been mentally rehearsing this post all evening. She scares me ... she really does.
As we near the second anniversary of September 11, I find my thoughts wandering back to that awful day more and more often. My co-workers and I have been reminiscing about where we were and what we were doing that day. My workplace was evacuated as we were less than two miles from the Y-12 nuclear weapons facility in Oak Ridge, TN. I was one of the last ones out of the building, and it totally creeped me out because it is usually filled at that that time of day with about 500 people. There were military patrols on the roof and the roadblocks were being set up as I left the city. That's when it started to hit me.
Monday, May 19, 2003
Spring Rant
I posted the following at
Global Affairs
back on April 15. The post below this one,
Victory
, reminded me that it needs a place here as well -
I do not profess to have a great deal of knowledge about world affairs, politics or even military issues. I had strong misgivings about the US going into Iraq to strike militarily to remove Saddam Hussein and his regime from power. But the more I learned about our history with the tyrants and terrorists of the Middle East, the more I knew that, like it or not, war with Iraq was something we needed.
The statements made by the anti-war protestors made me decidedly uncomfortable, even angry. How could they not see why we HAD to go to Iraq? I am against war ... for peace. But I am realistic in admitting that sometime, to have peace, we have to have war. So I chose to ignore them and have faith that what the US was doing was right.
But today, I let loose. A couple others here noted they were in a ranting mood today ... it must be spring fever. Or maybe the collective tension we have been under with our country at war. Whatever.
Today was one of those deliciously beautiful spring days. I took my lunch outside to eat in the sunshine at work. There is an unwritten workplace policy that we don't discuss volatile issues on the clock, inside the building. Outside in the break areas, many debates ensue though. Today was no different. At the table next to mine, three young men were eating their lunch. Their discussion consisted of the same old tired, worn out, anti-war, it's all about the oil, the US isn't the world's policeman, blah blah blah that I had gotten so sick of listening to. Today, instead of simply ignoring them, I ranted back
VICTORY
Eject! Eject! Eject!: VICTORY
A powerful essay on what America is and what she stands for. I have been rendered speechless.