Category: Blogging
Thursday, April 12, 2007
Who knew?
W
ell, I guess my partisan confusion has been resolved, courtesy of
Knoxviews
proprieter and blogger, R Neal. It has been revealed .. I am a conservative blogger. Only ... I'm not. Not by a long shot.

ET conservative blogs and other conservative outlets

Knoxville News Sentinel
Metro Pulse
Halls Shopper
Terry Frank
Les Jones
SayUncle
David Oatney
Brian Hornback
Instapundit
Lissa Kay <----- ???
Rich Hailey
Rob Huddleston
TN Politics/Adam Groves
The Rep

And that's just from the KnoxViews blogroll.
R Neal recently decided that he wants nothing to do with bloggers that don't toe the "progressive" party line, and post only opinions and ideas he agrees with. Okey doke ... it's his site, his decision. But, of course, that does not mean that no one can criticize that decision. (Seems to be a real point of cognitive disconnect with some "progressives" ... freedom of != freedom
from
). That's a fight I have neither dog nor interest in right now.
At least I am in good company. But to set the record straight ... I am not a conservative, nor am I a liberal. I can't even totally identify with libertarians, greens, or any other political party. I have varied opinions on various subjects that, in my view, are formed based on logic and reason. Some would be deemed conservative, some liberal, some straight down the middle. I don't choose my associations based on people's political views, and I certainly don't wish ill on anyone just because I disagree with their opinions.
I am in a party of one ... let's say I am a Radical Pragmatic and leave it at that, mmmkay?
Monday, February 12, 2007
We're Famous!
A
t least the cat is ...
Faith is
this week's cat model
at
Carnival of the Cats
!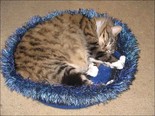 Faith sez: "I'd like to thank the academy, the rescue shelter and my humans ... but what I'd really like is some more of those yummy salmon treats!"
So Faith, now that you are a famous blog cat, what are you going to do next?
Faith sez: "Take a nap in a sunny spot by the window! What else?"
Thank you, Faith.
=======
Speaking of fame, or at least site traffic .. there's apparently nothing like getting links at all the blogs that were represented at BlogFest, including
Instapundit
, and having your cat star at CotC all in the same weekend ...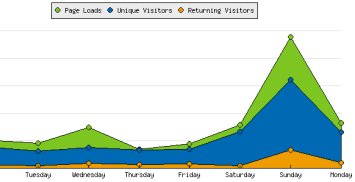 My web host called ... said, "You have, like, real traffic on your site! What's wrong?!"
Heh. Indeed.
Sunday, February 11, 2007
BlogFest!
O
nce again, an awesome time was had by all! East Tennessee bloggers met up at Calhoun's in Knoxville and had a righteous good time. We supped and talked and laughed ... and no one blogged! Not a laptop in sight (although mine was in the car!)
I hope I got all the right names with the right faces. Please correct me if I am wrong! I wish I got more pictures, but the batteries in my camera died.
It was a marvelous time! Thank you to Rich for putting these together and giving me a great excuse to not be such a hermit! Thanks to all those that came for being such awesome people!
I ran into an old friend,
Perry Nelson
... we worked together many years ago. I got to see some familiar faces, like
Cathy
and
Doug
and their awesome clan of kids with only one not present,
Rich
,
Michael
and his adorable little angel,
Randy and Michelle
... and meet some new people, like
Da Blogfaddah
, and
Dr Helen
, who are just about the nicest people you'd want to meet ... and
Barry
,
SayUncle
,
CE Petro
,
Les Jones
,
Mark Steel
and
Mike Faulk
.
Barry has an ...
interesting review
of the evening's events, one that has me laughing out loud.
Cathy
has lots more
pictures
.
OK ... so when's the next one?!? 😊
Monday, October 16, 2006
Hasta la vista, Bloglines
O
K,
Bloglines
.
I am done
.
This is it
.
It is over
.
Buh bye.
Despite long and tedious email conversations, in which you promised to fix and make right all that was wrong, the problems still remain. You ask for "Freedbacking" and I gave it. In response, I got lame assurances that it was being fixed. The most recent one merely promises more enhancements and features are coming soon. Incident: 061012-000051 is still sitting there, untouched for four days:
Feeds are still not updating correctly, Atom feeds have ongoing problems and the pinger thing is still broken.

I will visit a site and see new content that was published hours or even days ago, but it has not appeared in my feeds in Blogline. I have reported this numerous times and it is still broken.

I can refresh my feeds and it will say no new content, but if I click on the "X New Updated Feeds" link, it will sometimes display feeds that had been published hours earlier. Hit 'R' or click My Feeds again and they disappear. This too has been reported and Freedbacked before and is still broken.

The ping is still broken ...I have to republish many, many times before it picks up my feeds. Sometimes they remain "hidden" as above for hours or days. There is definitely an issue with Atom feeds not showing up. Again, reported and freedbacked, and still broken.

I still cannot claim one of my three feeds, despite the code being properly placed (else the other two wouldn't have worked).
I don't have much patience with things that don't work and cause me annoyance. Too much annoyance and I start looking around for a replacement. I tried several other online feed readers, but none of them did exactly what I needed them to do. Then Google came out with their own feed reader. It looked mah-velous, dahlink ... but it had a couple of major flaws, primarily, not being able to mark all read in whole or in part. The interface, half ajax and part something else, was unstable as hell in Firefox. Then Google sent it back into the garage for a
total overhaul
. The final touches were put in
on Oct 9
.
It's still in beta, but
Google Reader
Kicks. Bloglines. Ass. No wait, I stand corrected. Google Reader isn't even Beta ... it's still in
Google Labs
, the nursery of all cool things Google to be.
I'm using
Gmail
for 99% of my email needs. Love the
calendar
. The
Docs and Spreadsheets
rawks, and
Notebook
is just darn nifty. The personalized
Google Home
page will become my browser home page when and if it can remember my log in between sessions (and I think that is an issue my Firefox has with cookies and passwords right now ... still troubleshooting that). But the Bookmarks, they suck. Oh well, can't expect perfection.
Political considerations aside, I think this is the start of a beautiful friendship.

I even think the Google Balls are pretty darn cool too!
Sunday, October 01, 2006
It's almost like ... a social life!
I
f you're an Knoxville, TN area blogger and you missed this, you really missed out! Rich Hailey (
Shots Across The Bow
) organized this Blog Fest this evening at Barley's in the Old City. What a treat to put real faces to the online personas! And have real, adult, non-work related conversation! It only took three days to talk myself into going to this. I managed to keep the anxiety at bay long enough to get comfortable, these folks made it pretty easy ... and I think I didn't babble incoherently too much. Other than the horrible traffic back-up on the way home that made a 20 minute trip take almost an hour, and the skunk that greeted me in the drive-way when I did get home, and the houseful of teenagers making noise and mess where I was expecting one at the most, it was a pretty good evening!
The bloggers in attendance:
Shots Across The Bow
No Silence Here
Juliepatchouli
Frank Murphy
Swap Blog
Staghounds
Domestic Psychology
Knoxviews
TN Girl
jonathan hickman
katieallisongranju
Stephen Dupree aka Cafkia
, who can also be found
here
(A real live movie star, folks!)
Tennessee's Progressive Report
And yes, I KNOW I likely missed a couple. Send me your blog URL and I will put that up here too. And eventually I will match up those blogs with the people in the following pictures: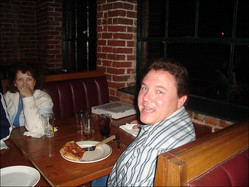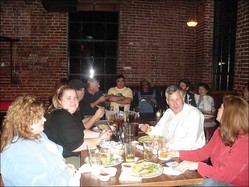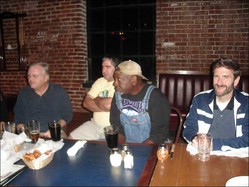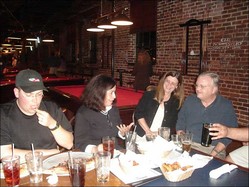 Rumor has it, these Blog Fests will become a monthly thing. Rock. On!
Thursday, September 14, 2006
Cool! Chat on any web site!
H
ow cool is
this
? Chat about any content on the web. Just add 'gabbly.com/' in front of any URL. There are also Firefox extensions and you can embed
Gabbly
directly into your site. It's so cute!
Wednesday, August 23, 2006
Freedbacking for Bloglines
B

loglines, Bloglines
... how does thou annoy me? Let me count the ways ...
UPDATE: More bloglines freedbacking - Oct 14, and Bloglines is on my shitlist for good! Fix your shit before adding more shit that is broken also!
We started an email discussion, but that seems to have gotten lost along the way ... and a couple other issues have come up since then as well.
I have been trying to claim my three feeds. I put in the code, and hit the claim buttons. My RSS 2.0 and Atom feeds were verified. My RSS 1.0 did not. It tells me "Authentication by Key Match Failed for site" ... same code, same site, wrong answer. Something is broken.
I also ping Bloglines with each post: http://www.bloglines.com/ping ... supposedly it makes one's feeds appear faster on Blogline. My new posts used to take and hour or two to show up. Now, when I ping, it takes a DAY or two, if they ever show at all. I can force the issue by repeatedly pinging, but that's a pain in the ass. Something is broken.
I have the Bloglines Notifier extension for Firefox. It sits on the status bar at the bottom of the browser window, and tells me when there are new posts. If I hover my mouse over it, it tells me how many new posts there are ... currently it says 801. But at Bloglines, I actually have 14 updated feeds with 40 new posts. I was about to write to the creator of the extension, but then I went to my personalized Google page where I have a Bloglines module installed. It too tells me an incorrect number of posts. Something is broken.
There are still feeds that are not updating correctly. I will read my feeds, and then click on the "My Feeds" tab and it will tell me there are no updated feeds. But if I click on that link, it will sometimes show me some unread feeds. Feeds that were updated hours ago. Not ones that were just updated in the few minutes between clicks. HOURS ago. Other aggregators show them in near real time. Something is broken.
That's all for now ... let's see how many pings it takes for this post to show up ... the first one didn't show up. Let's try for 2 ... 3? I was hoping 3rd time would be the charm, but no ... 4. 5. 6. 7 and that's it, I'm tired. I'll ping some more in the morning ... Ha! The 7th try worked! Geez ... good night Gracie ...
Thursday, June 22, 2006
Bloglines ... you're makin' me crazy!
O
K OK OK, I know it is considered poor form to complain about free services on the web not performing like they should, but come on!
I keep up with, or try to, over 150 site feeds. Everything from friends' blogs to national media to jobs and Joss Whedon. That would not be possible without RSS feeds and a decent feed reader. I use
Bloglines
. I have tried many other reader applications as well as web-based readers. I have yet to find one that functions better for me than Bloglines. When it is working right, that is ...
But it seems that at least once a week, Bloglines does something crazy. My favorite so far has been when it
displayed in Portugese
. Just out of the blue, English was replaced by a foreign language. Sometimes the whole site just goes down and nothing there can be accessed. I really hate that plumber. Lately, Bloglines has not been updating the feeds like it should. I tried to make it show items from the last 24 hours at Fox News, the New York Times and a local TV news station. Nothing. Other feeds are updating as they should, or at least it appears they are. I don't have time to visit each and every one to see if the posts match the items in the Bloglines feed.
I know, I know ... it's a free service. I pay nothing for it. You get what you pay for. Yeah yeah ... Bloglines, I do so love you! Please don't betray me like this!
Oh, and the export tool isn't working in Firefox. It does in IE though. Grrrr .... this is SO annoying!
UPDATE
: Ben from Bloglines sent an email:
We noticed your post regarding our problems updating certain feeds today and wanted to let you know that we recently pushed a fix for the problem. If you continue to see problems, please contact me
Now that's classy. I had heard from others that when they posted gripes about Bloglines that they would get personal responses regarding the issue. I didn't expect to get one since this was a relatively minor issue. Other companies should take heed ...
Now, about that export tool ...
Saturday, June 03, 2006
Blogger Get-together?
T
his will only be relevant to those in the Knoxville area-
The new Borders store in Turkey Creek is having their grand opening today. Tonight at 8,
Todd Steed and the Suns of Phere
will give a free performance. (Again, only East Tennesseans will get the joke in their name ... cute!). I am going to try to make it, after I get some errand-running done. A few other bloggers might make it too. Join us! I'll buy you a coffee drink!
Performancing ... reviewing a new blogging tool
I came across this nifty blogging tool extension for Firefox ...
Performancing.com
This is a free service that provides tools to bloggers, like this in-browser blog editor as a Firefox extension. It comes pre-packaged with default settings for the more well-known blogging tools, like MT and WordPress, but it was simple as can be to set up my ExpressionEngine blog with the BloggerAPI module. First off, it does not offer the option to post content into the various template fields that I have set up. I can't imagine though, how that would be possible unless it could read my templates. I also don't see any way to upload images ... oh wait, there it is. And yes, it does upload to FTP. It has some options that looks like it would upload to some hosted services, like Blogger or Typepad. But again, I have custom tags and attributes set up in the EE tool that can't be replicated here. I see this as a on-the-fly blogging tool, and I would want to go back in and edit later.
So ... let's publish and see what happens next ...
Well ... hmmm. OK, now that it has published, and I go back in to edit, I now have access to the other template fields. But it lost the title I gave the post. The tool also does not pick up the titles of previous posts, nor does it find my categories.
Let's fill in the template fields, and republish ...
Hrmm ... this is not going well. It's sticking in the template tags as text by converting symbols to entities. It does something weird to the time and date also. This tool has promise, but it still needs a lot of work. It may be that EE is just a bit too complex for something like this.
Technorati Tags:
blogging