Category: Blogging
Tuesday, March 26, 2013
Oh hey ... Hi There!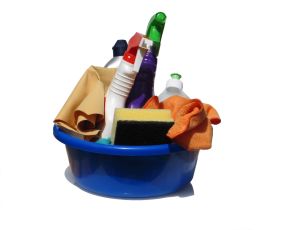 Wow. This place sure is dusty ... and needs a good renovation.
I'm thinking this place needs a coat of new paint on the walls and trim ... and the furniture re-arranged. Just a total do-over ...
So, is my RSS still in anyone's feed reader still? Is anyone out there?
Tuesday, August 11, 2009
Wha .. ??
T
he comment policy here on my poor little neglected blog is posted above the comment entry form (unless you are a member of the site and are logged in). It's pretty simple ... no personal attacks, no trolls, no spam. I will delete at my own discretion. I used to moderate the comments, but I am not always near a computer where I can approve them so they post. I have to balance that with the risk of getting posts with spam comments. Most are annoying, some are offensive - I HATE that spammers are put their crap on the post about my father's recent passing, but every now and then ...
Where does this junk come from?
You can't make this stuff up ... seriously.
Gives Thanks, Very fascinating read, you should be dramatic of your web logs. I've been genuinely delighting developing up your situations from meter to time. Looking forward to understand your future positions Many wonderful selective information, thanks for partaking. Testament definitely be back more often….
Again, wha ... ???
Monday, November 03, 2008
Marking All Read
S
ince returning to work about a month ago, I have had to make some drastic changes in how I deal with my spare time. One of the major adjustments is in how and when I use the Internet.
While I was not working, I did keep fairly busy with school work. It seemed like there was always a quiz or assignment to prepare for, tons of reading, or just fretting over getting it all done along with everything else. But I still had time to cruise through my RSS feed reader several times a day and keep up with what was going on with my friends, local happenings and in the world in general. I had time to respond to anything and everything that got my interest, subscribe to new writers and check out all the recommended sites to see.
Now it seems that I am hitting the "Mark All Read" button quite often. Even over the weekend, since we stay quite busy with family and leisure activities, I don't have time to catch up on the feeds. I sometimes wonder what I am missing ... and right at the moment, it's either quite a lot, or nothing worth bothering over. I focus on a few feeds, mostly ones that are local people, and some general news. But the days of comparing what one pundit has to say with another, then contrasting that with yet a third, those are well and over. Entering into the fray of the discussion? Not likely at all. I am lucky to have time be able to comment with any regularity at the blogs of personal friends. A few media outlets have been interesting to post it and debate with others the topics of the day, but even those take quite a lot of time. So, I have pared down my reading list for now, hoping that, as my new schedule gets settled a bit more, I can get back to reading and responding as before.
And now, I must fly ... time to get to work!
Monday, September 22, 2008
Blogfest time again!
I
's that time again ... Blogfest!
When: Sept 27, 2008 6:00pm until ?
Where:
Calhoun's on Kingston Pike near Pellissipi Pkwy
Who: Bloggers, blog readers, Twitterers, and their significant others, family and friends
Come have a great time getting to know the people you read every day, and put a face to the words.
RSVP: In the comments here, or by emailing
.(JavaScript must be enabled to view this email address)
, or
.(JavaScript must be enabled to view this email address)
We are going try to get the upstairs banquet area reserved for this Blogfest. There is a fee for this, we believe it is $40 and will check to be sure tomorrow and make the reservation. If you would be willing to contribute a few dollars towards this, please email us and let us know by Wednesday. At that time, we will figure out the exact amount it will be, but it will not be more than $10. The more people volunteer, the less it will be!
UPDATE: The private banquet room is not available. However, we do have reserved a large party space that will give us extra room and the ability to wander (both kids and adults!) without being in the way of wait staff and other restaurant guest. No fee is needed for this, so we won't be passing the hat after all.
Please, feel free to tell other bloggers or anyone that might be interested about Blogfest, also please blog and Twitter about it too!
(We also have an email list for Blogfest announcements, go
HERE
to sign up)
Friday, September 05, 2008
Chicks and Guns, Indeed
W
ant to increase your blog site traffic 2000%? It's easy ...
Just post pictures of yourself and some gal pals at the firing range, and get a couple of gun bloggers to link to it.
Thanks
Uncle
,
Robb
,
Dustin
,
Dr. Woodbo
... I appreciate the links, but I gotta tell you, you guys got your butts kicked by a chick ... the link from
Tam
, all by itself, is generating over half of the traffic spike. 😊
Sunday, April 13, 2008
A Wild Blogfest!
A
nother Blogfest and another great time was had by all. We gathered at Wild Wings Cafe out in Farragut, and despite a packed house, we had a blast.
The wrap up:
What Doug said
A non-blogging, but special guest joined us for a while ... Jon Katsiros is running for House Representative in District 18 against Stacey Campfield ... or as he says, he's not running against him, he's beating him ... heh. Anyway, Jon joined the festivities for a while before he had to leave for another engagement, along with his campaign manager, who's name escapes me. He spoke to us about his plans for his campaign and what he hopes to accomplish in the state legislature. He realizes that people are tired of the government getting all up in our business and that what most people want is less government and more personal accountability. He has a great deal of support in the Tennessee GOP and sounds like he will be a much better choice than what District 18 has been sending to Nashville for the last 6 years. It's definitely time for a change, and Jon seems to be a good candidate for that. I look forward to watching his campaign progress and wish him the best of luck. He doesn't have a web site or blog ... yet. We hope that he will be blogging and
Twittering
soon though!
Another hot topic of conversation had to do with a little plan we have been cooking up. Have you seen
this
, or
this
or
this
? We're planning something similar. Up for it? Let us know and join the team!
I failed miserably in my picture taking duties, only snapping one from my cell phone. I posted it for the Twitter folk
here
. Doug has a few
here
. Cathy's are
here
.
As a reminder, if you want to get email announcements for future Blogfests, you can sign up
here
. You won't get any spam or extraneous emails, just Blogfest announcements.
Monday, April 07, 2008
Blogfest Out West!
I
i is finally officially official ...
Blogfest will happen again
, next Saturday, April 12! Spread the word!
The place:
Wild Wings Cafe
- (
Google Map
)
The time: Be careful asking Rich that question,
his answer
may be more than you bargained for ... but the festivities will start around 6:00 that evening.
The people: Bloggers of all sorts, shapes, varieties, ages, colors and heights, from various locations around the greater East Tennessee area, and points beyond, along with their significant others, if they wish ... plus a kid or two, or three or four or fourteen (depending on whether
Cathy
and
Doug
bring any, part or all of their brood). Blog readers are welcome too!
The special guest: A local candidate running for the state House may grace us with his presence. (And no, it's not the asinine one that I took to the wood shed a couple months ago!)
Let us know if you can join us in comments here or
there
, post at your site to spread the word and we hope to see you there!
Sunday, January 20, 2008
Weekend Roundup - Blogfest, Movies and More!
M
y previous post got disappeared when Firefox locked up. I was almost done too! So, now I will recap Friday night's Blogfest, post some pics and also mention part 2 of our weekend activities, which may or may not have included a certain highly anticipated monster movie.
Blogfest was great. Mostly. However, we were unaware that Bailey's had decided to keep their place smoke-enabled and thus had to make a rule that all customers had to be at least 21 years old. This caused a bit of grief for some that wanted to bring the family along, as had been the practice many times before. Making things even worse, Bailey's apparently has no air handlers in place to help clear the air of the smoke, so for us non-smokers, it was quite uncomfortable. So, the next Blogfest will be at another location, one that is family-friendly and with clearer air. We are open to suggestions, but are thinking next time at Calhoun's on Bearden Hill ... Yes? No? Other ideas?
Anyway ...
Everyone had a great time. We had both some familiar faces as well as a couple of new ones. In addition to
Rich
and myself were
Cathy
and
Doug
.
Tamara K
and her feller were there, and they talked up the guns with
Les Jones
. I think they were cooking up another shooting bloggers meet up. Making their Blogfest debuts were
Craig Thomas
,
Johnny-Oh
and
Eric
.
Barry
came in for a few minutes, but as he had the wife and kids waiting in the car outside, he couldn't stay long. However, in keeping with his reputation as the suave and debonair ladies man of the East Tennessee blogosphere, he planted himself as close to the ladies as he could, and then just waved across the table at the men-folk. He was too cute. But for his efforts, he walked away with
Doug's choice giveaway
of a wireless router.
Barry would also like to let everyone know that the mighty and infamous
Atomic Horns
will be playing at a Valentines Party at the Elks Club in Oak Ridge on February 8, and he wants even more groupies to come out and see his most-awesome Elvis impression.
I posted some pics I took with the crappy camera on my phone at
Flickr
. I also took a few pics with my trusty, but old and not-quite-as-crappy digital camera. Hover for details, and click to embiggen: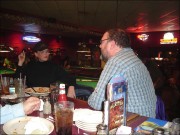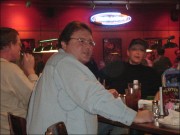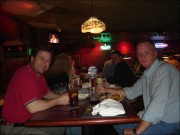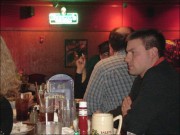 Saturday night found us at a mini-Blogfest of sorts. We met up with Cathy and Doug first for ice cream at Marble Slab in Turkey Creek ... Mmm! Ice cream in frigid cold weather! Then we took in a showing of
Cloverfield
. I liked it. Rich, not so much. He says he will post a short review on it later. I don't want to give away any spoilers ... not that there are many - big monster stomps around in New York, people run away, military shoots at it. All told from the vantage point of a hand-hand video camera. One with a kick-as battery pack that last over 12 hours.
Half the fun of going to the movies is seeing the trailers for upcoming movies. We saw a few that looked promising. Rich, ever the comic book geek, is looking forward to
Iron Man
. Doug nearly pee'd himself seeing the barebones, under construction, tell nothing trailer for the next
Star Trek
. Yes, folks, that is Number 11. Another preview was for
10,000 BC
. In just the trailer alone, I counted several anachronisms. I can't see this as being too terribly accurate, and if it was, not very interesting since the language of the days was pretty limited. There was another, very forgettable looking, insipid something with Will Ferrell in it (has Will Ferrell ever been in anything that was not insipid?) There will also soon be a sequel to
Hell Boy
...
Hell Boy II: The Golden Army
, which is surprising given that the first one was pretty much a dud.
And that has been, so far, our weekend. Still no baby yet, but stay tuned!
Saturday, January 19, 2008
Blogfest '08!
W
ell, I had a nice, long post-Blogfest roundup all ready to go, complete with links to the sites of all attendees, pictures and invites to two more events ... but then Firefox locked up and crashed and I lost it all. I will try to recreate it tomorrow.
We are planning to see Cloverfield tomorrow night ... if any one else would like to join us (Cathy, Doug, Rich and me), drop me a comment here or an email for the time and theater we are going to.
Time for sleep now though ...
Wednesday, November 28, 2007
Posting a test
O
r ... testing a post. The Google Reader issues "seem" to be resolved. But still much of a mystery ...
The web host tech support disabled the
.htaccess
file and called it all good.
I call BS. There is NO WAY that an .htaccess file could cause a server to give out an incorrect
Http status code
on
RSS
and
Atom
feeds, unless explicitly coded to do so, which mine is not. Only the two feeds from this site, and the one on the Designs site were failing to update. The others were still working. The .htaccess file in question resides in the www root directory, so if it was the culprit, it should have affected all the feeds on this account.
Further, there were no changes made to that file when the problems started. What did change was something in Google Reader itself, despite their massive protestations otherwise ... and other issues my server was having with
ImageMagick
,
Phpsuexec
, file permissions and
Internal Server Errors
. Tech support mucked around for a week trying this and that and the other thing ... never did get all that resolved. But my feeds stopped updating at the same time.
Sunday night, I downloaded all my software files, then deleted them off the server. I dropped the
MySQL
databases, and restored only the ones I still use and need. I cleared a bunch of old files in old subdomains, and basically started fresh. At the same time, I asked tech support (for the umpteen billionth time) to look into the Http Status Codes, and the settings changes that were previously made. That is when they also disabled the .htaccess file. Something apparently worked, Google Reader updated two posts made that day. Before declaring it all good, I am posting this too now ... we shall see.
And then I want my .htaccess file back ...
UPDATE: Holy crap. This post showed up in Google Reader almost instantly! At least the RSS feed did ... nothing on the Atom feed yet.