Monday, December 29, 2003
Don't Drink and Drive
... Please
Friday, December 26, 2003
Christmas 2003
Another Christmas, come and gone. And I survived it!
I got lots of gift cards ... Books a Million from my son, and from my parents - Panera Bread where I love to eat lunch, and the salon where I get my hair done (Jeffery does my hair ... he's so gay, he could put a lisp in the word "Cracker"). I also got two gorgeous sweaters, and two pairs of slacks for work. And an electric can opener! My poor aching hands can't deal with the old manual one anymore.
Darling daughter got an Olympus D390 digital camera and lots of funky jewelry and hair thingies. Plus some clothes and CDs. My son is thrilled with his Rio MP3 player, Tony Hawk Underground for Gamecube and The Hulk on DVD. He also got a new jacket that he loves so much he slept with it last night.
I gave Mom some of her favorite stuff from Bath and Body Works and some thick boot socks to wear around the house. Daddy got a new tie with a tie chain and a personal CD player, so he doesn't drive Mom batty with his music.
Before opening presents, the kids read the Christmas story from the Bible, Luke 2:1-20.
We had our big Christmas thing on Christmas Eve because my daughter had to go to her dad's for Christmas day. We had ham, scalloped potatos, green bean casserole, overnight fruit salad and crescent rolls. Then we had apple pie and peanut butter silk pie for dessert. Today, my son and I went over to Mom and Dad's for leftovers plus a roasted turkey breast.
A very nice, quiet family Christmas for us. I posted a couple of pictures in
PhotoLife
, my photoblog.
Tuesday, December 23, 2003
Mushy Stuff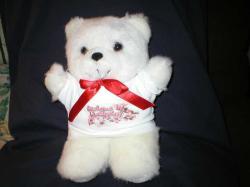 Once again ... timing is everything. This sweet little teddy ... personalized with my
Design site
logo no less! ... brightened a really crappy day for me!
Thanks,
Sharon
!
Sunday, December 21, 2003
Change of Scenery
Like the new look here? I do too ...
I got bored with the old look and decided to go with something darker. The basic layout is the same, but I had to make new category gifs for the sidebars. One of these days, I will learn how to work with graphics. These kinda suck, I think. Especially the one at the top. Oh well ... it's just a blog.
The DXImageTransform trick is a cool one. But the shadow effect only works in Internet Explorer. I'm using it over on my
photo blog
too, just on the pictures though.
Speaking of which, the kids and I have plans to drive around tomorrow night and take pictures of Christmas lights. There are some pretty spectacular ones around here. That will make some nice additions to the photo blog.
And NO ... I have NOT finished my Christmas shopping yet!!
Friday, December 19, 2003
NYT and Eastern Europe
Spotted at
GlobalAffairs.org
...
Forum-meister Leon returned from a trip to his Eastern Europe homeland and related the following conversation in a thread titled
News Agency Says Saddam Detained in Iraq
....
Interesting in the contrast of the news here and Eastern Europe.
Me sitting a table, drinking coffee and have NY Times on the table. Present are few teens and some grownups and everyone is excited that I will be translating something as "big" as NY Times from English to Russian.
After reading about three articles on the capture of Saddam, everyone felt disappointed:
Sergei: Hmph, I would feel that the Americans would be happy about this? Why is the paper so bland? I thought NY Times had good interesting writing.
Me: Well, they have to project some form of objectivity, what did you expect, nationalism being espoused?
Kostya: Well, yah, you spend billions of dollars over the course of operation, will probably spend many billions more, you went against the entire world, and lost so many soldiers. Why not be happy even in 'objective' paper?
Tuesday, December 09, 2003
Testing ...
We had a server crash over the weekend. Many things are whacked out still ... I got the PHP includes to behave. My Gallery and the newer photo album are throwing errors too. Trying to post a new MT entry ... let's see how this goes ...
Sunday, November 30, 2003
My Latest and Greatest
Photo Life
is my new blog, a photo blog where I am posting some older pictures now, and when caught up, I will add new ones as I take them.
Mucho kudos to Amy of
Quixotic Pixels
for the fantastic tutorial. I was up and running within minutes. Of course, I had to get my hands dirty tinkering under the hood ... I added some background graphics from
Jan's Designs
and it is just so purty!
I am in the process of uploading pictures, so it will be changing rapidly. Bookmark, Blogroll ... whatever, just keep checking back for more!
Friday, November 28, 2003
*BURP!*
Oops! 'Scuse me! Not bad manners, just good food! And lots of it ...
I hope everyone had a great Turkey Day!
Ours was low-key and quiet. Me, my two kids, mom and dad. We had a pork loin ... dad doesn't like turkey ... stuffed with a dressing made of bread, apples, walnuts and onions. Yum! Also red potatoes and waldorf salad. Of course, there was the apple and pumpkin pies for dessert. By the time we were done, I was seriously wishing for my comfy, stretchy sweat pants.
Tomorrow I have quite a to-do list waiting for my attention ... get the oil changed in the car, pay the rent, grocery shopping, get my nails done, clean the house. Notice that Christmas shopping is NOT on this list? Heh ... wild horses couldn't drag me into the mall or Walmart this time of year. God bless the Internet ... have check card, will shop while wearing fuzzy slippers!
Tuesday, November 04, 2003
Time is Running Out
Couple Faces Deportation Without Their Child
I got two comments last night on the above entry, signed "Mr and Mrs He." This story still tugs at my heart. One of the comments was actually an open letter "To Whom it May Concern" by Michael G Ryan, a Seattle, WA journalist who has taken up the cause of Jack, Casey and Anna Mae He. In it, he deplores, like me, the cruel and unjust treatment the Hes have withstood at the hands of the Juvenile and Chancery Courts of the State of Tennessee.
Then tonight, I was perusing my web site logs. I am getting TONS of hits from search engines on queries regarding this tragic case. Word must be getting out. It needs to be front page news in every paper in the US.
Whoever commented on my previous entry asked me to contact Dr Hansen Li. I would love to, but what to I, just a single blogger among millions, have to offer, other than my prayers?
I will offer this ... a button to put on your web site, to honor and support the Hes in the battle of a lifetime ... the battle for their child.
Please right click and save to your hard drive, then upload to your web server. Link it to
Anna Mae Go Home

A tragic irony ... we here in the US lambast China for their human rights policies. And look what we are doing to one innocent child, who only wants her mommy and daddy.
Saturday, November 01, 2003
I'm a bad, bad blogger
Shame on me.
Lynne
and
Sharon
are scolding me. I haven't posted anything in almost two weeks.
My life just ain't all that exciting ... which is probably a good thing, all things considered. My son is doing rather well. His bipolar adventures have been the meat of my blogging material ... and, praise God, no recent adventures!
My job is OK .... good news! I made the first tier bonus! 30 sales! Not bad for my second month! My next goal is to make the President's Club ... which requires 50 sales. And I am just now getting the hang of it. Our training was a bit incomplete ... to put it in the kindest terms possible. So we've been flying by the seat of our pants, learning as we go. It can be frustrating though ... the insurance biz is not one to make mistakes in.
Nothing on the dating scene. In fact, just the thought of dating makes me break out in hives. I've gotten used to my nice little hermit life ... me, my kids, my cats. I don't want any intrusions right now. So that's all good.
Kiddo has just returned from terrorizing ... er, trick or treating. Nice haul! I can hardly wait until he goes to bed so I can appropriate the Butterfingers and Reeses Cups! I didn't get home until 7:30 so I missed the little ones that come around early. I still have most of my giveaway candy ... I will have to take it to work to share so I don't eat it all. I'm beginning to look like a Tootsie Roll ... you are what you eat?
Now wasn't this a nice boring post?