Weekend Roundup - Blogfest, Movies and More!
M
y previous post got disappeared when Firefox locked up. I was almost done too! So, now I will recap Friday night's Blogfest, post some pics and also mention part 2 of our weekend activities, which may or may not have included a certain highly anticipated monster movie.
Blogfest was great. Mostly. However, we were unaware that Bailey's had decided to keep their place smoke-enabled and thus had to make a rule that all customers had to be at least 21 years old. This caused a bit of grief for some that wanted to bring the family along, as had been the practice many times before. Making things even worse, Bailey's apparently has no air handlers in place to help clear the air of the smoke, so for us non-smokers, it was quite uncomfortable. So, the next Blogfest will be at another location, one that is family-friendly and with clearer air. We are open to suggestions, but are thinking next time at Calhoun's on Bearden Hill ... Yes? No? Other ideas?
Anyway ...
Everyone had a great time. We had both some familiar faces as well as a couple of new ones. In addition to
Rich
and myself were
Cathy
and
Doug
.
Tamara K
and her feller were there, and they talked up the guns with
Les Jones
. I think they were cooking up another shooting bloggers meet up. Making their Blogfest debuts were
Craig Thomas
,
Johnny-Oh
and
Eric
.
Barry
came in for a few minutes, but as he had the wife and kids waiting in the car outside, he couldn't stay long. However, in keeping with his reputation as the suave and debonair ladies man of the East Tennessee blogosphere, he planted himself as close to the ladies as he could, and then just waved across the table at the men-folk. He was too cute. But for his efforts, he walked away with
Doug's choice giveaway
of a wireless router.
Barry would also like to let everyone know that the mighty and infamous
Atomic Horns
will be playing at a Valentines Party at the Elks Club in Oak Ridge on February 8, and he wants even more groupies to come out and see his most-awesome Elvis impression.
I posted some pics I took with the crappy camera on my phone at
Flickr
. I also took a few pics with my trusty, but old and not-quite-as-crappy digital camera. Hover for details, and click to embiggen: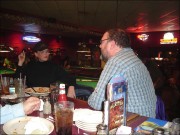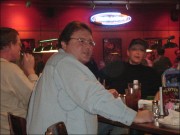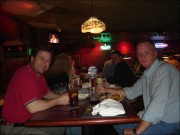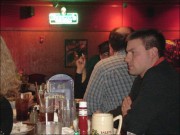 Saturday night found us at a mini-Blogfest of sorts. We met up with Cathy and Doug first for ice cream at Marble Slab in Turkey Creek ... Mmm! Ice cream in frigid cold weather! Then we took in a showing of
Cloverfield
. I liked it. Rich, not so much. He says he will post a short review on it later. I don't want to give away any spoilers ... not that there are many - big monster stomps around in New York, people run away, military shoots at it. All told from the vantage point of a hand-hand video camera. One with a kick-as battery pack that last over 12 hours.
Half the fun of going to the movies is seeing the trailers for upcoming movies. We saw a few that looked promising. Rich, ever the comic book geek, is looking forward to
Iron Man
. Doug nearly pee'd himself seeing the barebones, under construction, tell nothing trailer for the next
Star Trek
. Yes, folks, that is Number 11. Another preview was for
10,000 BC
. In just the trailer alone, I counted several anachronisms. I can't see this as being too terribly accurate, and if it was, not very interesting since the language of the days was pretty limited. There was another, very forgettable looking, insipid something with Will Ferrell in it (has Will Ferrell ever been in anything that was not insipid?) There will also soon be a sequel to
Hell Boy
...
Hell Boy II: The Golden Army
, which is surprising given that the first one was pretty much a dud.
And that has been, so far, our weekend. Still no baby yet, but stay tuned!
Commenting is not available in this channel entry.