Politically Correct?
The peace-loving, tolerant, sensitive, politically correct Dems are at it again .... Via
Michele
and
Michelle
Tennessee Democrats Compare Republicans To Special Olympics Children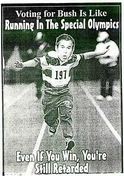 Click for full size disgustingness
October 12, 2004 – Democrats in a race for a state House seat in District 82, are circulating a flyer that shows a retarded child with President Bush's face running in a track race. The headline says: "Voting for Bush Is Like Running In The Special Olympics: Even If You Win, You're Still Retarded."

The flyer is being distributed by Democrat Craig Fitzhugh. His opponent, Dave Dahl has issued a call to Fitzhugh to stop distributing the flyer.

According to Dahl, "Hard-ball politics is one thing and everyone expects tough battles, but using those who are born with mental disabilities for political fodder is disgusting."

Dahl says the flyers have been distributed for at least two weeks from Fitzhugh's campaign office in Ripley, Tennessee. It also serves as the Kerry-Edwards headquarters. "At first, I really did not believe that Fitzhugh and the Democrats would stoop to such gutter politics, but then people started bringing the flyer to me at the end of last week. I was shocked and disgusted."

"This kind of reckless disregard for those who suffer from mental disabilities is much larger than any state representative race. This act is so atrocious and indecent that my campaign will be sending a copy of the Fitzhugh flyer to the United States Special Olympics Committee, the Special Olympics International Group and state and national advocacy groups who work with and support special needs children and adults."

This most recent attack on Republicans as mentally handicapped is not new. On October 28, 1994, while in Virginia, then-Vice President Al Gore attacked Oliver North's Senate bid supporters as "the extreme right wing, the extra chromosome right wing." Advocates for those with Down's Syndrome, caused by an extra chromosome, were outraged.
This goes beyond the pale ... it makes me want to puke! Here is the sick fuck that is distributing this vile thing ...
Craig Fitzhugh
.
I have already fired off several emails to local media outlets. Go
here
and do the same.
Update
:
TeamGOP
has issued a press release, and
Michelle Malkin
is all over this and has more ... Fitzhugh's office is giving her the run-around ... go figure.
Update
:
Bill Hobbs
has more ... lots more. Go see.
Be sure to check the comment here left by "catalexis" ... He/she doesn't like the moniker "moonbat" ... that's OK. I kind of prefer "Morlock" myself. I almost didn't let the comment through ... the first paragraph is nice, just what I would hope to hear from Dems when others of their party step across the line. But then "catalexis" loses it and demonstrates for us the typical mind-set of the left ... it's funny, in a pathetic sort of way. I'm tempted to suggest reading comprehension courses, but I don't think that's the problem. So, I will just put up the comment, and then point and laugh.
Commenting is not available in this channel entry.