Kitty Update
Many, many thanks to all of you who wrote, IM'd and commented here about my kitty,
Dakota
. He will probably come home this afternoon, and I will spend the rest of my mini-vacation playing nurse-maid to him.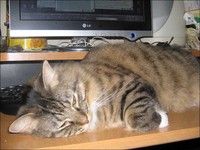 Faith is missing him, too. She has been very clingy and talkative. Right now she is sitting on the arm of the couch just staring at me. When I look over at her, she chirps. Earlier, she insisted on sitting on my desk while I tried to reply to some of the emails and IMs. It is quite startling to have 12 pounds of fur land right in front of you like that.
I went to see Dakota several times yesterday. He was still groggy, but he did crank up his gigantic purr when I scratched his ears. I also gave him a bath with wet wipes (made for bathing kitties). He doesn't stink so much now, and is much more pleasant to be around. I also took one of his toys, he laid his head down on it like a pillow. I just hope this hasn't traumatized him too much, he has always been skittish and fearful.
Not many people can say they have seen their cat's insides. I have. They have an observation window for the surgery and I was able to watch most of it. I even
got a pic
with my phone camera. They also let me in just as the Doc finished up the last of the sutures, so I was there when he woke up and for the initial stages of recovery. The vet clinic doesn't have 24 hour staffing, so we took him to a pet ER for monitoring. I picked him up the next morning (at 6:30! Ugghh!) and took him back to the vet.
I visited with him several times during the day, in between trying to meet up with maintenance for my townhouse, getting some errands done and cleaning the house. Some would think I am a little off my rocker, being like this with a cat. But there are plenty of people who do understand ... my kitties are not just pets, they are part of my family, and I would do no less for them than I would my children. However, the vet bill is staggering ... luckily, I do have a credit card that I can put this on, but having just bought the car and various other expenses that have come up recently, this is a killer, budget wise. There are Paypal and Amazon donation links to the left. You could also do your shopping through my Amazon affiliate links, and click on the other advertising links to help. I know we are all pretty much tapped out after Katrina, but anything would help, so I am begging. Please help me. Dakota and Faith will love you for it. For a better idea of what these kitties mean to me, and my son, see
The Prodigal Kitty
and
Just a Little Faith
.
UPDATE to the update: Dakota is home and is resting comfortably. Here are some pics to show his poor little shaved belly. He also has a bandage over the IV site, which he is obsessively chewing on. He came home with a bag full of medications which I am to give him twice a day ... Prednisone, Clavamox, eye ointment for conjunctivitis, and Advantage for both kitties (yes, we are fighting fleas again this year).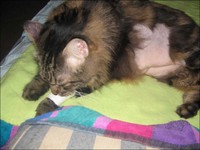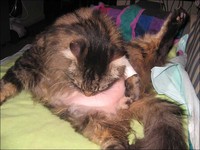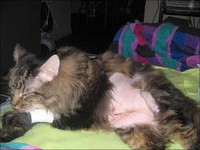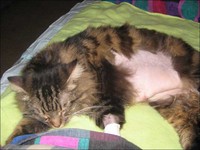 ---

Carnival of the Cats is up
! Send your catblogging posts to
.(JavaScript must be enabled to view this email address)
and then be sure to tune in every Sunday evening for all kinds of furry fun of the feline kind!
Commenting is not available in this channel entry.