It's a done deal ...
I
t's official now. We're (gettin')* hitched.
I talked him out of buying a gun at the gun show and get this instead ....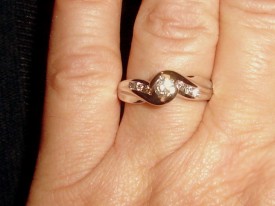 A little while ago, I realized that today is the 8th anniversary of a very significant event in my life, one that colored my perceptions of just about everything and changed the essence of who I am, which I have been struggling to come to terms with ever since. Today, I think I can safely say the healing is complete.
---------------
*We consider ourselves already married in God's eyes. We will have the public and civil ceremony in May of next year.
Commenting is not available in this channel entry.