Games Kitties Play
M
iss Faith, Her Royal Kittyness, never misses a chance to have a good time ...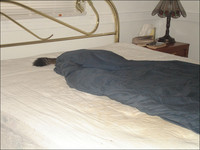 Helping mama make the bed up seems like a good time for some kitty hide-n-seek ... but she left her tail sticking out a little.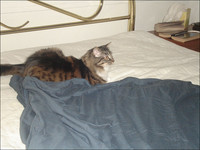 And mama's no dummy ... peek-a-boo kitty! I see you!
(Click thumbs to embiggen)
More catblogging than you can shake a kitty whisker at, over at
Enrevanche
with this week's Carnival of the Cats -

Send your catblogging posts to
.(JavaScript must be enabled to view this email address)
and then be sure to tune in every Sunday evening for all kinds of furry fun of the feline kind!
Commenting is not available in this channel entry.