Devastation in the Heartland
T
he small town of Greensburg, Kansas has been utterly destroyed by tornadoes. The search and rescue efforts had to be suspended for a time because of new tornadic activity forming in the area with the
arrival of new storms
. The current death toll stands at 9 with the entire city of Greensburg (pop. 1500) left homeless. The numbers of the injured cannot be estimated yet, only that "Scores of injured people were sent to hospitals" and 95% of the city was damaged. There is nothing left there.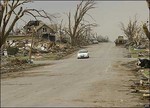 Some video is available:
Local News
, and an
AP Report
. Tornado chasers captured
this video
of the storm as it was happening. There are aerial still pictures at
Kansas.com
and
Yahoo! News
.
See-dubya at Hotair.com
has posted
, saying there will be updates on charity suggestions. Joni, who grew up there, has posted -
Dear God, It's All Gone
. She has a picture of what the town used to look like on there.
These people will need loads of prayers as they try to rebuild their lives. When I hear of any specific and legitimate sources for donations, I will update here.
Also blogging:
Tim Blair
it's never too late: Keep Greensburg in your prayers
- Kent, who's dad is being evacuated from Greensburg
Barking Moonbat Early Warning System: Devastation
The Cutting Edge: Start from Scratch in Greensburg? They'll have to..
Patsy's Ponderings by Patsy Terrell
has ongoing coverage
... and I have to stop searching other sites for references, I am getting pissed off. I came across the Westboro Baptist Church response, in which they thanked God for the tornado. Then the Democratic Underground and DailyKos, who's commenters wished that the tornado had struck Crawford, TX instead (ie, wishing death upon the POTUS), blamed Bush directly or indirectly, even linking weather events to the election results from Florida in 2000. The derangement is truly amazing! The Hotair.com post noted above has examples from DU, Kos and other sites with similar thoughts and wishes of death and destruction. Disgusting!
I will update with positive and constructive information when I get it. For now, today, all we can offer is prayer.