Conquering Leftovers
N
ow serving: Musgoe Hambone Stew
All you care to eat! Please!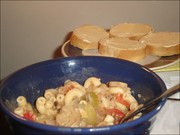 It's been many, many years since I hostessed any part of the Christmas family gathering. My townhouse was just too small for any kind of entertaining, other than a simple dinner date. Family, with kids, and massive amounts of cooking? No way!
So, I mostly missed out on the piles of leftovers that naturally follow the holiday dinners. If mom cooked, she would sometimes send us home with a little, but that would be taken care in a day or two. This year was quite different.
For one, neither Mom nor I are very good judges of how much is enough. I think we both go by the premise that it's better to have too much than not enough. So, we usually have enough to feed an army. This year, Mom brought a 12 pound spiral sliced ham. And her famous overnight fruit salad. I made a metric ton of Mashed Potato Bake, and a like amount of Wild Rice and Broccoli Dressing.
Leftovers? Oh yeah. I got yer leftovers.
The ham left filled two gallon size storage bags. Plus the bone. Despite the consumption of ham sandwiches every day last week, I was still faced with massive amounts come Friday. So, I made a potato cheese and ham casserole. But I still had a huge chunk and the hambone left in the freezer. And potatoes. And dressing. And also apple and pumpkin pie.
So tonight I made Musgoe Stew with the hambone. What is Musgoe? Easy ... if it's in the fridge and still edible, it "musgoe" into the stew. Except the pies.
I boiled the hambone in broth and water for ... awhile. I sauted some onions and celery, then dumped that into the broth, along with minced garlic and dried red pepper. Then I emptied the fridge out. Mushrooms, mashed potatoes, dressing ... it all went in. Plus stewed tomatoes and some macaroni. I cut some ham off the bone and tossed that in too. It looks a bit odd ... the tomatoes and potatoes have combined to give it a pinkish color. But it tastes wonderful ... perfect for this chilly evening!
I now have a bloody ton of Musgoe stew. And some nice French bread.
Anyone hungry? Come on over!