Bloggers at the Symphony
And a good time was had by all ...
Some of the enduring memories of my childhood are those evenings when Mother would make hot dogs and macaroni and cheese for my brother and me to have for dinner. Then she would make herself all pretty in a dress with hose and heels, and perfume and lipstick, while Daddy went to pick up the babysitter. He would put on his suit and tie, and looking splendidly handsome, he would then escort Mom out of the house and away for a few hours. We would spend a few hours tormenting each other and the babysitter while Mother and Daddy were "out" ... doing what, we really didn't know, and didn't much care. "Going out" was just something mommies and daddies did.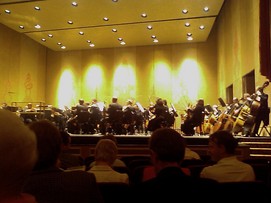 Tonight, I got to go out, just like Mother and Daddy used to do. I put on a pretty skirt and blouse, did up my hair and make-up, and was escorted by a most
dashing fellow
in a
suit and tie
. Only this time, "going out" meant going to the symphony orchestra concert.
The
Knoxville Symphony Orchestra
invited local bloggers to come to the concert tonight, in the hopes that we would write about our experience on our web sites. Nice quid pro quo, everyone wins! It was a most lovely evening ... I was thoroughly enchanted. The KSO plays most of their concerts in the grand
Tennessee Theater
. Ornate opulence just barely begins to describe the beauty of this theater. The program for tonight's season opener was "American Masters" with the composers all being American. Starting off the show was
Short Ride in a Fast Machine
from John Adams. Just as the title indicates, the piece is a rushing musical journey at break-neck speeds. It certainly gets the blood flowing and can leave one a little out of breath at the end. The next piece was a concerto from Lowell Lieberman,
Concerto No. 3 for Piano and Orchestra, Op. 95
, featuring
Jeffrey Biegel
at the piano. Lieberman was commissioned by 18 symphony orchestras to compose this piece. It is written very much in the contemporary styling of modern orchestral concertos, with sudden mood transitions, the use of syncopated rhythms and discordant tones. To those who prefer a more classical symphony, this piece is perhaps too daring, too disharmonious. I found it to be quite interesting, but perhaps not my first choice for listening.
After the intermission, the concert resumed with
Appalachian Spring
Suite from Aaron Copland. This is a very lovely piece that evokes all the imagery of spring, and the sweetness and joy of new life as it blossoms after the long winter. But while it was a treat to listen to, I found myself being lulled into that fuzzy state that precedes dozing off to sleep.
The evening rounded out with George Gershwin's
An American in Paris
, a fun and exciting romp through the streets of the world's most sophisticated city. One can actually picture a fellow meandering about Paris, meeting with all sorts of adventure and interesting people. Gershwin is always good fun.
After the concert, the bloggers in attendance were invited to a special reception where we had the opportunity to chat with the musicians, including conductor
Lucas Richman
and special guest soloist,
Jeffrey Biegel
. I was delighted at how warm and friendly they all were, especially Mr. Biegel, who spent quite a while regaling us with tales of his musical adventures. I taught myself to play the piano at the age of 4 and took lessons all through my grade school years, so it was something really special to meet and talk to such a renowned and talented pianist. Mr. Richman was just as much fun, and one could see right off that he is a man that thoroughly enjoys his work and has a deep and abiding love for music.
The other bloggers that were there: (please forgive if I miss you, and do let me know if I did ... just post a comment and I will get you linked!)
Doug of Reality Me
who brought along aspiring percussionist and the youngest blogger in attendance,
Noah
,
Frank Murphy
,
Byron Chesney
,
Craig Thomas
, Tish from
The Kat House
,
Krisha
, and
Doug McDaniel
. Give these folks a visit to see what they have to say about the concert too!
My pictures didn't turn out very well. I will try to clean them up some and maybe post later. But there are pics at the KSO web site now!
Bloggers Reception
Commenting is not available in this channel entry.