Category: Amusement
Wednesday, June 06, 2007
The View at Work Today
Some things are just not expected when one works on the 4th floor ...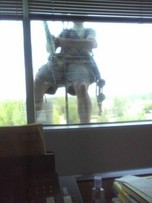 Actually, this is a little better than the other day when they were power-washing the building. That day, the dude was wearing really short shorts ... and had a "gap" issue ... and appeared in my window just like this. Today, his wardrobe choice is a wee bit more modest. Thank goodness. After the week I've had, I really didn't need any additional psychic trauma.
Sunday, January 14, 2007
It's TIME!
Let's go!
Diet Coke ... check!
Popcorn ... check!
Remote Control ... check!
Phones turned off ...check!
I'm ready! Having just come off a marathon viewing of the Season 5 DVD set, I am positively squirming!
7:59:00 ... tick tock tick tock
Jack is BACK
! RAWR!!
Open thread over at
Wizbang
Friday, October 06, 2006
Where the Hell is Matt in Oak Ridge?
One of the cuter phenomenons to hit the InterTubes was
Matt Harding
, who danced his way around the world. His happy little jig was video recorded with backdrops from all over. It's a goofy, pleasant way to spend 3 minutes. Now there is a homegrown Matt ... Matt McMahon, and he has made his own video, "Where is Matt in Oak Ridge?" and he dances his way around the little city of Oak Ridge, TN.
Enjoy!
Saturday, June 10, 2006
Paradise Is Overrated ... and I am going to hell for this one
Z
arkman got his free pass to Allah's celestial Disneyland"
IowaHawk has the first comments from the dearly departed. First thoughts -
Paradise Blows
.
Obligatory warnings: Potty mouth, politically incorrect, beverage spewing ... Sounds like a must read to me. So what are ya sittin' there for? Go!
And now we have this report:
Women's clothing found in Zarqawi house
HIBHIB, Iraq (Reuters) - Abu Musab al-Zarqawi was accompanied by women who wore skimpy night clothing, and read magazines on current affairs and militant propaganda, an inspection of the house he was killed in showed on Saturday.

...

Also beside the slabs of concrete was a woman's leopard skin nightgown and other skimpy women's clothes.

The U.S. military had said the air strike killed a total of six people, three males and three females.
It seems that everyone is assuming that the lingerie was worn by the females that were found with Zarqawi ... but what if ... ?
Friday, May 05, 2006
I almost forgot!
Happy Star Wars Day!
(wait for it ... )
May the 4th ... be with you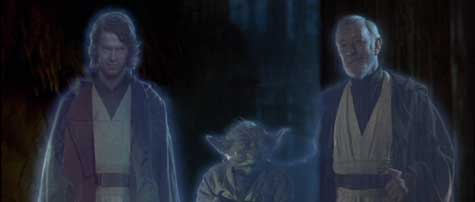 (Try saying it out loud if you still don't get it)
Saturday, September 24, 2005
Was Lair mooning Rita?
Laurence Simon
, the King of
Catblogging
and the daddy of the
Carnival of the Cats
lives in Houston. Texas. Yes, right where that big ole nasty hurricane is headed. He is blogging as long as he can ... he and his wife, and their three kitties, decided to ride it out since all roads out of town were hopelessly clogged. I have been checking his site frequently for updates. He mentioned that he would be setting up one of the
cat cams
to point outside as the storm approached. So I click over to the cam site to see what's up ...
Lair is letting us know how he really feels about Rita
Sunday, May 29, 2005
Getting Busy
I've decided to take up hooking again ... my grandmother taught me when I was a girl, and it is a past-time I have engaged in off and on through the years.
Got yer attention, eh? Heh heh ...
Hooking, as in crochet ... get it? Crochet is done with a hook ...
Nevermind. Anyway, I learned from my grandmother when I was a little girl, and I have taken it up again, with quite a passion. I've set up a photoblog,
In Stitches
, to journal my progress and completed projects. I've already done a couple and have several more in the pipeline. It should keep me out of trouble ... or maybe not. Heh.
Here's a little sampling of what I have done so far ...



Saturday, May 14, 2005
And now ... something completely different
Somehow, I don't think the founders of the internets had this in mind ...
Crazy Frog
Completely inane, useless, senseless and bordering on annoying ... but a toe-tapping few minutes of fun, nonetheless.
Tuesday, April 26, 2005
We have 189 channels and there's still nothing on TV!
You know it's bad when the only remotely palatable TV-cable offering of the moment is "
Sabrina the Teenage Witch
" ... which is followed by
Degrassi
.
And I TOTALLY blame my darling daughter and darling son for getting me hooked on a damn soap opera for teenagers!
Egads ...